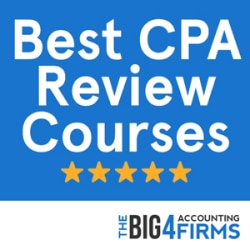 According to the AICPA1, choosing a CPA review course to help you prepare for the CPA exam is a very important decision because it can directly impact whether or not you'll pass your exams and become a Certified Public Accountant. Finding the right CPA prep course will make or break your attempts to pass this notoriously difficult test.
With so many top-rated CPA study materials out there to choose from, how are you supposed to know which ones will actually work for you? The key is to look at each CPA prep course and see how it fits your learning style and strengths2.
Trust us. The entire process of becoming a CPA is challenging (and according to Accounting Today, perhaps TOO challenging3), but the exam is the biggest hurdle. This is why choosing the best CPA review course is crucial. Quite honestly, the difference between successfully passing the exam and failing it depends largely on how well your study materials prepared you.
There are many who end up purchasing the wrong CPA review courses the first time around, fail the test, and end up having to pay for two CPA courses before they find the right one. Using the wrong CPA prep course could cause you to fail a section or two and cost you months of CPA study time along with the feeling that you can't do it.
Unfortunately, most people who fail a section get discouraged because they think they aren't smart enough to pass. That couldn't be farther from the truth. Most people who fail a section do so because their CPA exam prep materials didn't prepare them well enough.
Think smart and pick the CPA review materials that will work for your study habits and lifestyle. I know you can pass the CPA exam with the right course, just like we did. That's why I've personally used and tested all of the major online CPA exam review courses out there and summarized their pros and cons to help you pick the best one for you, no matter which section of the exam you take first. We hope this comparison chart and my product reviews will help you make the right decision and find the best one, so you can start your career as a CPA!
Our Top 2 CPA Exam Review Courses & Study Materials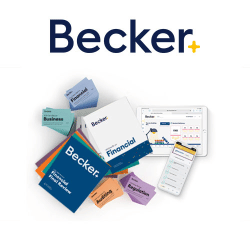 Video Lectures: 250+ hrs
Test Bank Questions: 9,200+
Simulations: 580+
Unlimited Access: Yes!
Final Review Included: Yes!
Free Trial: Yes!
CLAIM MY DISCOUNT →
Get Financing →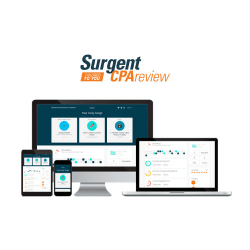 Video Lectures: 350 Lessons
Test Bank Questions: 7,700
Simulations: 417+
Unlimited Access: Yes!
Final Review Included: Yes!
Free Trial: Yes!
CLAIM MY DISCOUNT →
Get Financing →
Top Best Certified Public Accountant (CPA) Exam Review Courses: 2023 Comparison Guide
---

---
5 Best CPA Review Courses of 2023
Becker CPA Study Materials
Surgent CPA Online Review
Gleim CPA Review Course
Lambers CPA Review
Yaeger CPA Review
Roger CPA Review Course
Wiley CPA Prep Course
Now let's review the top 10 best CPA Review Courses listed below, noting their teaching styles – make sure they match your preferred learning technique.
To help you start your search, here's an overview of ten of the best-known CPA exam review courses Read on and take your pick!
---


#1 Becker CPA Review
How do you rate Becker CPA Review?
The best-known CPA review course is undoubtedly Becker CPA Review.
It's highly recommended for its large bank of relevant practice questions, well-written textbooks, and structured materials. Its cost can be intimidating, and some of the live lectures have been criticized by students, but it's still the best option for CPA students as a whole.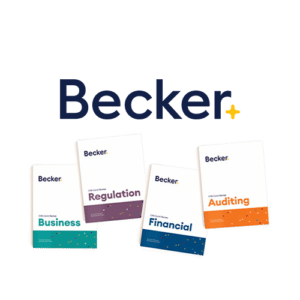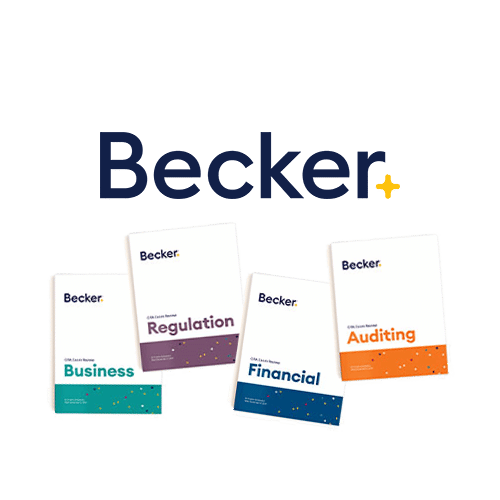 If you need structure and want a tried-and-true program, the Becker CPA review is a great choice. The same is true for those who want a team of experts backing them as they move from pre-license to practicing CPA.
Becker's latest addition, Concierge, offers personalized support from a team of experts and a success coach who will tailor a study plan to your unique requirements. With up to 50 hours of one-on-one tutoring per week, you'll have ample opportunity to receive the guidance you need to excel.
And if you're only worried about the price tag, it could still be a great pick thanks to its flexible financing options. Keep reading to learn more!

The Pros:
---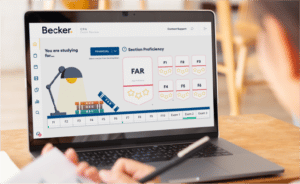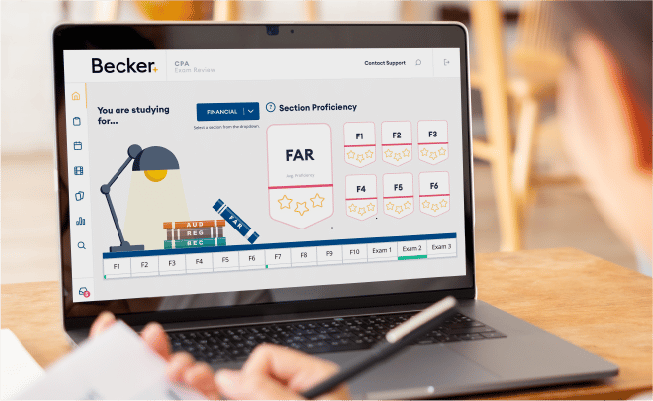 Becker has partnered with Sana Labs to bring their students award-winning technology to enhance their Adapt2U exam technology. As you progress through the course, your abilities are gauged, and the AI gives you harder questions where you're really good and gives you more practice in areas you're struggling with.
Becker also has the best instructors: all are experts in their field and are very engaging. They like to use mnemonics that you'll never forget and include a little splash of humor to keep you listening. With a collective 60+ years of experience, you will always have support while studying for the CPA exam.
Out of all the CPA review courses listed here, Becker CPA review is the only one that offers instructor-led TBS videos. They have over 400+ SkillMaster videos that provide step-by-step instruction. This is very important, considering half the exam is Task-Based Simulations, but it's the Becker Bump that makes the biggest difference by far:

What is the Becker Bump? Put simply, it's a small grading difference between their mock exams and the AICPA's grading system for the actual CPA exam. If you earn a lower score on the mocks, you're almost guaranteed a much higher score on the real thing!
The Cons:
---
The only real con with Becker is the lack of audio courses is glaring when you consider the cost of Becker CPA review.
Despite these concerns, rest assured that this is still the best choice for CPA students if they want to start their accounting careers in the best way possible!
Becker CPA Review Discount & Promo Codes
---

#2 Surgent CPA Review Course
Surgent CPA Review is a great choice for CPA candidates looking to master their certification exam. If you want to learn the ins and outs of public accounting with the most advanced learning technology, give Surgent a shot.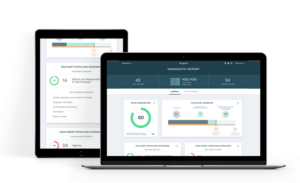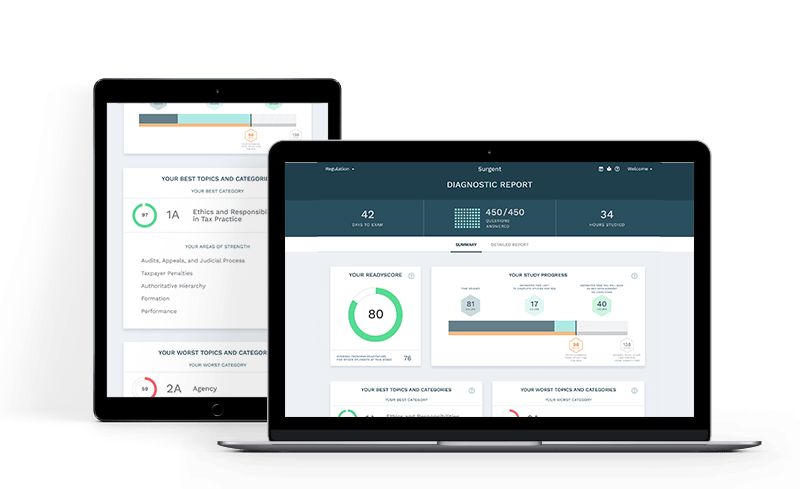 Some of Surgent's features include:
Adaptive learning tools that make custom study plans for each student

ReadySCORE rating system that accurately predicts exam readiness

Free content updates are applied automatically

Over 350 video lectures and over 7,700 practice questions
The Pros:
---
Surgent's Adaptive Study, Accelerated Performance (A.S.A.P.) system is what sets its course material far above and beyond any other CPA review course. It ensures that each and every enrolled student receive a tailor-made study schedule that makes the most of their valuable time. The result is the shortest exam-ready time frame, on average, their students are exam-ready in 58 hours.
Students enrolled in Surgent CPA Review won't be left in the dark wondering how ready they actually are for the exam thanks to their ReadySCORE technology. This feature updates as candidates complete their coursework, providing an overall readiness metric that correlates to their chances of obtaining a passing grade with frightening accuracy.
CPA candidates who spring for Surgent's Ultimate Pass will receive all the mentioned features as well as an audio version of their lecture content, an integrated test bank, and the ultimate customer support.
If you're on a tight budget and can't pay full price in one go, Surgent offers financing plans ranging from 3 months to one year.
The Cons:
---
The bad news is that Surgent doesn't have a mobile app for most of their CPA prep course. However, they do provide mobile compatibility with most smart devices and a separate flashcard app.
As far as cost goes, Surgent CPA Review is on the higher end of the spectrum. However, every cent of its price tag is justified due to the powerful adaptive learning technology and a huge library of educational materials included.
Surgent CPA Review Course Discounts & Promo Codes

Take $1,000 Off Surgent CPA Ultimate Pass
33 uses today
Last Used: 8 hours ago

Take $740 Off Surgent CPA Ultimate Pass
38 uses today
Last Used: 16 hours ago
View More
---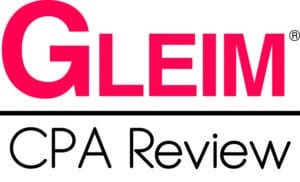 #3 Gleim CPA Review
Gleim is another affordable alternative that stands out through its extensive material.
With an impressive number of multiple choice questions and task-based simulations, detailed textbooks, and both video and audio lectures, Gleim is the way to go if you are ready to put in the effort and need the right study materials to support you.

The Pros:
---
Priced at just $1,999 for their Premium Review system, Gleim CPA Review is much more affordable than Becker and includes their SmartAdapt software technology that guides the candidate through the study material, allowing them to focus on their weaker areas. Additionally, the course includes Access Until You Pass, so you will always have updated course materials and access to your study materials until you pass the CPA Exam.
The course also includes access to over 100 hours of video lectures and audio lectures that can be downloaded for easy access during a commute. The audio content, in particular, is extremely helpful since you can download it offline and take it with you on the go. This is a huge deal if you like to study while washing the dishes, walking the dog, or engaging in similar activities.
With over 13,000 multiple-choice questions and 1,300 simulations, Gleim supports the old adage that "practice makes perfect." But if you're worried about getting lost in all that sauce, they've implemented SmartAdapt technology to guide you through your studies.
The various types of simulations available will help you feel confident and prepared before the exam. The modular approach to studying, thoughtful design, and helpful videos create a great overall experience.
By being part of the Gleim CPA Review System, you will also benefit from the help of a Personal Counselor in finding difficult answers and creating your own study plan.
The Cons:
---
The textbooks are very comprehensive and detailed and feature a lot of technical jargon. While this may suit some users, others may find themselves overwhelmed.
As the course is available in Premium and Traditional formats, some important features are only available to Premium users at a higher cost.
These include access to expert help and instructor videos as well as unlimited access until you pass the exam.
Gleim CPA Review Discount & Promo Codes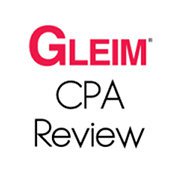 Take $460 Off Gleim CPA Premium Course
37 uses today
Last Used: 8 hours ago
---

#4 Lambers CPA Review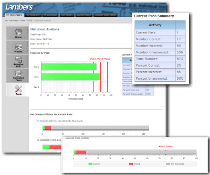 If you've already tried the CPA exam and failed, you should use Lambers to prepare for your second attempt. Check out the pros and cons below and find out more.
The less-known Lambers course has been on the market for a long time and offers a combination of:
study materials
video lectures
simulations
as well as an effective audio course.
The Pros:
---
The Lambers Review course is affordable, yet established, having been around for over 45 years. It also offers a money-back guarantee should you use the course and fail the same exam twice.
With a streamlined set of video lectures and practice questions, this course is constantly updated with new material to match all changes to the CPA exam. It's also very affordable, especially if you only need help with one or two exam sections.
A strong point of the Lambers course is the audio review, which makes it easy to study on the go.
Listening to Lambers' professors work through difficult problems can be very helpful, especially if you learn well from explanations.
The iPod course also helps you utilize the time spent on your commute or in waiting rooms.
Most of the video lectures are well-structured and very clear. Qualified instructors explain concepts and work through problems to ensure an in-depth understanding of the topics.
There are over 130 hours of lectures and many live webinars that can be accessed without restrictions for as long as you need to. And as a bonus, the software is also easy to navigate and includes one year of free upgrades.
Finally, the course also includes around 4,300 multiple choice questions to help you prepare for the exam.
The Cons:
---
On the downside, the Lambers video lectures are not very entertaining and can vary widely in terms of quality.
Mistakes may also creep up in the simulations or the textbook itself. Hence, you should make sure to double-check concepts that you don't understand well.
Furthermore, some topics may benefit from further explanation. Consequently, this may not be ideal for somebody who has been out of university for a while.
Another issue with Lambers is that it doesn't have a wide customer base. Thus, it is much more difficult to gauge whether it is the right choice for you.
Unfortunately, you won't get any flashcards or audio lectures if you enroll in Lambers. They also don't offer as many videos or practice questions as Gleim— but they still provide enough to help you pass the exam.
---

#5 Yaeger CPA Review
Yaeger CPA Review is known for its in-depth material and traditional-style lectures.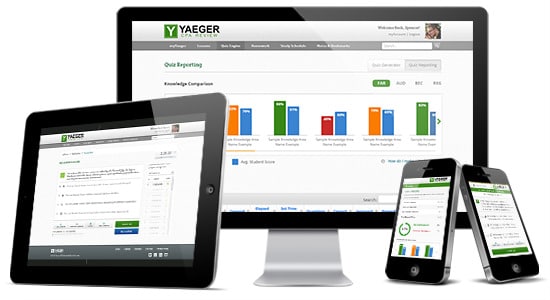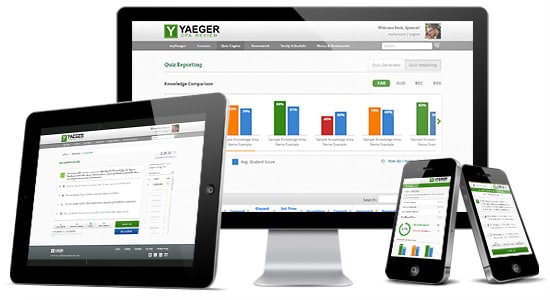 Based on the Wiley books and accompanied by explanatory instructor videos, Yaeger is an affordable alternative for those wishing to explore the study material extensively.

The Pros:
---
The video lectures explain concepts step by step, ensuring a deep understanding of exam topics. You will navigate difficult problems and multiple choice questions with the help of qualified instructors.
The Yaeger course is probably the closest to a classroom experience, so it can be a perfect fit if that's your ideal studying setting. Over 4,000 multiple choice questions will help you practice what you learn.
The Yaeger course is also well-known for great customer support, with a live instructor hotline to provide personal assistance with any challenging questions that you might encounter.
The instructors on this course do their best to be available to students at all times.
The Cons:
---
The traditional lecture format may not be everybody's cup of tea – after all, you've already taken plenty of accounting classes.
If you feel like you learn faster independently, this course may not be for you.
Other drawbacks are the extra fee charged for an audio course (over $400) and the expiration date (access is provided for 18 months).
---


#6 UWorld Roger CPA Review Course
UWorld Roger CPA Review course is known for being motivational and entertaining.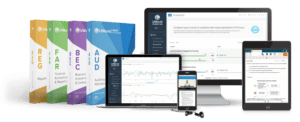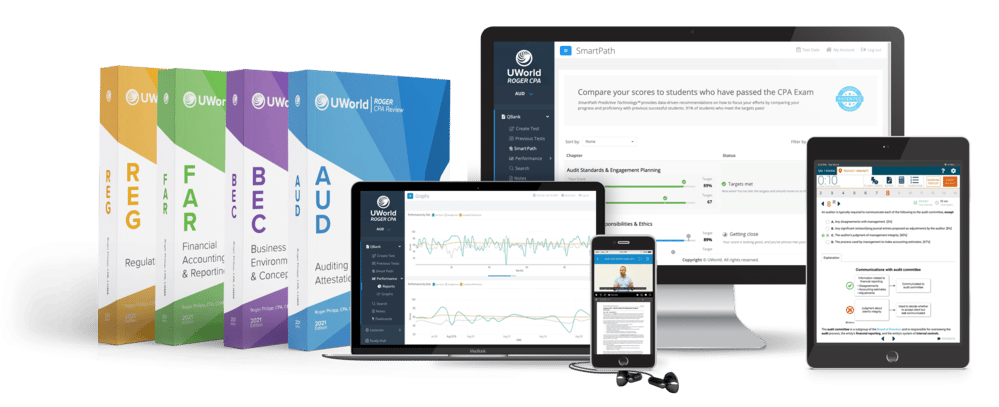 If you're a visual learner and like breaking problems down on a whiteboard, this may be the course for you.
A mixture of:
Attention-grabbing lectures
Mnemonics
Textbooks
24/7 online support
Great mobile app
Long access period
make this review course one of the best on the market.
The Pros:
---
Roger Philipp teaches the course in a style known as the Roger Method. This is a style that will keep you from dozing off during the lectures.
Roger's personality and visual teaching will help you get through many hours of difficult concepts. Furthermore, it'll also help students to understand topics in depth.
If you're a visual learner and find it difficult to maintain attention and motivation, this is a big advantage.
The course also presents you with useful memory aids to make recalling essential information easier. The important concepts are covered without overwhelming you.
The textbooks themselves are laid out in an intuitive fashion and explore the content in more depth.
If you tend to do most of your studying online, you will appreciate the Roger CPA online platform, which allows note-taking during video lectures and video bookmarking to review difficult sections at a later time.
The Cons:
---
The lectures may be a little fast-paced for some students, although you can adjust the speed and add captions. But if you prefer slower lectures, this may be a problem.
What's more, the lectures can sometimes explore areas that are not relevant to the exam.
Another issue with the Roger course is that it has an expiration date – access is valid only for 18 months with their popular Premier package. However, their newly redesigned Elite-Unlimited tier offers unlimited access and many more appealing benefits!
Finally, there's the Study Hub. It's a great resource if someone has already asked your question; and out of their library of 17,000+ submissions, that's pretty likely. However, you can only ask questions if you're a member of the Elite-Unlimited club.
UWorld Roger CPA Review Discount & Promo Codes
---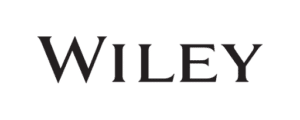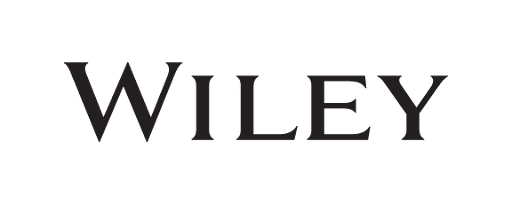 #7 Wiley CPA Review Course
Following Wiley's recent acquisition by UWorld, the future direction of their CPA® prep material is uncertain. Those considering Wiley for their CPA studies should be cautious and stay updated on any alterations to the curriculum or platform. Given the potential changes and unpredictability post-acquisition, we cannot confidently recommend Wiley for CPA® preparation at this time.
With over 200 years of experience helping students learn the ins and outs of their trades, Wiley Efficient Learning is a safe bet if you're looking to pass the CPA exam on your first try. There's a lot of material for you to work through, as well as tons of tools to help you work through it effectively.
Wiley CPA Course Updates
Every year, Wiley Efficient Learning updates its course materials to accommodate any exam changes. In 2023, Wiley made several changes to their CPA exam prep course in response to the AICPA:
For AUD, new video content was added alongside updated practice questions
Some terminology was changed to the FAR section
REG curriculum includes new content related to The CARES Act
BEC includes more content related to Microsoft Excel proficiency
If you're constantly on the go but still need a lot of help from instructors, you should seriously consider enrolling in this course. Keep reading to learn more!
The Pros:
---
Thanks to a partnership with one of the leading educational tech companies, Wiley uses adaptive learning technology to guide students through their entire study course from start to finish. This includes a planner that automatically recommends videos and practice questions for each session, but you'll also get a prediction of your final score after completing enough content.
Keep in mind that there's a lot of content for you to work through, whether you enroll in their Pro, Platinum, or Ultimate courses. All three provide over 17,000 practice questions, more than 140 hours of video lectures, and 4,000 digital flashcards. You will have plenty to do for several months if you enroll in this CPA review course!
Need some extra help? Platinum students have access to several additional support features, including the ability to ask questions directly to the instructor. Although response times can vary, you can typically expect a response within 48 hours. Additionally, Wiley's 11th Hour Final Review offers an extra last-minute cram course reiterating the most important concepts.
The Cons:
---
While Wiley Efficient Learning does extend a guarantee to its students, it doesn't quite measure up to the assurances provided by competitors like Becker. Rather than assuring a first-time pass, Wiley's commitment is to grant uninterrupted access to the course until a student secures a passing grade. While this is a commendable gesture, it's not the industry's pinnacle.
Furthermore, with Wiley's recent acquisition by UWorld, there's added uncertainty about the future direction and offerings of their CPA® prep material. This, combined with other concerns such as the potential for outdated content or less frequent updates, makes it crucial for prospective students to exercise caution and stay informed about any changes to the curriculum or platform.
Given these potential shifts and the unpredictability post-acquisition, Wiley's position as a top recommendation is currently under review.
Wiley CPA Review Course Discounts & Promo Codes
---
Common CPA Exam Review Course Questions
How do I choose the right CPA course for me?
Here are the six questions to ask to ensure that you pick the RIGHT CPA course for your situation, budget, and study personality:
Does it match my CPA exam study type?
Does it have enough CPA exam material to help me pass?
Will it hold my attention?
Do the course materials fit together?
Can the course be tailored to fit my schedule?
Do I maintain course access until I pass?
How We Find the Best CPA Review Course
There are several factors that need to be accounted for when we're ranking CPA review courses. First and foremost, we take a look at the quantifiable aspects of each course. This includes things such as the number of practice problems, amount of flashcards, and the lecture hours included in each course. We also need to see how good the pass rate is for each course and if they have a great pass guarantee.
After that, it's important to take a look at the more subjective aspects of each course.
How much do we like the course format?
Do we find each lesson engaging?
Are the teachers helpful when working through the materials?
Each of these questions and more is considered when creating the rankings list.
How We Evaluate Course Sections
Each section is evaluated based on how well we responded to the materials. By its nature, this ends up being a more subjective analysis. We take a look at what we responded well to when working through each course section. Doing so lets us apply our personal experience to the evaluation process.
Once we've gathered that information we take a look at the format and teaching styles for the course. Self-study and live online courses are the most common, but they do sometimes need to be stacked up against live classrooms too. Any course that covers multiple formats is much easier to recommend in general.
Which CPA course is the best for brand new CPA candidates?
Surgent and Becker both give brand new CPA candidates fantastic tools to pass the CPA exam as quickly as possible. These CPA review courses work for recent college grads, working professionals, and people looking for a career change.
What is the best CPA course for working professionals?
If you are working full time, it's difficult to make time to study for the CPA exam. Thankfully if you make the necessary sacrifices, it IS possible, even while working 40-60 hours per week. For working professionals, I recommend Becker's CPA course offerings. They give you the ability to watch lectures, test yourself with flashcards, and take practice exams from your laptop or phone.
What CPA course should I use if I fail the CPA exam?
If you have already failed the CPA exam, the next step is to find new multiple-choice questions to use so that you don't repeat the same questions over and over. We recommend using Becker CPA review for this.
Do I need to buy CPA review course in order to pass the CPA exam?
Although we would like to say you don't need one, the truth of the matter is, yes, everyone should buy some type of CPA prep materials. You'll need a set of CPA study materials for a variety of reasons.
College doesn't teach you everything that's on the exam. You can't really rely on your college class to fully explain every topic that's covered on the exam. That's where CPA review courses step in and fill in the holes.
Even if it did teach you everything, you can't remember everything you learned in college. It's impossible to remember everything you learned in all of their college classes. Plus, the exam is weighted differently than your college classes. Some topics are worth more than others, and some topics are covered at all. A proper CPA exam study guide will not only help you fill the knowledge gaps from your college courses, but it will also help you study the things that are actually going to be on the exam.
It's just plain smart to get one. The cost of a study guide is far cheaper than having to retake one or two sections multiple times. Not to mention all of the wasted time and built-up stress you'll have if you fail an exam section because you didn't have a study guide to help you prepare.
It's not impossible to pass the exam without having a study guide, but I wouldn't recommend it. :)
---
How Do I Choose What CPA Exam Prep Course is Right for Me?
Choosing the right CPA prep course comes down to understanding four things about yourself:
Learning style
Budget
Schedule
Current knowledge of accounting topics
If you sit down and think about each one of these things, picking the right CPA course will be pretty easy. Let's look at each one in more detail.
---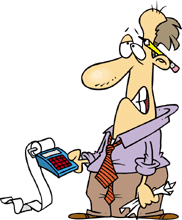 How do I identify my strongest learning style for my CPA review course?
A learning style is related to the idea that people learn differently and understand information better when it's presented in different ways. You might have subconsciously realized this while studying for some of your college classes. For instance, you might understand information better when it's presented to you in an example by an instructor, while your friend might learn better just by reading the textbook. This makes sense, and you should take advantage of this when studying for the CPA exam. But first, we need to figure out what learning style you are.
Here are four main different types of learning styles that students generally gravitate to:
Visual Learning – learn by watching others
Auditory Learning – learn by listening to others
Interactive Learning – learn by doing
Independent Study – learn by independently reading study materials and working problems
Different CPA review courses specialize in different teaching techniques. The key is to pick the course that matches your learning style. We've noted these for you in each product review.
---
How much should I spend on my CPA review course?
CPA exam study materials are not cheap, but they don't have to break the bank either. Just because one course is more expensive than the other doesn't mean that it's necessarily better or that's even right for you. Before you start looking at price tags, you should ask yourself these four questions:
Are you paying for your study materials yourself?
How much can you spend?
Will your employer be covering you?
Can I get a CPA scholarship?
First, figure out what your learning style is and look at the courses that apply to that style. Then figure out how much money you have and how much you can afford to spend on the study materials. One thing to remember is that this is an investment. Successfully passing the CPA exam will likely improve future pay, give you access to promotions, and enable you to take on more responsibilities.
Don't go straight to the least expensive review course. Trust me; failing the exam one or two times is more expensive than just buying the right CPA review course to begin with.
If you haven't asked your employer or looked for CPA exam scholarships, make sure to do so.
---
Are expensive CPA study guides better than a cheap CPA review course?
As consumers, we are trained to think that the more expensive product is somehow always better and higher quality. That's not always the case, but there are benefits that you can only get with a premium course.
For example, Gleim costs more than Lambers but offers twice the amount of practice questions. Do you need a large test bank to study effectively? If so, the extra price is worth paying. But what if you can't fit it into your budget?
In these situations, the best course of action is to look for some kind of financing option or payment plan, such as the ones offered by Becker and Surgent. Alternatively, you can opt for a lower-priced tier, such as Gleim's CPA Exam Mega Test Bank. This way, you can get the best of both worlds.
---
How do I make a CPA exam study schedule?
Everyone has different responsibilities in life. Some people are married, some have kids, and some people are working two or three jobs. Everyone has a different schedule, so naturally, everyone will have a different study schedule.
The important thing isn't when you study; it's that you study. The key to passing the exam is study consistency. You need to figure out when you can set aside one or four hours a few days a week to do nothing but study.
Keep your schedule consistent, so that you're studying the same days each week at the same times. I know this sounds crazy structured, but it's the only good way to make consistent steady progress.
If you pick your exam date, map out your study plan or study schedule, and actually stick to it, you'll have no problem passing the exam. As the saying goes: studying for the CPA exam is a marathon, not a sprint.
---
How much does a CPA review course cost?
According to the AICPA, the average cost of a CPA review course is about $1,500. Here's a list of the most popular CPA study materials, along with their prices:
| CPA Review Courses | Study Material Cost / Price |
| --- | --- |
| Surgent CPA Prep | $2,559 |
| Wiley CPA Review | $1,985 |
| Becker CPA Review | $3,393 |
| Roger CPA Review | $1,985 |
| Gleim CPA Study Materials | $1,799 |
| Fast Forward Academy CPA | $1,399 |
| Yaeger CPA Review | $1,295 |
| Ninja CPA Review | $67 Monthly |
| ExamMatrix CPA Review | $60 |
| MDS CPA Review | $1,799 |
| CPA Review For Free | FREE |
| Lambers CPA | $2,500+ |
| Bisk CPA | $1,000+ |
How much is the Becker CPA Review Course?
| Becker CPA Review Course | Cost / Price |
| --- | --- |
| Full-Course Price | $3,393 |
| Single Section Price | $1,131 |
| Admin Fees | $95 |
| Cost to Repeat the Course | $$565 per section |
| Flashcard cost | $250 |
Becker CPA review is by far the most expensive course on the market today, but just remember that more expensive isn't always better. Some people have a lot of luck with Becker, and some people hate it and end up failing the exams several times in a row. The price tag doesn't make the course good or right for you.
You should be focusing on a course that fits your learning style and one that's going to help you pass the CPA exam, not necessarily the one with the biggest price tag and the biggest name.
---
How much does it cost to get a CPA and become a Certified Public Accountant?
According to the AICPA, the average cost to become a CPA is approximately $1,500– not including any study materials. Here's a breakdown of all the major costs associated with becoming a CPA and getting in your CPA license.
| Steps to become a CPA | Costs and Fees |
| --- | --- |
| Application fee: | $190 |
| Registration fee: | $115 |
| Total Exam fees: | $850 |
| AICPA Ethics Exam fee: | $100 |
| State License fee: | $250 |
| CPA Review Course | $1,500 |
Keep in mind that all of these fees vary from state to state, as do the requirements. For example, some states don't require candidates to complete an ethics exam at all. Alternatively, other states only charge $50 for a CPA license. Contact your state board or NASBA for the exact cost to become a CPA in your state.
---
What is the CPA Exam Pass Rate?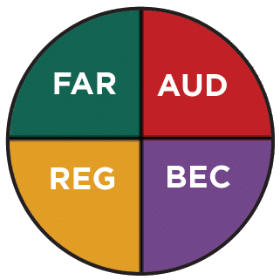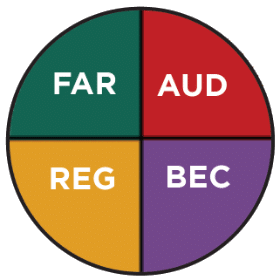 According to the AICPA, the CPA exam pass rate averages approximately 50% for each CPA section. In 2019, the average pass rate was 53.2%, with the hardest section being FAR. This average varies slightly from one testing window to the next and from one year to the next. This only makes sense since the exam format changes almost every year. Additionally, the overall information covered in each exam section changes as well.
Generally, the first two testing windows have lower CPA exam pass rates than the second two testing windows. There's a lot of speculation as to why this is the case, but no one really knows for sure, and the AICPA isn't explaining the differences.
Personally, I think the differences and past rates between the first half of the year and the second half come down to new exam formats and working schedules. Typically the format of the CPA exam coincides with the calendar year. Thus, the first group of candidates taking a new exam format is in the first quarter. It makes sense of the first group of people would have a harder time with the new format than later groups.
Likewise, many people who take the CPA exam are also working during tax season. It's understandable that many of these people will fail the exam in the first quarter because they're busy working 80- 100 hours per week and trying to study at the same time.
Don't let these CPA pass rates scare you. Anyone can pass the exam their first time if they're willing to set a schedule, stick to it, and study consistently.
---
Can I get my CPA License of Certification Online?
The short answer is, no, you cannot become a CPA completely online. However, you can get an online accounting degree that will meet the minimum educational requirements to sit for the CPA exam. Additionally, you can also take an online CPA Study prep course to prepare for the exam.
You will, however, have to take the CPA exam at a Prometric testing center. You can't take the actual CPA exam online wherever you'd like.
---
How long does it take to become a Certified Public Accountant?
According to the AICPA, the average time it takes for a candidate to become a Certified Public Accountant is approximately 6 years. This timeframe includes:
4 years – Bachelor's degree
1 year – Extra 25 college credit hours to meet the 150 requirement
1 year – Pass the CPA exam
Obviously, these are just rough averages. Many people are able to become certified in much less than six years, while others take almost a decade to get their license.
---
Can you become a CPA without an accounting degree?
Yes, you can become a Certified Public Accountant without an undergraduate accounting degree. However, if you don't have a bachelor's degree in accounting, you might be out of luck. Essentially, most states require that you have a master's degree in accounting or business. These two meet the minimum required accounting courses.
Keep in mind that educational requirements are set at the state level, so your stay has different requirements. If you were thinking about becoming a CPA and don't know if you meet your state's minimal requirements, you should contact your state board and send them your college transcripts.
---
What if I fail a CPA exam section? Is that okay?
Don't worry about it if you fail one CPA exam section. You're in good company. The vast majority are Certified Public Accountants who failed at least one exam part during their certification process.
Believe me. No one is going to ask whether you passed all four sections the first time or whether you failed one or two of them. The only thing employers care about is whether you have your CPA or you don't.
Don't worry about failing. Just take the exam as many times as you need to pass.
---
How do I overcome a failed CPA exam attempt?
Feeling a section of the CPA exam is tough mentally, psychologically, and physically. You work for weeks on end studying for a section just to find out that you weren't good enough and you failed it. It's a huge blow to your self-esteem and downright depressing thinking about having to start all over studying again.
Don't worry it is possible to come back from a failed CPA exam attempt. You just need to stay positive and look on the bright side. Studying for a section should be easier the second time around, right?
Try to think about what you did wrong on the exam and what you did wrong in your previous study sessions. Figure out what you need to study more, like the areas you had a hard time with on the CPA exam. Also, take a look at your last study schedule and see how you can improve it to have more focused study sessions this time around.
---
How do I overcome CPA exam stress?
Stress and test anxiety are some of the biggest reasons why people fail the CPA exam. It's difficult to read questions and analyze answers when you are worried about taking the exam!
The best and easiest way to overcome exam stress and test anxiety is just to be prepared. Pick out a CPA prep course that fits your learning style and helps you focus on the key topics that'll actually be on the exam. This will go a long way towards reducing or eliminating your stress.
---
Which CPA exam section should I take first?
A lot of people have a lot of different opinions on this topic, but I'm the only one who's right. :)
You should take the CPA exam section that you feel most comfortable with first. For example, if you worked for the last several years as a tax accountant, you should probably take REG first.
Taking your most familiar section first will help you pass it and give you a boost of confidence for your next section. Additionally, it will also provide useful insurance in case you are up to an 18-month window toward the end of your CPA journey.
For instance, if you were unable to pass all four sections in the 18-month window, your first passed section would expire. Hence, you would have to take it over again. Therefore, if you took your hardest section first, you have to take it again. This isn't a great plan. I would much rather take my easiest section twice than my hardest section.
---
CPA Exam Prep Strategies – Summary
---
Whether you thrive on video lectures, mnemonics, self-study, relentless practice, or audio explanations, there is a CPA review course for you – and indeed, many that feature all of these elements.
Shop around before making a decision, as your studying will be structured around the CPA review course that you choose.
If you know your study habits and your needs, the right course will guide you through these difficult months, motivate you and keep you studying efficiently.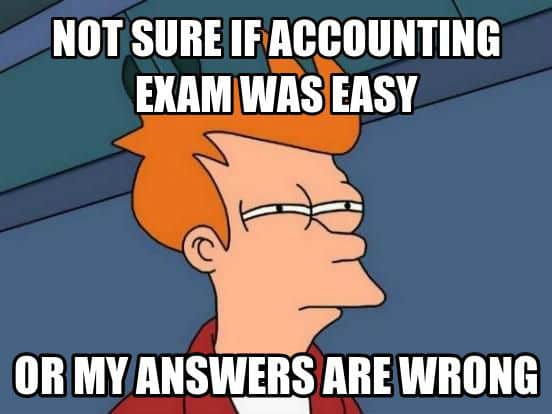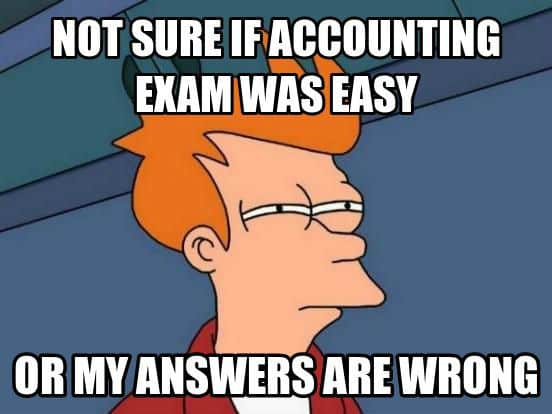 Most students find that independent reading and freely available simulations are not enough to help them pass – the CPA exam, and with a 49% CPA exam pass rate, you don't want to be taking any chances.
Find the right balance between price, study material, practice questions, and software – even if that means combining several different sources.
In the end, it's your own hard work and effort that will help you pass the CPA exam; make sure you choose the CPA exam review course that can focus your efforts in the right direction. That makes sitting down in front of your computer every day a little bit easier.
Footnotes