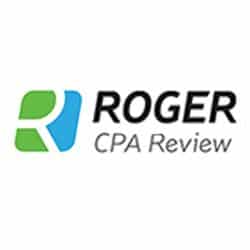 Course Rating: ★★★★
Roger CPA Review has some of the best CPA study materials of any course out there. It's full of energy and will definitely keep you engaged during your study process.The first thing that you need to know about this course is that Roger Philipp is awesome! He's unlike any other teacher and shows it will his true personality, passion, and raw energy. This style has come to be known as the "Roger Method."
The company was founded in 2001 after Roger spent years working in the big four and teaching for numerous other review companies. Since 2001, he has helped over 80,000 candidates realize their dreams of becoming a Certified Public Accountant. Needless to say, he is experienced and knows what you will need to pass your exam!
Here is my video review of the Roger CPA online study materials, so you can see what the inside of the course actually looks like.
---
What's Included with the Roger CPA Review Course?
Elite-Unlimited Course Package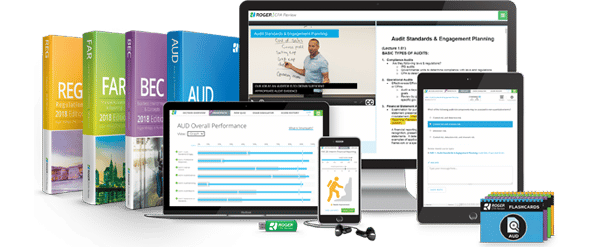 New SmartPath Predictive Technology™ to target strengths and weaknesses & pass faster
Unlimited Course Access
100+ Hours

of focused, dynamic lectures

6,200 MCQs

and TBS, including AICPA released questions

CPA Exam Simulator with an unlimited amount of practice questions

Full CPA Exam Flashcards

Online Cram Course

Audio Lectures

Offline Lectures on portable USB drive

Digital and physical textbooks

Full access to 24/7 Homework Help Center

Free updates to materials

Elite Customer and Technical Support
The new 2020 Roger CPA Review course has everything that you need to pass the CPA exam on your first try. Let's take a look at some of the features included in the course.
---
Roger CPA Prep Course Details
The modern online platform allows you to login 24/7 whenever you have a chance to study. It consists of over 100 videos lectures that are accompanied by physical books, ebooks, and other course materials for you to follow along with and make notes.
The course can also be accessed offline with a USB drive that contains the entire course along with a special last week Roger CPA Cram Course!
NEW – There are tons of audio lectures (42 hours to be exact) that you can load on your iPod and listen to in the car on your way to work!
Everything is wrapped up in an organized layout with a study planner and calendar to track your progress and make sure you are on task for your exam date. Furthermore, the entire course is reviewed and updated every 6 months to make sure it's fresh.
In fact, the most recent update of Roger CPA Review is a complete overhaul, introducing even more powerful technology like SmartPath and QBank. Consequently, this is now one of the most technologically advanced CPA prep courses on the market today!
Let's take a look at how the course is laid out along with some of its features.
Roger CPA Review Course Outline & Dashboard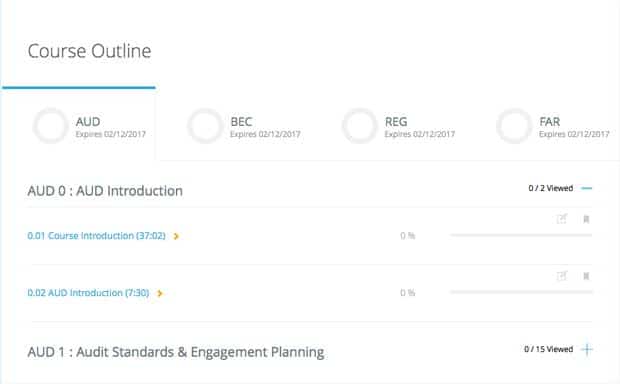 When you first log in to your Roger account, you will be taken to your dashboard. This is a summary page of all the study modules including the interactive practice questions, study planners, homework help center, and course outline.
The course outline is the most important section because it lists all of the study sections or chapters in the study guide. It's kind of like a table of contents. When you click on the section, a drop-down menu will appear with the lessons in that section along with the progress rating you've made in the lesson. As you watch the videos and go through the materials, the progress bar will update and read 100% when you complete the lesson. This feature has undergone some of the most significant changes over time, making it one of the best reasons to pick this course over any other.
Each lesson includes a video lecture and study text that can be seamlessly accessed through Roger's dashboard. Much of this material also correlates to the physical textbooks included with either of Roger CPA Review's packages.
CPA Course Video Lectures
Roger's CPA course is most known for its video lectures. That's because Roger tends to be very animated and full of energy. If you're looking for a boring, traditional accounting lecture, you will be really disappointed with this prep course. Roger jumps around, shouts, and even sings memorization strategies to you. Yup. It's anything but traditional, but it works. It keeps your attention!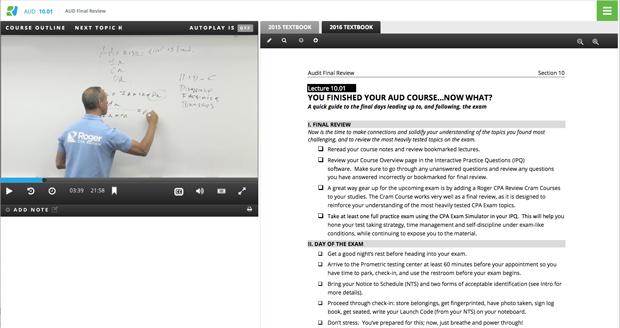 Each lecture ranges from 30 to 60 minutes in length and covers the materials in the study text. The lectures are played in the lessons section right next to the textbook. This way you can read along and even make notes in real time. Underneath each video player, there's also a notes tab where you can make notes to come back and review a section or just write down a phrase that helps you remember the topic.
The video player also has a feature to speed up or slow down the videos in case they are too fast or slow for you. You can also skip to the next topic right in the video player.
Here's an example of Roger's energy and teaching style.
CPA Study Materials
The Roger study text is a basic CPA prep book. It doesn't read like a college textbook with examples and explanations; that's what the lectures are for. Instead, it's really just a huge list of topics that you need to learn and understand for the exam.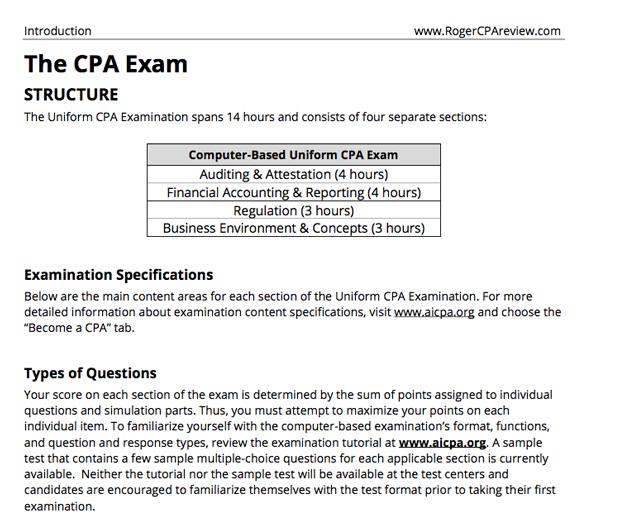 Roger also includes his memorization strategies and mnemonics in there, so you can use them during your study process.
Interactive CPA Practice Questions
Each chapter of the prep course includes a set of practice questions that relate to that topic, referred to as QBank. There are several different ways you can study with QBank: you can go through them chapter by chapter as you watch the lectures and read the study materials, or you can make your own quizzes as you go along.
The custom quiz option is really helpful because you can choose what topics you want to be tested on and review your weak areas instead of going over the same topics you already know. You can also choose the number of questions and time limit you want on each quiz.
The quizzes also allow you to set them up in different ways. You can hide the timer, score as you go, and explain the answers. This way you can choose to make it more like the CPA exam or more of a study tool. I like to use the "score as you go" and "explain the answers" options because it gives me instant feedback as to whether I got the question right or wrong. Additionally, these features show an explanation of each concept tested, really making the most of their powerful adaptive learning tech. It also has a link in each question to the relevant study materials so you can reference them if you have a question during your quiz.
Here's an example of the exam simulator.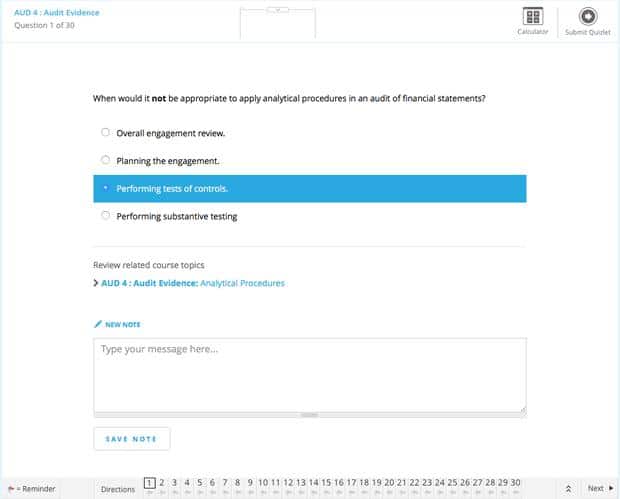 As you can see, it looks pretty much identical to the real CPA exam. If you study with this, you will feel right at home when you sit down in the Prometric testing center on exam day.
Here's an example of the explanations for the test questions.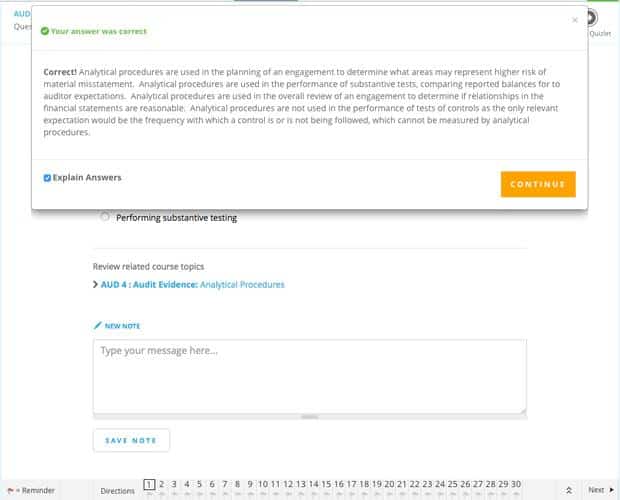 The testing area also allows you to track your testing history in the section breakdown window. This shows the unanswered, correct, incorrect, flagged, and noted questions in each chapter. It also shows the task-based simulations for each chapter as well.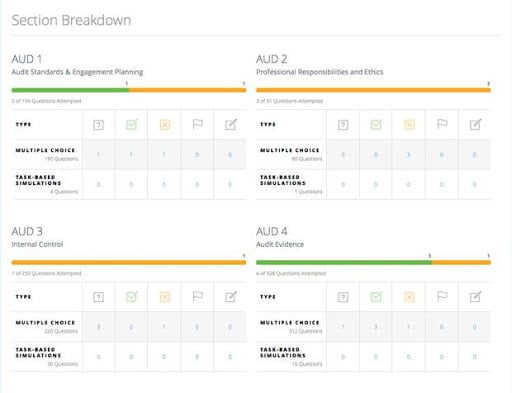 Exam Simulator and Task-Based Simulations
The Roger CPA Review exam simulator is pretty close to the real thing. It allows you to take a full-length exam with three testlets of multiple-choice questions and one testlet of simulations.
The task-based simulations have a ton of different layouts and styles just like on the real exam. Both of these should give you a good flavor for what you'll find on the exam. You will definitely be prepared after going through all of the quizzes and practice questions in the course.
What is the Roger CPA Final Review?
Each exam section ends with a final review of the materials. This consists of a few video lectures covering the most important topics that you need to remember along with test-taking tips to help you on your exam day. It also has a short textbook section with a guide on what to do on the day of the test.
What is the Roger CPA Cram Course?
RogerCPA also offers a cram course that includes a ton of condensed materials designed to help you get through as much material before your exam date as possible. A lot of people use the cram course as a final review a week or two before their exam day to review everything and get prepped. Unfortunately, you'll have to pay extra for this cram course if you're enrolled in Roger's Premier package. On the other hand, those who spring for the Elite-Unlimited course will get it for free!
---
Pros
Awesome CPA Lectures
CPA Memorization Techniques
I think the most difficult part of studying for the exam is trying to remember everything. The overall course work isn't really that complicated. There is just a TON of it! That's where Roger's Method excels. He has come up with so many clever mnemonics and strategies to remember things, it makes it easy to recall just about everything in a 400-page book. Really handy and impressive.
Online & Offline Materials
The Roger CPA textbooks are extremely well laid out and organized. A lot like his teaching style, the course materials get straight to the point of what you need to know and don't beat around the bush.
You won't spend hours reading about useless info that won't be covered. Everything in these books has a high probability of being on the exam in some way.
PLUS – the textbooks come in both physical book form for people who want to actually read a book and make notes and highlights and ebook form for people who don't want to lug a couple books around with them.
One of the newest developments to this course is a powerful mobile app. Thanks to the hard work put into their latest redesign, this app now offers students an identical experience and support to the desktop version of their web-based course materials.
Excellent Integrated Layout
The overall layout of the guide is based around efficiency and ease of use. They have done a really good job at integrating all of the core components of the course into one usable form. The videos play side-by-side with the study text, so you can follow along if Roger loses you with some of his fast-paced lectures.
Wiley multiple-choice questions are no longer used in the Roger CPA review course! The staff went through and created questions to follow the rest of the review material making it one cohesive and integrated system!
There are also plenty of features that make it easy to come back and look at sections again. Each video has note-taking and bookmarking sections where you can make a note to yourself and bookmark it for review later. This is such an awesome feature to keep you organized! The integrated design of the study text, videos, and planning system really is a great example of a modern CPA review course.
CPA Audio Lectures and Mobile App
Included is a set of audio lectures in MP3 format that you can take with you and play anywhere: in the car on the way to work, in the background at work, or even while you are out for a run. Just like with his videos lectures, Roger packs the same passion and energy into these MP3s. You might even crack a smile at some of his jokes.
Another modern inclusion is the mobile app. Obviously, we aren't always at a computer and can't always carry around a hand full of books. Don't worry. Roger has it taken care of! The Roger CPA mobile app includes full support for every aspect of their prep course: lectures, practice questions, task-based simulations, and everything else!
Fresh Start Student Discount Program
I like to save the best for last. Well, if there could be just one best thing about this study guide. They offer great discounts and deals especially if you have used another course and want to switch. So many people have tried other courses and failed. Roger wants to prove his system is the best.
You heard me right. The fresh start program allows students who have purchased a $750 course from a competitor to apply for a discount a Roger review course. You can save $200 with this student discount. Switch to something that works and claim your discount now!
You can even use my special Roger CPA discount code to save on their premium courses.
Save $1,500
---
Cons
I have to admit with a guide as good as this, there aren't very many disadvantages. Here are the two that stood out to me.
Lectures are Fast
As much as I love the quick, snappy teaching style, I can see where some people could get left behind. Roger does tend to talk quickly which requires you to engage and actively listen to what he is saying. Unfortunately, this can be a double-edged sword. Some students, primarily ones with English as their second language, will tend to fall behind during these fast paced lessons.
Overall, I still think the lessons are hilarious, entertaining, and truly engaging. Some students disagree, however, saying that his style is a little too flamboyant for their liking. If you are looking for a traditional lecturer, you might want to take a look at some other options.
No Real Life Classes
I don't think this is a big deal, but I should at least mention it. Some people prefer to go to a classroom and listen to a professor. Roger's CPA review does not offer any live instruction. That's what the videos are for! Personally, I think live or virtual classes are kind of a waste of time. Watching targeted videos is a much more efficient way to study, but everyone has a different learning style.
UWorld Mobile App
The UWorld Roger CPA mobile app on both Android and iOS is intended to help students study for the CPA exam on their mobile devices. Ideally, this could be used while commuting or during a lunch break at work. However, one of the updates recently made to this app has led to major problems for its users, such as frequent crashes and poor connectivity. Basically, you should avoid this prep course if you're most interested in studying on your smartphone!
---
Should I buy Roger CPA Review?
The main goal of studying for the CPA exam is efficiency. You don't want to spend twice as much time studying when you don't have to. This is Roger's philosophy as well— he knows what it takes to pass the exam the first time and is extremely passionate about you accomplishing your goals. At least, that's what his video content will tell you. Unfortunately, the mobile app included with his course doesn't offer the same level of quality!
The fully integrated program allows you to start new sections, pause, and come back to them whenever you need to. The questions match the videos to drive home the topics. I think this is one of the best if not the best package you can buy. I highly recommend it if you want to pass the exam your first time without wasting weeks studying things you don't need to.
Roger CPA Discounts & Promo Codes
Review Summary
Reviewer
Review Date
Reviewed Item
Author Rating