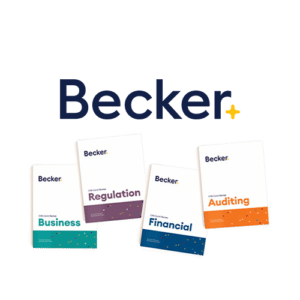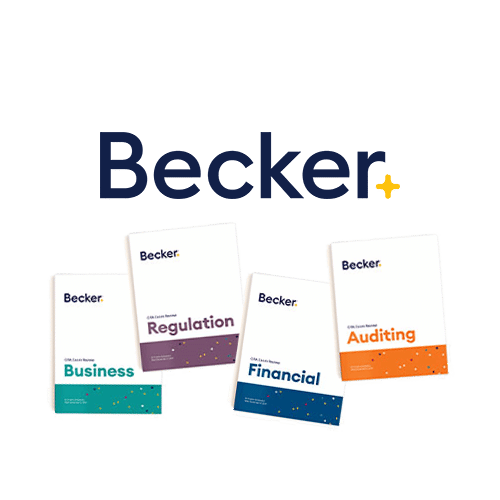 Becker CPA, Review course offerings, are by far the most popular and biggest name in the CPA exam study course industry. All of the Big Four accounting firms recommend Becker to their employees because they have proven themselves to be an effective CPA review course provider for thousands of candidates over the years; after all, they have a 94% pass rate among all their students.
Since their inception in 1957, Becker has offered many different options for CPA training, from live in-person training to online classrooms and self-study materials. Each of their four-course offerings covers all four sections of the exam (Auditing and Attestation, Business Environment and Concepts, Financial Accounting and Reporting, and Regulation).
They also include varied access to the Becker Promise. This promise says if you attend 100% of the lectures and maintain a 90% on all PassMaster homework problems and you still don't pass the exam on your first time, you can retake the entire course tuition-free. Sounds pretty good, right? In all seriousness, this is a great guarantee if you are able to meet all of their requirements.
---
Becker CPA Prep Course Details
There are four different Becker course selections. They range from a basic Advantage plan to Becker's newest offering, Concierge. There are lots of perks included with each of these options, and many can't be found in competitor CPA programs.
For example, most CPA exam prep courses don't do live, in-classroom teaching because of the high cost and logistics. Becker arranges college professors and industry professionals across the country to do local nightly classes for each section. These classes generally meet in a college or office building and usually last anywhere from 1 to 3 hours.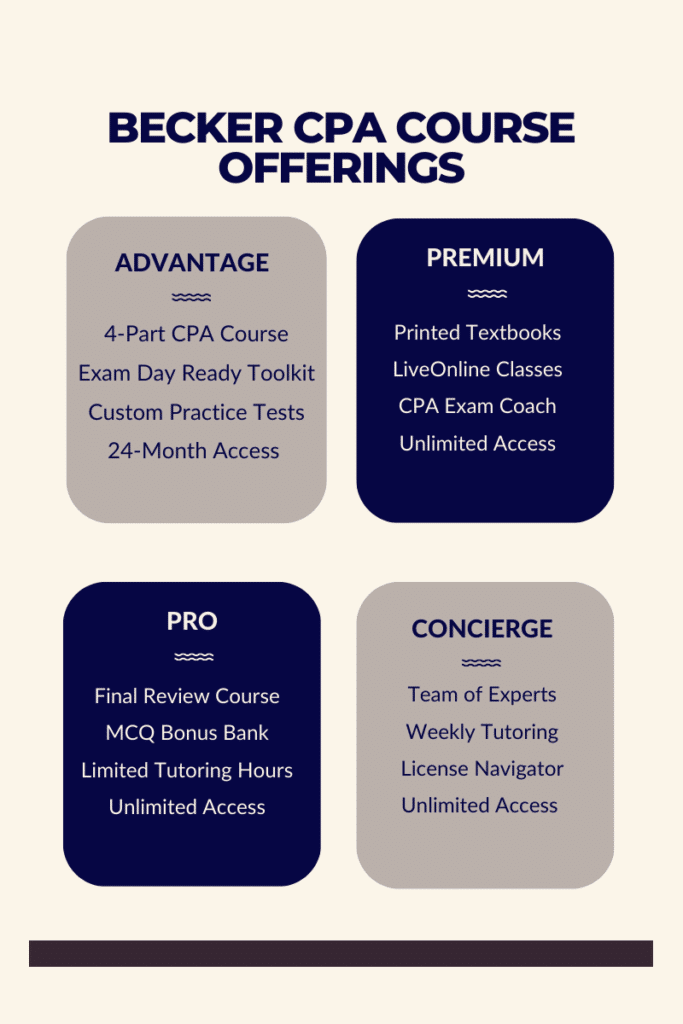 Live-online review courses are another common option. The online version was introduced a few years ago for students who want the benefits of a live classroom and schedule without having to drive to a physical meeting room every night.
They work exactly how you would assume; you log on to the system and attend lectures virtually. Your homework assignments have similar due dates to the live teaching sections, and the Becker Promise works the same as well.
And, of course, there's the Self Study aspect that is available for self-disciplined students. Becker's most affordable course, its Advantage offering, is similar to other review courses in that it includes hundreds of hours of video lectures, an interactive study planner, a test bank of 7,000+ questions, and exam simulations.
Unlike the live and virtual classrooms, however, the self-study materials can be used at your own pace and do not have stringent deadlines. This makes for a great study resource if you're introverted or just a self-motivated individual.
Unique Offerings
Becker has recently added a new CPA Review option: Concierge. When you sign up for Concierge, you receive access to a Becker team and your own success coach. You can receive up to 50 weekly one-on-one hour-long tutoring sessions on top of access to the complete 4-part Becker CPA Exam Review course. This comes with free content updates matching the AICPA's blueprint, including CPA Evolution (launching in 2024.)
Becker's Final Review and bonus 900+ MCQs are also included alongside your printed and digital CPA review textbooks. Printed and digital flashcards are also part of the deal and are complimented by their mobile app and award-winning game.
Need more personalized instruction? No problem; Concierge includes online virtual classes and live in-person sessions. Combined with Becker Concierge's 8 Simulated Exams and 12 Mini Exams, you get unlimited custom practice tests powered by Adapt2U Technology. Will all of these practice options, you're sure to be prepared for CPA exam day.
Of course, if you need more help, Concierge gives you exclusive access to over 7,000 MCQs and 400+ TBS questions that include exclusive SkillBuilder solution videos.
If you're worried this won't be enough to help you pass, don't get hung up on those thoughts. If you're Exam Day Ready and still don't pass, Becker will refund up to 100% of the Concierge CPA review purchase price.
However, Becker's high pass rate speaks for itself and makes the need to use their pass protection rare. What's more likely is that you'll be making use of their bonus one-year CPE subscription and CPE certificate that is a part of the Becker Concierge offering.
---
Pros
The Becker System
Course Materials
The practice questions and other study materials are extensive and well put together. All of Becker's options come with over 9,200 multiple-choice questions, 500+ exam simulators, and practice exams to help you prepare for the CPA exam. Furthermore, all three study options also include over 200 hours of instruction, which is more than the industry average.
The Becker Bump
When you practice taking Becker's mock exams, you might be discouraged if your scores are low. However, many students have noticed that their scores on the actual CPA exams are much higher in comparison. This is due to a difference in grading between Becker and the AICPA, which many students refer to as the Becker Bump. Basically, the mock exams are like the CPA exam on steroids! So, if you can pass Becker's practice exams, you'll be more than ready for the actual exam day.
Biggest Name
Let's face it. Becker is the biggest name in the industry, and that's exactly what you are paying for. You get the confidence of using something that is familiar to many CPAs, and future employers get the confidence of hiring someone who learned from the best. This is especially true for certified public accountants who plan to work for one of the "Big Four."
Of course, Becker earned this reputation. From the quality of their content to their track record of success, Becker's adaptability, even after being in the industry for over 60 years, makes them top-of-the-line.
---
Cons
Unfortunately, there are a few shortfalls to this package. Read this before buying:
Lack of Audio Content
Technically, you can repurpose Becker's video content as audio lectures by simply playing them while focusing on something else. However, students who love to learn new information through audiobooks and podcasts will immediately notice the difference.
If you're the type of student that wants to squeeze in some study time while exercising, doing chores, or driving on the freeway, Becker might not be the best choice. Hopefully, they improve this in the future!
---
Should You Buy Becker CPA Review?
As I said before, Becker CPA Review is a terrific course. There's a reason why they have the biggest name in the industry. It's especially valuable if you want to learn about the CPA exam in a live classroom environment or want a team backing you as you work toward your CPA. Both of these are more difficult to find than you would expect. Fortunately, all difficulty is gone if you opt for Becker.
Additionally, students who have a lot of anxiety about passing the CPA exam can rest assured that they'll receive the education they need. You can even save over $1,000 using a verified Becker CPA promo code. Thanks to the Becker Promise, there's no danger of wasting your money; they'll work with you for as long as it takes.
Becker CPA Discounts & Promo Codes