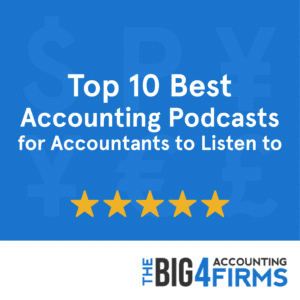 Podcasts are a great way to learn for people who don't have the time for more traditional learning. Busy CPAs and other professionals in accounting can keep up with their continuing education in otherwise unproductive times. Podcasts can be excellent education tools to keep you engaged when driving or taking the subway to work, waiting in queues etc.
There are excellent podcasts series available on iTunes and blogs. Some of these are aimed at current students that want to plan ahead for their careers, while others are designed to help keep practicing CPAs abreast of news, standards, technology and other subjects.
Top 10 Accounting Podcasts
Here is a list of the best accounting podcasts that will help you jump start your accounting career.
Accounting Play
Accounting Best Practices
The Xero Gravity
The Beancounter
ACCA Podcast
THRIVEal Podcasts
Cloud Stories
College Info Geek
Let's look at each one.
---
Accounting Play Podcast: Learn Accounting
URL:
Details: This series of podcasts by John Gillingham, CPA covers a variety of topics ranging from introductory lessons on accounting basics and concepts such as LIFO, FIFO, financial statements, equity etc., how to approach job interviews, introductions to C-corporations, increase and decrease of debits and credits and more.
Accounting Best Practices with Steve Bragg
URL: https://itunes.apple.com/us/podcast/accounting-best-practices/id137002798?mt=2
Details: This series of podcasts has been downloaded over 2 million times. It covers accounting standards, best practices, acquisitions, accounting technology, closing the books, payroll, metrics, handling auditors, continuing education, cycle counting, advising management and more. The Steve Bragg is also a writer of accounting books on a variety of topics, and his podcast style is informal, practical and relevant.
The Xero Gravity
URL: https://www.stitcher.com/podcast/the-xero-hour-with-bob-knorpp-and-saul-colt, https://itunes.apple.com/us/podcast/xero-hour-bob-knorpp-saul/id977452702?mt=2
Details: This podcast hosted by Gene Marks and Elizabeth Ue is essentially a small business podcast that will benefit practicing CPAs like any other professional entrepreneur. The podcast features interviews of people in small business, and covers topics such as how to boost your income, how to attract new customers, manage a work-life balance, and generally make your business or practice thrive. The podcast is available on iTunes as well as on the Stitcher app.
The ACCA Podcast for Students in Accounting Training
URL: https://itunes.apple.com/gb/podcast/acca-podcasts/id778584191?mt=2
Details: The Association of Chartered Certified Accountants (ACCA) has their own audio study aide series for student accountants and those in training, hoping to become certified professionals in the future. The podcasts are in-depth and cover areas like strategy, ethics, governance, environmental accounting etc.
THRIVEal Podcasts
URL: https://itunes.apple.com/us/podcast/thriveal-podcasts/id454751173, https://app.stitcher.com/browse/feed/22076/details
Details: This series from the THRIVEal Network aims at helping CPAs find a community and discover changes that are taking place in the areas of public accounting. Hosts Greg Kyte and Jason Blumer offer humorous and engaging insights on the subject of innovation in accounting, with the help and interviews of guests from the industry.
Cloud Stories
URL: https://itunes.apple.com/us/podcast/cloud-stories-heather-smith/id908333807?mt=2
Details: Made possible by the Xero platform and hosted by Heather Smith, the author of Xero for Dummies and a certified Xero advisor, this independent audio series brings stories about the Xero ecosystem and interviews with thought leaders, developers, cloud integrators, Xero solution providers, end-users and others.
College Info Geek
URL: https://collegeinfogeek.com/cast/
Details: While not directly created for accounting students, the podcast by Thomas Frank at his blog "College Info Geek" offer very useful advice for students who want to plan ahead, learn how to secure their dream jobs, promote themselves for better credit scores in whichever discipline they are pursuing, communicate their abilities and skills to recruiters, pay of their student loans by managing finances well and so on. The podcasts are delivered in an engaging and fun way, making them quite popular with listeners across disciplines.
Sources:
https://www.accountingtoday.com/podcasts/
https://player.fm/featured/accounting
---
Top 10 Best Tax and Finance Podcasts for Bookkeepers and Business Professionals in 2023
Podcast's are one of the most under-utilized tools people have available to them today. However, many podcast's out there are great for learning different tips and tricks.
This is especially true for accounting. You can learn about different programs and how to use them, tips for getting the best tax deductions, and learn more about how to file your taxes if you are self-employed.
It is simple enough to find a podcast for exactly what you want to know about by simply searching for it through Google or another search engine.
Below is a list of the 10 best tax, finance, and business podcasts:
1. QuickBooks's podcast by Woody, Dawn, and Stacy, recorded on November 14th, 2013, directed toward educating people about QuickBook's
2. SEC's Crackdown on Accounting fraud by Michael Cohn, recorded November 12th, 2013, directed toward informing people about the SEC crackdown
3. Upon Further Review- Self-employment Tax Issues by Ed Zollars, recorded March 28th, 2013, directed toward educating people on the tax issues they may face if they are self-employed
4. Charity Tax Exemptions by Stephen O'Flynn, recorded on November 11th, 2013, directed toward educating people on how to handle a charity tax exemption
5. Like Nobody's Business by Total Team Solutions, series of 54 podcasts directed towards business owners
6. The Small Business Owner's Manual by Joe Kennedy, series of 32 podcasts directed toward helping small business owners
7. TaxMama's TaxQuips by TaxMama, series of 10 podcasts directed toward giving tax tips to individuals on topics such as tracking the mileage on your vehicle.
8. ThinkGlink by ThinkGlink, a series of podcasts directed toward individuals and consumers on the topic of real estate
9. Employer Responsibilities under the Affordable Care Act by Kate Barton, recorded on January 14th, 2013, directed toward educating employers on how to handle payroll and other issues with employees and the Affordable Care Act
10. Affordable Care Act Implications You Need to Know by Ted Sarenski on behalf of the AICPA, Recorded on August 19th, 2013, directed toward educating people on how the Affordable Care Act will affect personal finances and taxes
All of these podcasts are aimed at helping individuals and small business owners learn more about their finances, taxes, deductions, and accounting programs.