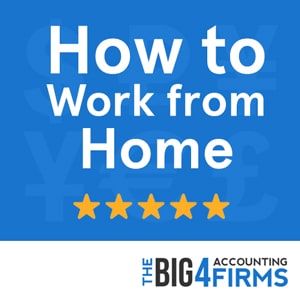 Accountant "from-home" jobs don't have to be a dream anymore. If you've got a space you can transform into an office (or an existing office) and some accounting experience, you can start working from home by the end of the week. All you need is tech, space, and dedication.
With the rise of online working options and free bookkeeping tips all over the internet, there are now also several companies dedicated specifically to connecting businesses with accounting services the same way the brick-and-mortar firm you work at connects you to clients now—except online.
---
Jobs for the Work-at-Home Accountant and Bookkeeper
Here's a list of the best work from home accounting and bookkeeping jobs on the market:
AccountingDepartment.com
Bookminders
ClickAccounts Bookkeeping Services
Intuit
TurboTax
TAD
Let's take a look at each one.
---
1. AccountingDepartment.com
AccountingDepartment.com, formerly Balance Your Books, is one of the oldest remote accountant companies and one of the most well respected. They offer part-time accounting jobs to applicants with five years of experience (bookkeepers only need two years of experience).
2. Bookminders
Bookminders works with small businesses and non-profit organizations. They offer both full time and part time accounting positions (minimum of 20 hours per week). Furthermore, some of these at-home jobs even come with benefits! Bookminders requires all applicants to have a bachelor's degree in accounting or finance and five years of experience working in the field. Pay starts at $25/hour.
3. ClickAccounts Bookkeeping Services
ClickAccounts accepts resumes on a rolling basis and provides bookkeeping and accounting services to small-to-medium sized businesses. Additionally, no specific experience requirement is listed. However, it's generally suggested that you work in a brick-and-mortar firm for three years before you start applying to these companies. Ultimately, there are lots of opportunities here, but competition is still stiff.
4. Intuit/TurboTax
If you just want to earn some extra money come tax time instead of moonlighting year-round Intuit/TurboTax has the perfect opportunity for you. Yes, the company that brought you Quickbooks offers both full and part-time positions. These jobs don't actually require you to file taxes for people; Intuit hires people to give advice and help people get through their taxes on their own.
5. TAD
TAD offers bookkeeping and accounting positions to businesses of all shapes and sizes. Unlike the other companies on this list they do not accept resumes on a rolling basis, but they are always expanding and regularly hire new people.
---
Common Accountant and Bookkeeper Work-at-Home Questions
Can Accountants work from home?
Yes, accountants and bookkeepers can work from home! A recent CPA Trendlines survey of over 800 CPAs found that 58% are spending at least 11 hours working from home per week during the busy season and their clients aren't necessarily in the public sector where you'd expect to find them.
More and more CPAs are doing corporate accountant work from home and becoming quite successful, with over 24% of CPAs surveyed reporting that they work at least 35 hours a week from home.
Once qualified, while 44% of CPAs say they don't do this extra work outside of the busy season, 51% do—and if you're a CPA you can stop daydreaming about joining their ranks and start doing it. You might even be surprised at how easily you can get clients if you've got a good reputation.
---
So what are the benefits of doing accounting work from home?
Accounting is a job that pays very well, and extra income is the obvious advantage but there are many reasons why you should consider doing some accounting work at home. Being able to set your own hours, choose how much work you take on based on your availability during different seasons, create your own dress code and skip the commute are some of the most often mentioned benefits when CPAs talk about working from home.
Working from home typically also means fewer distractions. You might have a pet to contend with, but you won't have any coworkers dying to have a chat or unscheduled office calls to distract you. Depending on where you work your home office might be a lot quieter as well, allowing for much better focus.
---
What are the challenges of working from home?
Working from home—especially when you're doing it as extra work on top of your full-time job—comes with its own set of challenges. If you have a spouse and kids you're going to have to make sure they know what your working hours are and respect the time you spend in the home office. It is absolutely essential to have your own office space, ideally a completely separate room. Enforcing these rules can be extremely difficult, especially at first, but everyone will adjust over time.
It can also be tough to stay focused on work you're doing on the side. Without a boss watching over you it can be easy to get distracted by all the things you could be doing around the house or online. If you can't take your side gig as seriously as your full-time job you probably won't be able to maintain it as a successful business.
---
What do you need to start doing accounting work at home?
As mentioned above, the most important thing is an organized workspace where you can actually tune out distractions and focus on what needs to get done. Your workspace should have everything you need within arm's reach and be a sacred area of the house that other members of the family don't touch. This way everything is always where you need it.
Since you'll probably be meeting clients in your house you want to make sure this space is always clean and well organized. You might make the rules now, but people expect a certain amount of professionalism from an accountant regardless.
You also need to make sure you have a good tech set up. High bandwidth and quality software are incredibly important. Your software should be at least as good as what you use in your day job. If you like the program used at your current workplace sticking to the same program can help you streamline the process of both jobs.
---
Where can you find work from home positions as an accountant?
There are always tons of businesses and people looking for an accountant. Some specifically seek out accountants who work from home and others let the accountants choose whether they work at home or in the office. Often the best way to find clients is to hunt for local businesses and people interested in working with you.
You can find these jobs by going to networking events, looking at job boards online, even hosting classes for business owners so they have an opportunity to meet you and see how knowledgeable you are before they hire you. Sometimes just making an offhand comment to a friend that you're looking for clients to work with from home can give you great leads.