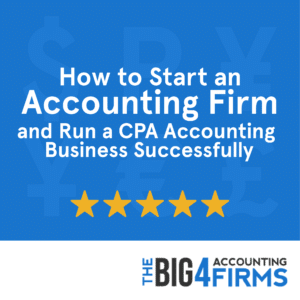 Starting your own accounting firm or accounting business can be extremely rewarding. There's no more answering to the boss and no more limits to raises. Basically, business owners are only limited by what they can produce and how many clients they can get.
This sounds like a dream, right? Well, it doesn't have to be. Starting a successful CPA firm comes down to hard work, determination, and persistence. Sure there will be ups and downs in the business cycle, but that is to be expected.
If you're motivated and want to build an accounting empire, you are in the right place. In this article, we'll talk about how to start your own accounting business and make it grow.
Steps to Start Your Own Accounting Firm
Make a business plan
Find CPA mentors and advisers
Identify a client niche and target market
Market yourself and network
Select a location
Hire the right employees
Always keep your ethical standards high
---
Starting An Accounting Firm With or Without a CPA
In a profession often chosen for its job security, starting your own business can seem like going against the grain.
But the timing has never been better: with over 50% of the working population employed by small businesses, there is a large group of customers (potential new clients) that need accounting services but are unlikely to resort to full-time accountants or expensive accounting firms.
This is where your new business can come in:
While working for yourself can seem appealing, you shouldn't open your own practice just because of a particularly exhausting tax season at your current company.
Being an entrepreneur can require even more hard work, discipline, determination and resilience than other accounting roles; technical competence alone does not guarantee success.
But if you are qualified and you like a challenge, if you seek more variety and independence in your career, and if you can provide quality services to a group of customers – starting your own accounting practice may just be the best decision you ever make.
Related: Learn more about the pros and cons of small vs large firms
---
Where to Start: Opening Your Own Accounting CPA Firm
Taking the right steps in starting your accounting business can determine how successful you are. It's a good idea to choose the type of firm you want to start based on your strengths and previous experience.
Whether it's tax preparation or consultancy, make sure you have a specific skill to market, as well as a target group of customers – for example, young adults who need help with taxes.
This will help you find your place on the market, while at the same time allowing you to remain open to other types of clients requiring a wide range of services.
Next Steps to Opening Your Accounting Firm
perform market research
select your location
define your staffing goals
plan your finances
Planning Your Firm's Costs
location
premises
utilities
equipment
marketing material
insurance
professional fees
staff salaries
You'll need to balance these against your capital and planned revenue.
Make sure that you comply with business and insurance regulations – this cannot be overstated if you want your start-up to run smoothly. Have a marketing strategy and a good understanding of costs and revenues, as well as a plan for growing your business.
You are now ready to prepare your business plan and turn your ideas into reality!
Once your business plan is ready, you can seek out financing, incorporate your practice, find an office space and finally – find your first customers.
While clients from your previous job can help you get started, don't forget to network intensively, especially in the first months.
Offering high-quality services to a group of contacts is probably the best way to grow, as satisfied clients are likely to refer you to their contacts.
---
How to Make Your Accounting Business a Success
The fact that 8 out of 10 start-up businesses fail is a sobering statistic, but one that does not have to reflect your story. You can increase your odds of success by marketing yourself well and seeking out the expertise and advice of professionals in fields that are not your forte.
Make sure you start out with the right amount of capital and the right team – hiring the best candidates will make a great difference in the long term.
Balancing revenue and loss is also important to keep your business running. For example, keeping your customer turnover low can help you consume less capital – a 5% monthly customer loss will require you to reinvest 60% of your revenue, while a 2% loss will only lead to reinvesting half of that figure.
To improve your turnover rates, you can invest in customer retention – which becomes easier as spend per customer grows. This is why exceedingly low fees may seem like a good strategy for attracting customers but won't help you in the long run when you try to maximize revenue.
Building a successful business takes years and long work hours; sometimes the profit won't be what you expected and there will be bad months along with the good.
But if you're starting a business for the right reasons and you enjoy the learning curve, roadblocks won't stop you: the key is to keep going and to avoid cutting corners when it comes to the quality of your services.
Like many difficult tasks, starting your own accounting practice can be a hugely rewarding accomplishment.
Make sure you plan ahead, know your market and don't underestimate the amount of work and dedication involved – and you'll find yourself reaping the rewards.