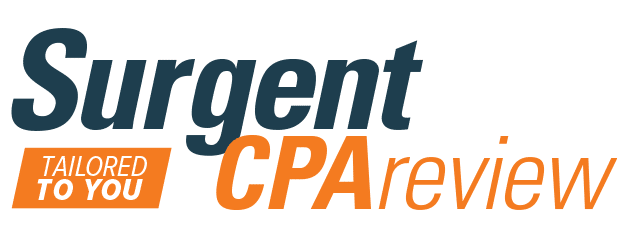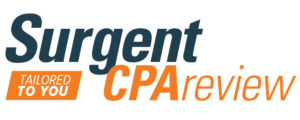 Course Rating: ★★★★★
CPA review courses exist to maximize your readiness, but few of them are as effective as Surgent CPA Review. Founded in 1985 by Jack Surgent, this program has grown to become a leader in continuing education and exam prep. Surgent delivers more than 2600 live seminars and self-study courses a year that span every topic a CPA needs.
More recently, Surgent has become one of the most popular and effective courses as a result of its proprietary adaptive learning technology.
---
Surgent CPA Review Study Materials and Features
ReadySCORE
ReadySCORE is a measure of each student's CPA Exam readiness. In Surgent prep courses, ReadySCORE is presented by content area, topic, and exam question type. Your readiness rating is calibrated to mimic real CPA Exam scoring. Therefore, with ReadySCORE you'll know exactly how ready you are for the exam.
Many services from other prep courses claim to be adaptive, but none go the distance Surgent achieves.
The most accurate way to measure your exam preparedness is through ReadySCORE. In fact, students with a ReadySCORE of 75 or more have an 88% pass rate according to data gathered by Surgent. These pass rates are calculated by using exam scores from Surgent students via a third party platform, so you don't just have to take Surgent at their word.

Adaptive Learning Technology
Surgent employs A.S.A.P. (Adaptive Study, Accelerated Performance) technology in all of their courses. Essentially, A.S.A.P. is proprietary learning technology used to discover your unique areas of need. Afterward, it creates a custom CPA exam prep study plan to focus on where you most need help.
Consequently, A.S.A.P. technology drastically reduces the necessary amount of study time while maximizing the effectiveness of the time used. All parts of the course (text, questions, video lectures) incorporate ASAP to help you master exam topics with ease. Unlike other courses, you will not be forced to watch every video, read all materials, and answer every question while studying. Surgent offers the only truly adaptive course on the market.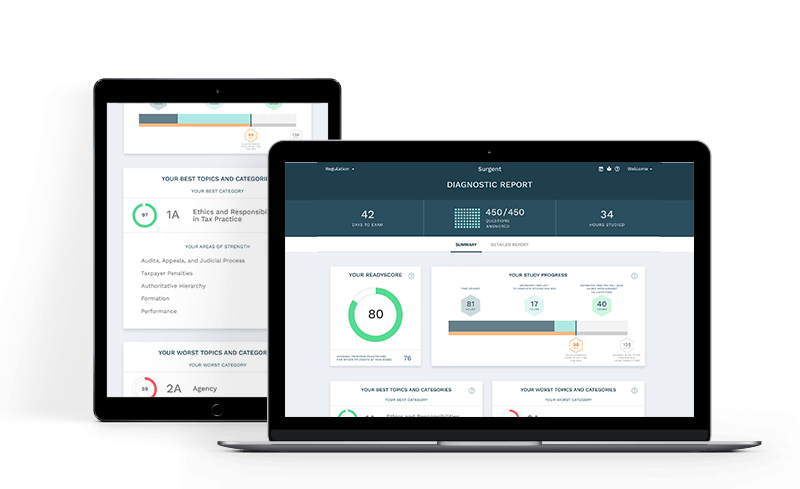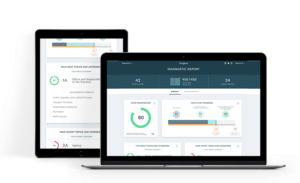 Superior Study Materials
All Surgent CPA Review courses have over 7,700 multiple choice questions and nearly 417+ task-based and document review simulations. It also includes 350+ videos, each of which come with customized study notes.
Ultimate Pass users also gain printed textbooks, support from CPA Exam success questions, and an additional 1000 questions from an integrated test bank. Furthermore, an audio course is provided for those who want to study for the exam on the go.
Ultimate Pass
Surgent CPA Review has three different course options, but the one with the best value is the Ultimate Pass package. Ultimate Pass costs $2899 and is the only way to gain access to features such as the audio-only course. For students who can't pay that much all at once, Surgent offers 3, 6, or 12 monthly payment plans through Affirm. Rates range from 0-30% APR and prices can be as low as $255 a month.
---
Surgent CPA Courses Frequently Asked Questions
Can I access Surgent's review materials on mobile?
All Surgent CPA Review content is available on mobile. Their software is compatible with iPads, iPhones, Android devices, and tablets. Courses also come with free access to the Surgent flashcard app.
How long will I have access to their course?
Students will have unlimited access to the Surgent CPA course until they pass their exam. Unlike other services, no content will expire until you pass and all course materials will be updated for free.
Surgent includes how much video content in its course?
Surgent CPA Review comes with 350+ "bite-sized" videos. Each video is focused on specific and digestible topics and come with custom study notes. Each video has been designed by business experts to convey important topics in ten to twenty minutes instead of hours.
How does Surgent CPA Review's adaptive learning technology work?
Surgent CPA Review handles adaptive learning technology through A.S.A.P. and ReadySCORE. The former generates custom study plans based on your current level of knowledge, and the latter tracks your readiness for the full exam. This combination of short-term and long-term tracking allows Surgent to change its curriculum based on your study needs!
---
Surgent CPA Review Pros
Personalized review course tailored for each student
88% pass rate for students with a ReadySCORE of 75+
Ultimate Support provides guaranteed technical support within one business day
Always up-to-date with free and automatic content updates
---
Surgent CPA Cons
More expensive than the average CPA review course
Surgent CPA Review Discounts & Promo Codes
Review Summary
Reviewer
Review Date
Reviewed Item
Author Rating