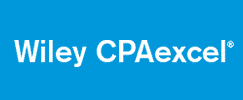 Course Rating: ★★★★★
Wiley CPAexcel review is one of the best review courses that I've used. It was designed with one thing in mind: efficient learning. They came up with the idea to take the entire CPA exam curriculum and break it down into manageable pieces. This way, students will be able to focus on specific topics rather than broad areas.
Wiley's organized every subject into smaller "bite-sized" lessons that can be easily understood and retained. Rather than going to a 3-4 hour-long lecture, you can watch a 5-20 minute presentation about a subject. This system definitely works. I personally used it to pass all four sections of the CPA exam my first try, and I did all of this while working full time in public accounting. I even took AUD during tax season while I was working 65-70 hours a week!
This course is taught by professors from top colleges around the country and is specifically designed to reduce the time it takes to study for the test. That's why it's prefect for people with full-time jobs, kids, family obligations, and people who are just flat out busy. And let's face it, aren't we all busy? We all have better things to do than devote every night and weekend to studying. This is where the Wiley CPA excel software features work best.
Let's go into more detail so you can decide is Wiley is the right CPA prep course for you:
---
What's Included with Wiley CPAexcel?
Wiley Platinum Course Overview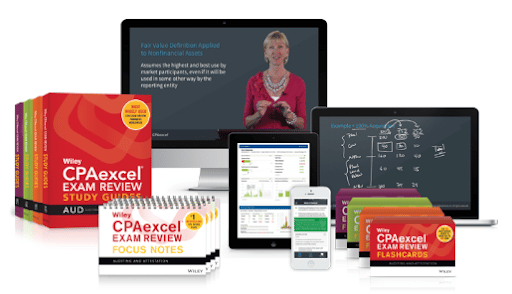 Partner Until You Pass Guarantee

Efficient Learning Platform with Bite-Sized Lessons, exam planner, discussions,

unlimited practice exams

140+ hours of video instruction

Online Test Bank with additional 6,000+ multiple choice questions and 200 task-based simulations

6,000+ multiple-choice questions

300+ task-based simulations

40+ written communications

4,000+ digital flashcards and 1,000 print flashcards

Companion Mobile App with extra 10,000 questions

Professor Mentoring with online support from subject-expert professors

Virtual Classroom Series with live, online instruction and support

Focus Notes with acronyms and mnemonics (print & ebook)

Study Guides map perfectly to the lessons in the courseware (print & ebook)

Free

online content & courseware updates until you pass
There are so many features and unique study materials in the 2018 CPAexcel course. Their HUGE test bank of practice questions and efficient bite-sized lessons really help you study quickly and remember detailed concepts easily. You won't need anything else to pass the exam.
---

Wiley CPA Prep Course Details
The overall layout of the course starts with broad topics and breaks them down into smaller subtopics and even smaller subsections. For example, one of the BEC topics is Business structures. This topic includes a subtopic like partnerships. Inside the partnership subtopic is a series of subsections like rights of partners, partnership property, etc. These subsections are the bite-sized lessons about the broad topics. (Wow, I hope I didn't confuse you too much with that!)
Basically, it does a good job of breaking down topics into small manageable topics that can be covered and tested in less than 30 minutes. Maybe I should have said that in the first place.
Each bite-sized lesson includes six different course materials:
CPA Video Lectures
Each lecture is usually between 5-35 minutes long and follows the slides pretty closely. They aren't the most entertaining lectures in the world, but they are professional, informative, and to the point. That's what I like most about CPAexcel is that they don't beat around the bush with their study materials. Rather than having 45 minute-to-an-hour long lectures on every single topic with lengthy intros and tons of extra information, they just cut straight to the point and tell you what's important for that topic.
The lectures don't need to be exciting for you to learn from them because they are so short. You listen to the info, understand what they are saying, and then go straight into the Wiley test bank or other materials to start quizzing yourself on the topic. It's a perfect balance of efficiency and knowledge/level of understanding. Plus, it makes you feel like you are getting a ton done because you fly through them. You aren't stuck watching something for an hour and left forgetting half of it by the end. You stay motivated.
Wiley lectures are ultimately somewhat basic but highly professional. Their extremely accomplished instructors are in front of a clean, white background. During the lecture the study slides appear alongside them, so you can follow along. All in all, very sleek looking and sounding. There isn't any messy handwriting or dry erase boards to follow during these videos.
Study Slides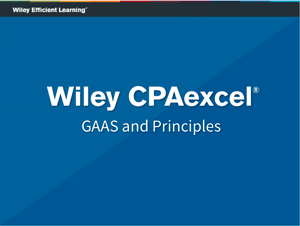 The study slides are based on the study materials and look like PowerPoint slides in any professional presentation. Again, there's nothing particularly noteworthy about the design of these slides, aside from the fact that they're clean and easy to follow. Most of them typically consist of bullet pointed lists that the instructors use to talk about during the lectures. There usually isn't too much detail listed on each slide, but they do offer a great place to take notes.
For instance, you can print out the slides and take notes on them while you are listening to the lectures. Since the slides themselves are pretty clean and open, there is plenty of room to take notes and write down reminders for later. Here's an example of what they look like.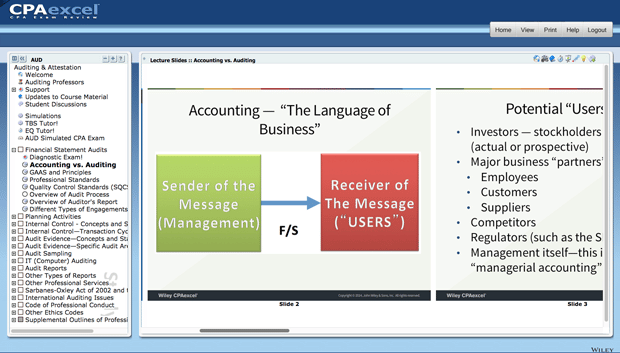 Many slides also include charts, graphs, and graphics that are pretty helpful in learning and understanding new concepts. I would typically go through the slides while watching the lectures and make any notes I thought were important before I moved on to the next section. Keep in mind, the slides follow the bite-sized learning approach, so they are minimal in length and depth. There's just enough in each section to convey the topics. You will not be burdened with some crazy 100-slide presentation. They match the lectures, so they are nice and short.
CPA Exam Study Materials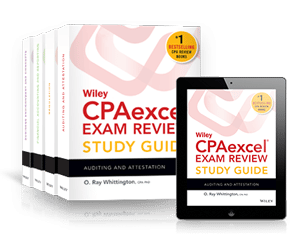 The study text for each lesson is usually only about 2-5 pages long. Trust me. That's a good thing. The Wiley CPA study materials are straight to the point. You don't have to waste your time reading 20 pages of some redundant textbook to understand what will be on the exam. They only focus on the important topics and concepts.
The study textbook is pretty dry reading. It's more like a book of lists and things to memorize more than it is a textbook for understanding concepts, but that's a good thing. I looked at my study book like a list of topics I needed to know and then watched the lectures and practiced the questions in order to understand, reinforce, and memorize the information. Everyone uses these slightly differently, but they work out well for showing you what you need to know.
Here's and example of the textbook in my Wiley CPA review account.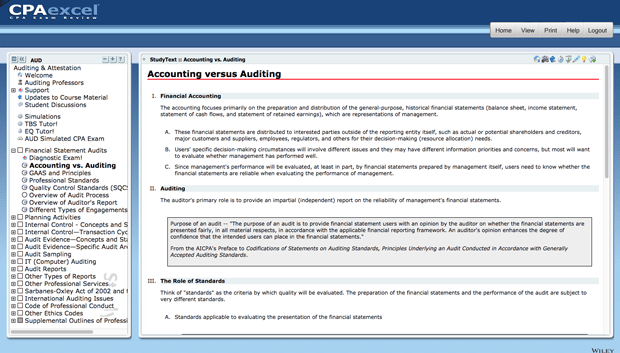 Depending on what course you buy, you can get both a physical copy and an ebook copy of all the study text. I would recommend getting the Platinum course because that comes with both. I really enjoyed having the printed copy of the books because it gave me a place for notes and a place to highlight and bookmark information I knew I needed to come back to in the future.
CPA FlashCards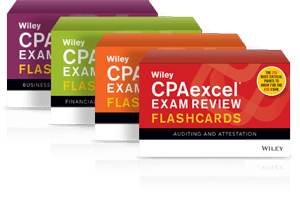 CPA review flashcards are an important part of the study process. Well, at least I think so. I used the flashcards all the time because it's an easy way to test yourself on simple concepts and topics without having to go through an entire test bank or formal testing process. You can just whip out a few cards and run through some examples.
This is honestly one of the reasons why Wiley is, in my opinion, one of the best CPA review courses currently available. They've put a great deal of thought and effort into their flashcards, making them one of the strongest aspects of their curriculum. Additionally, a recent update to Wiley CPAexcel's course dashboard provides fast access to these cards, making it easier than ever to start a quick study session when you're pressed for time.
The flashcards themselves are pretty basic looking, but they do the job. Truthfully, it's not really important how they look; it's what's on them that counts. They have tons of key concepts that help you remember things in the lectures and topics in the study text. Here's what they look like inside the Wiley CPAexcel review software interface.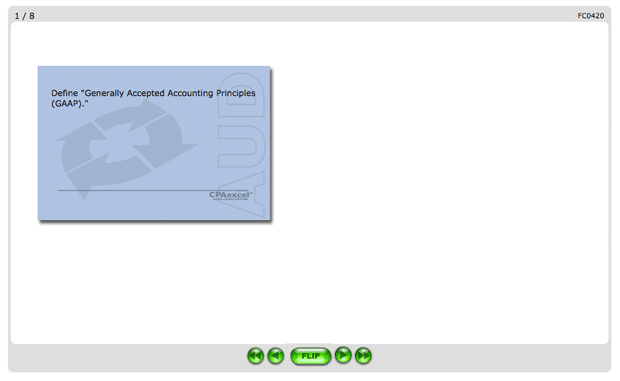 ---
3 Different CPA Course Formats
Wiley offers a few formats for their CPA prep courses aside from the standard desktop format demonstrated above. Additionally, you can use the CPAexcel app on iOS or Android to practice on your phone or tablet. That's probably the coolest feature because you can pull out your phone and flip through a few flashcards anytime you want!
The third option is to get a physical copy of Wiley's textbooks and flashcards. The printed flashcards come with the Platinum course; that's what I got, and I actually like having the printed cards at home. There's just something about feeling the cards while you're going through them that makes it easier to really grasp the underlying concepts. Either way, you should get this course in some form or another: it's worth it!
CPA Exam Proficiency Questions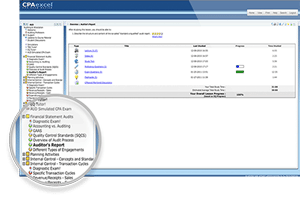 The proficiency questions are actually pretty awesome. I used these a lot while I was studying because they are a fast and easy way to gauge how well you know a topic without having to go through an entire quiz or testlet. They typically take the form of true/false questions that cover the topics in the bite-sized learning sections.
Here's what they look like inside the course: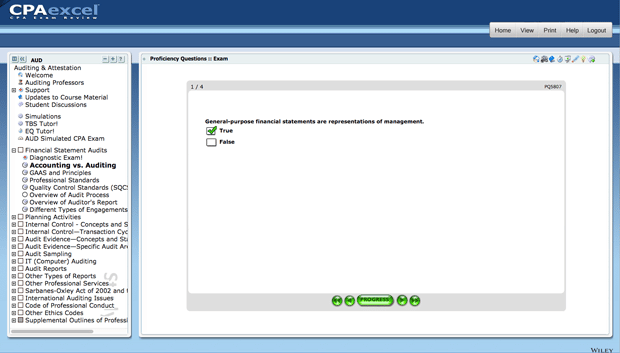 One of the best aspects of Wiley's CPA exam prep course is its focus on progressive studying. This means that the software will automatically suggest additional materials related to topics you struggle with. Some of these materials may take the form of lecture content or flashcards, while others may pull from the text and highlight specific sections.
This might not sound like a big deal at first, but it's seriously a huge time saver. You can fly through the questions and instantly know if you understand the information or not. Furthermore, you don't have to wait until the end of an entire testlet to figure out that you don't know anything about the topic and need to go back to the study text.
Like I said, I loved using Wiley CPAexcel for these reasons. They're a great way to quickly judge how well you understand each section!
CPA Exam Simulator and Questions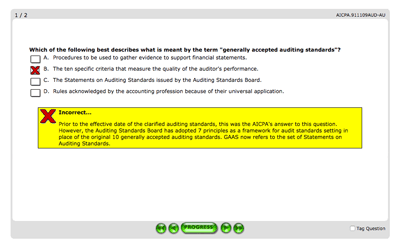 The exam questions or practice test questions are drawn from the Wiley Test Bank of over 5,000 multiple-choice questions. These questions include a variety of past CPA exam questions released by the AICPA, questions created by the AICPA for candidates, and Wiley created questions.
Each section has a series of related exam questions that can be taken in two different formats. The first format is the study mode. Like I said in the study text section, the study mode format allows you to go through the questions quickly and get immediate feedback about your answer. They even give you an explanation for each question.
The second test question format is the actual exam simulator. This format looks and feels identical to the real CPA exam. When I say it looks exact, I mean it looks exactly like the exam. If you study with the CPAexcel exam simulator, you won't be surprised on exam day. It looks just like it.
The simulator has a timer, calculator, and spreadsheet function that you can use during the study process. Once you are finished with the practice test, it will grade your testlet and give you explanations of the right and wrong answers.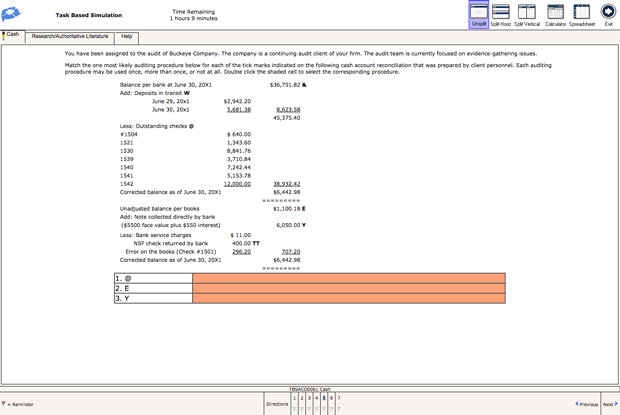 This was by far the most helpful thing for me out of the entire review course. Practicing as many questions as possible is one of the best ways to prepare for the exam.
Mentored Discussions for CPAs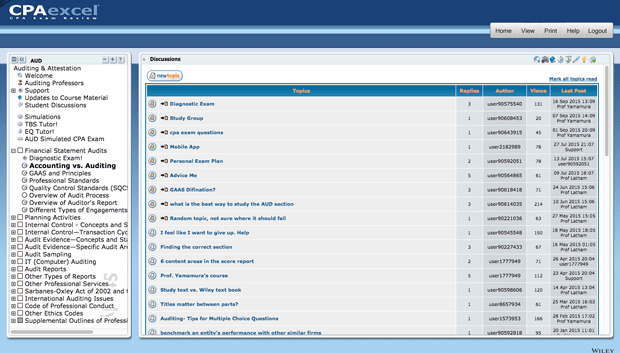 A recently added feature to Wiley CPAexcel is the mentored discussion section. This is a forum where you can post questions about the review course, study question, or the CPA exam itself. These forums are monitored by the Wiley staff, professors, and other candidates. In other words, you'll probably have an answer to whatever question you post in there within 24 hours.
Ultimately, this is a pretty awesome resource because a lot of times you don't even have to ask a question; you can simply consult the forum. Chances are, someone's already asked the question you have, which means you can get your answer immediately. It's a really handy resource to have!
How I Used Wiley CPAexcel to Pass the Exam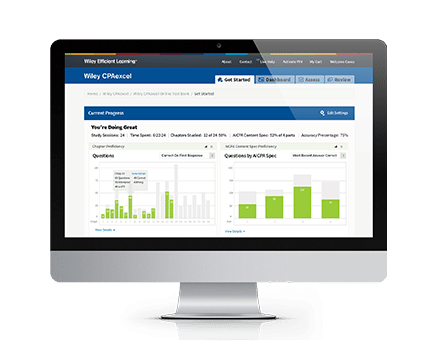 This system works really well. Here's what I would do. I'd watch the video and read the study text to get a base understanding of the topic. Then I'd take the proficiency tests to test myself. If I did well, I'd take the practice exam, read through why I got some wrong, and take them again.
After I was consistently getting a 90 percent average on the exam questions, I'd move on to the next lesson group. After each section, there is a summary test that uses random questions from 10-20 subsections. I'd take that until I was getting 90% as well. Then I'd move on again. That's all there is to it!
As you can see, each bite-sized lesson packs a lot of studying power and it really allows students to move quickly through the course. All of these features are bundled together in their easy to navigate interface with an exam calendar, study schedule, and performance stats. It's truly a modern CPA review course and an industry standard. If you want to try it out for yourself before you buy it, I don't blame you. You can sign up for the Wiley CPAexcel Free 14 Day Trial and play around with the entire system before you purchase it.
---
Pros
Smaller Lessons
Tons of CPA Exam Study Questions
Practice questions are key when you are studying for the CPA exam. CPA Excel gives you true/false proficiency and multiple-choice questions for every section. This is an awesome way to test your knowledge and see what's wrong with your thinking. Sometimes the explanations on the multiple-choice answers helped me more than the actual textbook did. There are tons of multiple choice and true and false (over 6,000 to be specific) with detailed explanations of correct and incorrect answers.
CPA Exam Simulator
Since you most likely haven't taken the CPA exam before, you have no idea what to expect. Well, the built-in simulator is identical to the real thing. If you review the multiple choice and task based solutions with this, you will feel at home on test day!
Unlimited CPA Review Course Access
Unlike most review courses, Wiley CPA exam review never expires. Let me say that again: this guide NEVER expires! If it takes you 3 years to pass all four sections, you'll still be able to use your account. There's no time limit or extra extension fee and there never will be. How awesome is that? Plus, you can access your online account anywhere from any PC or Mac! This means you could start a lecture at work while you are on your lunch break and finish it at home.
This unlimited access doesn't stop with a computer. The new CPAexcel Android app lets you take your multiple-choice questions, flashcards, and ebook anywhere with your phone. They also offer a mobile app for the iPhone. That means you can study your Wiley CPA test bank on your iPad. Rather than checking your facebook, you can pull up the app an run through a few questions when you waiting to pick your kids up from soccer practice. This is pretty incredible.
---
Cons
While I used this course of the course of 8-10 months, I did find a few shortfalls. I don't have too many cpaexcel review complaints, but here they are.
Mnemonics Strategies For CPAs
Unfortunately, the instructors don't really use mnemonics at all. There are a few references but not much. If you're the type of student who likes making acronyms and mnemonics, you will have to create your own for this course. Although I must admit, the bite-sized lectures do such a good job enhancing recall; you don't really need anything else.
Non-Engaging Lectures
The lectures are similar to a standard college accounting course—in other words, pretty dry. The instructors don't stray far from the powerpoint slides and tend to be very matter of fact in their presentation. Even though the videos lack a little personality, they are short and to the point. They tell you what you need to know. In fact, I passed the BEC section without even reading the book. I just watched the lectures and took the quizzes. Yes, they are that good.
No Real Life Classes
Personally, I'd rather watch lectures on my own time than be required to go to a class, but everyone's learning style is different. Wiley CPA does not offer in person instructors or virtual classrooms. They do have a great study calendar that will help you make sure you are on track to meet your test date. There is also an interesting section that tracks your quiz statistics, so you can go back and study certain sections again.
Don't forget. You can get a cpaexcel coupon code to save 15 percent on your purchase by going to my coupons page.
---
Should You Buy Wiley CPAexcel?
You should know by now how I feel about the Wiley CPA Excel review course. I passed all four sections my first time using this system. I know it works; I'm proof of it. As long as you are comfortable studying on your own and following a study calendar, I definitely recommend this guide.
More importantly, this course is great for candidates with busy schedules. The short lessons don't require huge blocks of time to complete and you can pick them up where you left off no matter where you are. Plus, one of the biggest things is this program NEVER expires!
I highly recommend this course if you want to reduce your study time and make it fit your schedule. CPAExcel exam review 2018 allows you to do just that.
---
Wiley CPAexcel CPA Discounts & Promo Codes
Before we get into my actual review of this awesome study guide, I just want you to know that Wiley CPAexcel Review offers great coupon codes for students.
Review Summary
Reviewer
Review Date
Reviewed Item
Author Rating