While Wiley was once a top contender in our CPA prep recommendations, its recent acquisition by UWorld raises concerns about its continuity and future direction. Given these uncertainties and the potential changes post-merger, we cannot confidently recommend Wiley for CPA prep at this time. Instead, we wholeheartedly endorse Becker as a reliable and comprehensive choice for CPA exam preparation.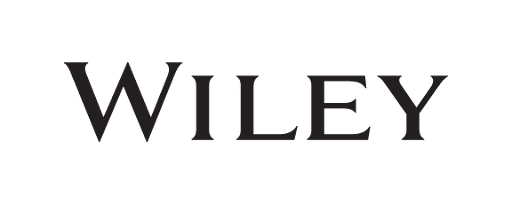 Wiley CPA Review was designed with one thing in mind: efficient learning. They came up with the idea to take the entire CPA exam curriculum and break it down into manageable pieces. This way, students will be able to focus on specific topics rather than broad areas. But does their implementation actually work?
Wiley organized every subject into smaller "bite-sized" lessons that can be easily understood and retained. Rather than going to a 3-4 hour-long lecture, you can watch a 10-30 minute presentation about a subject. Although this approach is definitely novel and appealing to a particular kind of student, it comes with some unfortunate downsides.
This course is taught by professors from top colleges around the country and is specifically designed to reduce the time it takes to study for the test. That's why it's intended for people with full-time jobs, kids, family obligations, and people who are just flat-out busy. However, there are some issues that came about as a result of their most recent changes.
Let's go into more detail so you can decide if Wiley is the right CPA prep course for you:
---
What's Included with Wiley CPA?
Wiley Platinum Course Overview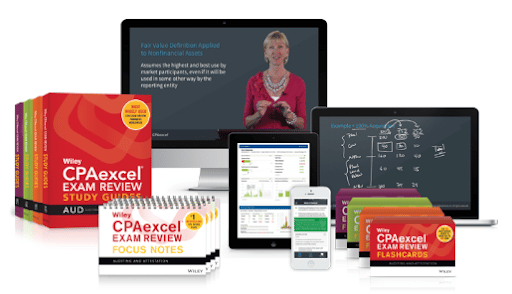 Partner Until You Pass Guarantee

Efficient Learning Platform with Bite-Sized Lessons, exam planner, discussions,

and practice exams

140+ hours of video instruction

Online Test Bank with additional 6,000+ multiple choice questions and 200 task-based simulations

17,000+ multiple-choice questions

500+ task-based simulations

40+ written communications

4,000+ digital flashcards and 1,000 print flashcards

Companion Mobile App with extra 10,000 questions

Professor Mentoring with online support from subject-expert professors

Virtual Classroom Series with live, online instruction and support

Focus Notes with acronyms and mnemonics (print & ebook)

Study Guides map perfectly to the lessons in the courseware (print & ebook)

Free

online content & courseware updates until you pass
Wiley CPA Course Updates
In 2023, Wiley Efficient Learning updated their CPA review course to match changes outlined by the AICPA. Each of their 4 CPA exam sections has been tweaked to include content that's accurate to the modern accounting industry. Some of these changes were minor, like some updates to terminology in their Financial Accounting and Reporting (FAR) section. Others were more substantial, like the new videos and practice questions added to their Auditing and Attestation (AUD) exam.
There are a lot of features and unique study materials in Wiley's CPA course. Their test bank of practice questions and efficient bite-sized lessons are substantial and help you study quickly and remember detailed concepts easily. On the other hand, their video content and mobile app leave a lot to be desired.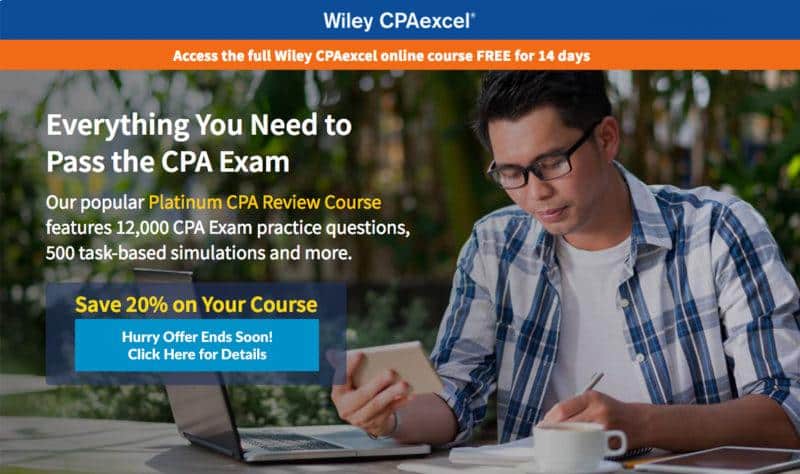 Wiley CPA Prep Course Details
The overall layout of the course starts with broad topics and breaks them down into smaller subtopics and even smaller subsections. For example, one of the BEC topics is Business structures. This topic includes subtopics like partnerships. Inside the partnership subtopic is a series of subsections like rights of partners, partnership property, etc. These subsections are bite-sized lessons about broad topics. (Wow, I hope I didn't confuse you too much with that!)
Basically, it does a good job of breaking down topics into small, manageable topics that can be covered and tested in less than 30 minutes. Maybe I should have said that in the first place.
Each bite-sized lesson includes six different course materials:
CPA Video Lectures
Each lecture is usually between 5 to 35 minutes long and follows the slides pretty closely. They aren't the most entertaining lectures in the world, but they are professional, informative, and to the point. If you're only interested in video content to supplement other study methods, this should be fine. However, students who primarily learn through video lectures will want to check out Roger's study materials instead.
The lectures don't need to be exciting for you to learn from them because they are so short. You listen to the info, understand what they are saying, and then go straight into the Wiley test bank or other materials to start quizzing yourself on the topic. It's a decent balance of efficiency and knowledge/level of understanding.
Essentially, Wiley lectures are basic but professional. A lecturer stands in front of a white background while study slides appear alongside them so you can follow along. All in all, very sleek looking and sounding. There isn't any messy handwriting or dry-erase boards to follow during these videos.
Study Slides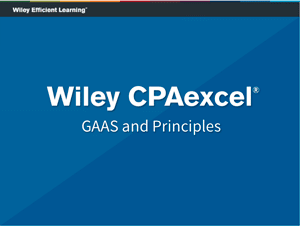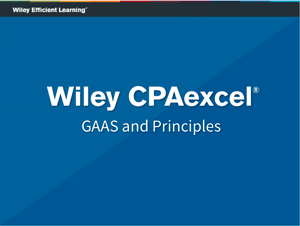 The study slides are based on the study materials and look like PowerPoint slides in any professional presentation. Again, there's nothing particularly noteworthy about the design of these slides, aside from the fact that they're clean and easy to follow. Most of them typically consist of bullet pointed lists that the instructors use to talk about during the lectures. There usually isn't too much detail listed on each slide, but they do offer a great place to take notes.
For instance, you can print out the slides and take notes on them while you are listening to the lectures. Since the slides themselves are pretty clean and open, there is plenty of room to take notes and write down reminders for later. Here's an example of what they look like.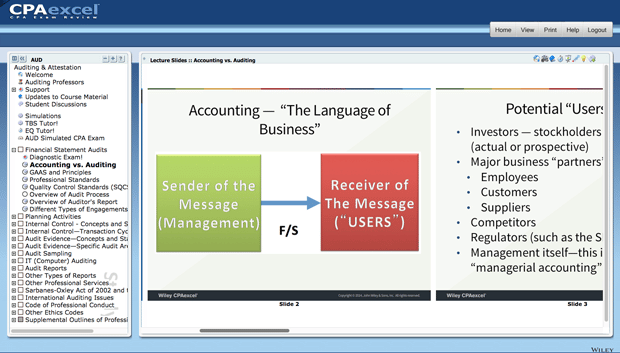 Many slides also include charts, graphs, and graphics that are pretty helpful in learning and understanding new concepts. I would typically go through the slides while watching the lectures and make any notes I thought were important before I moved on to the next section. Keep in mind, that the slides follow the bite-sized learning approach, so they are minimal in length and depth. There's just enough in each section to convey the topics. You will not be burdened with some crazy 100-slide presentation. They match the lectures, so they are nice and short.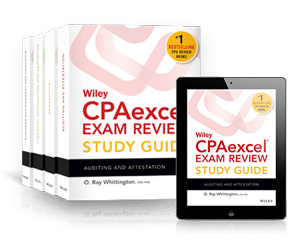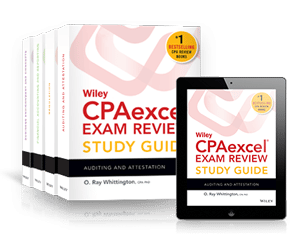 CPA Exam Study Materials
The study text for each lesson is usually only about 2-5 pages long. This means you don't have to waste your time reading 20 pages out of a textbook to understand what will be on the exam. They only focus on the important topics and concepts, but they're not quite on the same level as the textbooks provided by Becker CPA Review.
The study textbook is pretty dry reading. It's more like a book of lists and things to memorize than it is a textbook for understanding concepts. Look at these study books as a list of topics you need to know. Much like the video lectures, these are little more than a brief supplement to Wiley's practice questions.
Here's an example of the textbook in my Wiley CPA review account.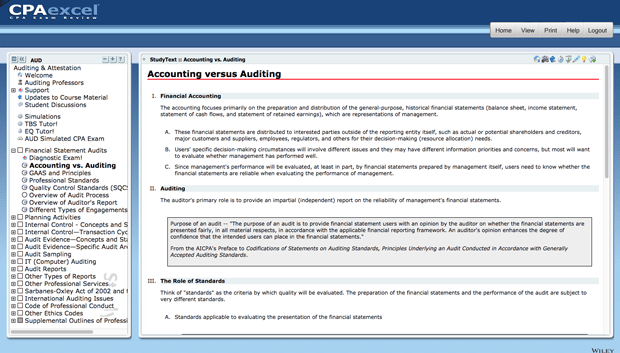 Depending on what course you buy, you can get both a physical copy and an ebook copy of all the study texts. We would recommend getting the Platinum course because that comes with both.
CPA Flashcards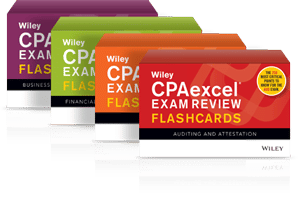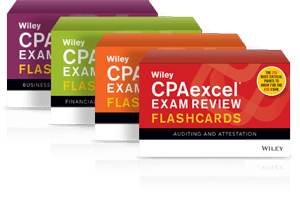 CPA review flashcards are an important part of the study process. Well, at least I think so. We used flashcards all the time because it's an easy way to test yourself on simple concepts and topics without having to go through an entire test bank or formal testing process. You can just whip out a few cards and run through some examples.
With Wiley's approach to flashcards, the end result is both positive and negative. They've put a great deal of thought and effort into their flashcards, making them a solid complement to their practice questions. But a recent update to Wiley CPA course dashboard has resulted in difficulty accessing all of these cards on mobile devices. This is a big deal since most students like to cram in a quick practice session on their phones; not being able to access the digital flashcards on their devices can significantly impact their experience.
The flashcards themselves are pretty basic-looking, but they do the job. Truthfully, it's not really important how they look; it's what's on them that counts. They have tons of key concepts that help you remember things in the lectures and topics in the study text. Here's what they look like inside the Wiley CPA review software interface.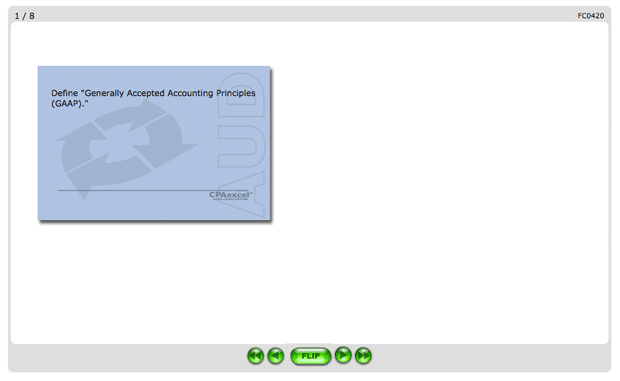 ---
3 Different CPA Course Formats
Wiley offers a few formats for their CPA prep courses aside from the standard desktop format demonstrated above. Additionally, you can use the CPA app on iOS or Android to practice on your phone or tablet. But as I mentioned in the section on flashcards, these apps have been going through major connectivity issues that make them more trouble than they're worth!
The third option is to get a physical copy of Wiley's textbooks and flashcards. The printed flashcards come with the Platinum course; that's what I got, and I actually like having the printed cards at home. There's just something about feeling the cards while you're going through them that makes it easier to really grasp the underlying concepts.
CPA Exam Proficiency Questions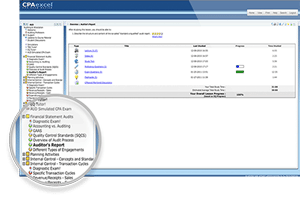 The proficiency questions are actually pretty awesome. I used these a lot while I was studying because they are a fast and easy way to gauge how well you know a topic without having to go through an entire quiz or testlet. They typically take the form of true/false questions that cover the topics in the bite-sized learning sections.
Here's what they look like inside the course: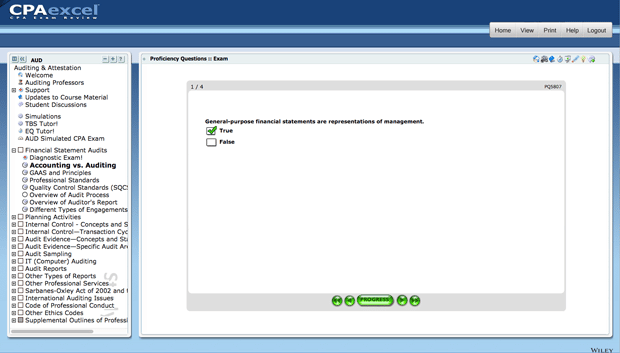 One of the best aspects of Wiley's CPA exam prep course is its focus on progressive studying. This means that the software will automatically suggest additional materials related to topics you struggle with. Some of these materials may take the form of lecture content or flashcards, while others may pull from the text and highlight specific sections.
This might not sound like a big deal at first, but it's seriously a huge time saver. You can fly through the questions and instantly know if you understand the information or not. Furthermore, you don't have to wait until the end of an entire testlet to figure out that you don't know anything about the topic and need to go back to the study text.
Ultimately, the proficiency questions and similar practice materials are what Wiley does best. Just about everything else they include in their courses are supplements to these materials.
CPA Exam Simulator and Questions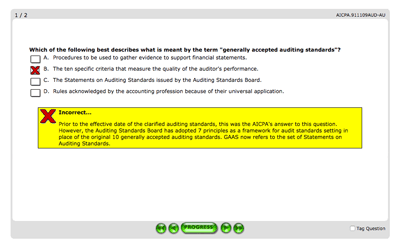 The exam questions or practice test questions are drawn from the Wiley Test Bank of over 5,000 multiple-choice questions. These questions include a variety of past CPA exam questions released by the AICPA, questions created by the AICPA for candidates, and Wiley-created questions.
Each section has a series of related exam questions that can be taken in two different formats. The first format is the study mode. Again, the study text section, the study mode format allows you to go through the questions quickly and get immediate feedback about your answer. They even give you an explanation for each question.
The second test question format is the actual exam simulator. This format looks and feels identical to the real CPA exam. When I say it looks exact, I mean exactly like the exam. If you study with this exam simulator, you won't be surprised on exam day.
The simulator has a timer, calculator, and spreadsheet functions that you can use during the study process. Once you're finished with the practice test, it will grade your testlet and give you explanations of the right and wrong answers.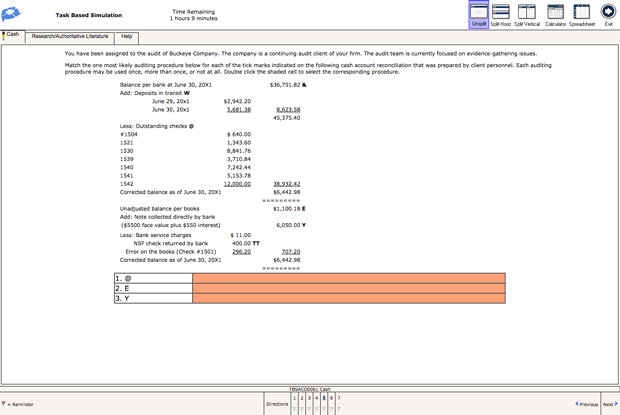 This was by far the most helpful thing for me out of the entire review course. Practicing as many questions as possible is one of the best ways to prepare for the exam. Just don't expect any of Wiley's other study materials to offer a similar level of quality.
Mentored Discussions for CPAs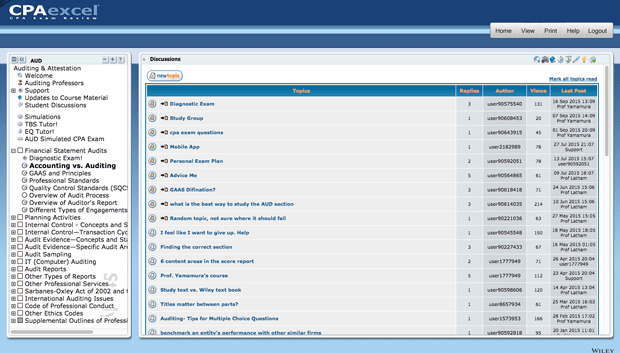 A recently added feature to Wiley CPA Platinum and Ultimate packages is the mentored discussion section. This is a forum where you can post questions about the review course, study questions, or the CPA exam itself. These forums are monitored by the Wiley staff, professors, and other candidates. And while it may take them a while, they will eventually get back to you with an answer to your question.
Ultimately, this is a pretty awesome resource because a lot of times you don't even have to ask a question; you can simply consult the forum. Chances are, someone's already asked the question you have, which means you can get your answer immediately. It's a great way to avoid waiting for a personal response!
---
Pros
Smaller Lessons
Tons of CPA Exam Study Questions
Practice questions are key when you are studying for the CPA exam. CPA Excel gives you true/false proficiency and multiple-choice questions for every section. This is an awesome way to test your knowledge and see what's wrong with your thinking. For the most part, the explanations on the multiple-choice answers helped me more than the actual textbook. There are tons of multiple choice and true and false (over 17,000 to be specific!) with detailed explanations of correct and incorrect answers.
Unlimited CPA Review Course Access
Unlike most review courses, Wiley CPA exam review never expires. If it takes you 3 years to pass all four sections, you'll still be able to use your account. There's no time limit or extra extension fee.
---
Cons
Mnemonics Strategies For CPAs
Unfortunately, the instructors don't really use mnemonics at all. There are a few references, but not much. If you're the type of student who likes making acronyms and mnemonics, you will have to create your own for this course.
Non-Engaging Lectures
The lectures are similar to a standard college accounting course—in other words, pretty dry. The instructors don't stray far from the powerpoint slides and tend to be very matter of fact in their presentation. Even though the videos lack a little personality, they are (thankfully) short and to the point.
Recent Acquisition
Following Wiley's recent acquisition by UWorld, there's uncertainty surrounding the future direction of their CPA prep material. This change could lead to potential shifts in curriculum or platform features, making some prospective students hesitant about the consistency and quality of the course going forward.
---
Should You Buy Wiley CPA?
Given the recent acquisition of Wiley by UWorld, there's a cloud of uncertainty regarding the future direction and quality of their CPA prep material. Potential shifts in curriculum or platform features could impact the consistency and effectiveness of the course. Therefore, until there's clarity on these concerns, it's advisable to explore other established CPA preparation options.