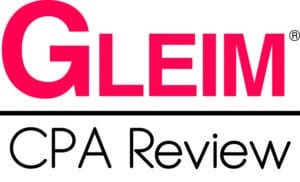 Gleim CPA Review course is ideal for those who want audio courses without the extra fees added. The course is a standard 100 lecture hours, with over 9,000 multiple choice questions and 1,000 simulations. Their personal counselor services are available via phone and email, so those needing homework assistance will be happy to know it's readily available. This course also has a mobile app for learning on the go.
While this course can seem overwhelming with its large amount of content, it's worth noting the books are very detailed. Many appreciate this detail and the jargon that helps them begin integrating in the accounting realm. Others may find the technical terms and amount of information overwhelming, so this is certainly a course that should be examined before determining if it's a good fit. Its audio review is very detailed, however, and the lectures are perfect for downloading to a smart phone for a listen during your morning commute. Priced competitively at around $1200, this course offers a lot of bang for the buck.
Because with some packages you can have full access to the course until you pass, if you properly pace yourself with the content, a vast amount of information can be absorbed for the price. In fact, because of the content and personal counselor, this is one of the best courses for those who have a long time to prep and study, or those who foresee trying the exam a few times for the best possible score. It also has a built in study planner so you can remember when to study and stay on track.
Even though flashcards are not available, the materials provided cover every possible thing that is on the CPA exam. While the content can seem overwhelming, it can also be a great help if you need to focus really specifically on a problem area that you know needs time. Gleim is also a surprisingly respected name in the industry. In fact, Dr. Gleim himself was a coauthor for many of the former Wiley CPA exam materials.
| Pros | Cons |
| --- | --- |
| Audio courses at no additional cost. | Personal counselors via phone and email to help with questions. |
| Priced at only $1200 | Technical terminology is preferred by some and overwhelming for others. |
| Packages offer access until you pass the exam. | Flashcards are not available. |