When preparing for the PMP exam, the absolute best study tools are practice tests. When you recreate the conditions of the official PMI (Project Management Institute) test with a practice exam, you'll be able to get a feel for both the timing of the exam and what areas you're weak in. Thanks to that, you'll know where to focus the brunt of your studying as the real PMP certification exam comes up.
Keep in mind that you'll be better prepared the more exam preparation tests you take. This is because you will become more and more familiar with the test given by the PMI. This ensures that when the time comes, you can work through the exam swiftly and without any stress.
Want to take advantage of the best PMP exam simulators on the market? Use these services and you'll be a project manager in no time!
4 Best PMP Practice Exam Simulators
#1 PM Exam Simulator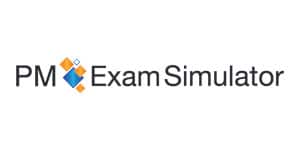 PM Exam Simulator is a browser based program which requires no downloads. All of the main browsers are supported, so you can take all eight PMP and five CAPM exam simulations from the comfort of your home. All test content is automatically kept up to date for no extra charge.
These tests are designed to perfectly emulate the feeling of the real PMP exam issued by the PMI. You'll be given two hundred exam questions to solve within four hours. After completing all of the mock exams, you'll be intimately familiar with the format and content of the real exam. All questions are based on information from the PMBOK guide (Project Management Body of Knowledge).
They also offers a free PMP Exam Simulator trial. It contains three exams with 60 PMP sample questions each. Because of this you can feel out the service before deciding on a purchase. Not many companies are confident enough in their product to let potential customers do that. However, PM Exam Simulator knows and understands its strengths.
Price
PMP Exam Simulator: $139 for 90 days of access. $25 for a 30 day extension.
CAPM Exam Simulator: $69 for 90 days of access. $15 for a 30 day extension.
Bottom Line: Currently, PM Exam Simulator has the best exams on the market. Their low price and versatile modes of test taking make this an extremely attractive option for all aspirant project managers. But if you're still unconvinced, check out their free trial and see if it's right for you.
---
#2 PM Master Prep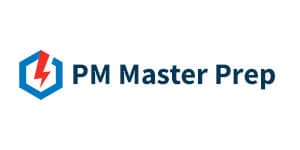 Much like PMP Exam Simulator, PM Master Prep endeavors to be as faithful to the testing experience as possible. Practice tests are made up of 200 questions pulled from a random pool of over 1,400 PMBOK guide adherent test questions. Each question has been expertly designed by project management professionals and are properly proportioned according to the PMP Exam's outline. Hence, you won't find yourself only testing one topic the entire time!
Here's a quick tip to help you decide if it's the right choice for you:
If you fill out your information on this page, you'll be able to book a personalized PMP simulator demo. This will let you figure out whether or not these practice tests are right for you. Alternatively, you can try out their Exam Simulator Demo to see a sample of 25 questions given over a 30-minute period. Upon completion you'll be able to view answers and feedback just as they would appear on the full practice test.
Students of PM Master Prep can choose between the Exam Simulator or Super Simulator course. The basic exam packages comes with the standard 1,400 test questions and practice tests. All tests come with unlimited access and retakes, as well as detailed scoring by category and overall score. The Super Simulator course includes a host of additional study tools in addition to the provided exams. These tools include formula and study sheets, case stories, and project management tools.
Price
PMP/CAPM Exam Simulator: $59/$49
PMP/CAPM Super Simulator: $149/139
Bottom Line: PM Master Prep is a strong contender for anyone looking to prepare for the PMP certification exam. Their prices are extremely reasonable and the bonus study materials make buying their Super Simulator package a no-brainer. Basically, PM Master Prep is well worth your time and money!
---
#3 Sybex PMP Test Bank

Sybex gives you access to a web-based bank of test questions that can be used to create personal practice sessions and exams. Each question also comes with an included detailed explanation. Essentially, the Sybex test banks has a heavy focus on self-study and personal responsibility. There are also prebuilt tests for those not interested in creating their own.
Sybex offers a 14-day free trial of their service. This trial includes the exam planner and several bite-sized study lessons as well as assessment questions and video lectures. Sign up for their free trial here.
Furthermore, these exams include fast assessment progress reports. These show your progress based on each test knowledge area such as process groups in addition to your raw score. These reports also include incorrect question reports, which show the question text and both the correct answer and incorrect answer side by side with detailed explanations.
Price
Sybex PMP Standalone Test Bank: $75
Bottom Line: Sybex's standalone test bank is a worthy resource for any aspiring students. Though their lack of CAPM content is disappointing, their low price is very hard to beat. Ultimately, this PMP exam prep program is worth paying for if you want to pass the exam!
---
Frequently Asked Questions (FAQs) – PMP Practice Exams
1. Which is the best PMP exam simulator?
Currently, the best PMP exam simulator is the one offered by PM Master Prep. Their exam simulator comes with over 1,600 practice questions from experienced project managers that are consistently updated to match new releases of the PMBOK. Students who are interested can get 90 days of access for a very reasonable price.
2. Is PMP certification tough?
Although the PMI doesn't release information on PMP exam pass rates, the general consensus is that this exam is very difficult and roughly ⅓ of test takers fail. However, many of the best PMP review courses like BrainSensei offer pass guarantees and boast high pass rates for their enrolled students, which make it easier to pass the exam on your first try.
3. What is the best way to prepare for PMP exam?
To prepare for the PMP exam, you're going to want to familiarize yourself with all the content in the current Project Management Body of Knowledge (PMBOK). Additionally, it's highly recommended that you study for at least 3 to 6 months with the aid of a high-quality PMP prep course like BrainSensei or PM Master Prep.
4. What score do you need to pass the PMP?
The Project Management Institute (PMI) doesn't publicly publish exam pass rates or passing scores. That's because they constantly update their tests to provide the most legitimate evaluation of each taker's project management knowledge and aptitude. The best way to ensure you pass the PMP exam is to study all the concepts covered in the PMBOK guide equally.