CRUSH RATING: ★★★★★
It can be tough to choose a good Project Management Professional (PMP) exam prep course. There's so much to choose from and all of them claim to be "the best".
However, there's one that naturally stands out due to the high quality materials on offer. That course is Project Management Prepcast— also known as PM Prepcast.
According to their site, this company has helped over 57,000 project managers across 56 countries. Their entire curriculum was designed to complement the PMBOK guide, so you can
Read on to see what they have to offer you.
Overview of PM Prepcast
PM Prepcast was created by OSP International, which is a company based out of Orange County, California. They've been using their professional experience to prepare aspiring project managers for the PMP exam since 2006. Combined, their instructors have almost 2 decades of experience that informs their teaching style— which includes the company's founder.
Here are a few of the features you can expect from PM Prepcast:
50 Hours of Webinars

35 Contact Hours Certificate

25 Agile and Hybrid Lessons

2,100+ Practice Questions

Easy to Understand Answer Explanations

Mobile Friendly Content
What's Included With PM Prepcast?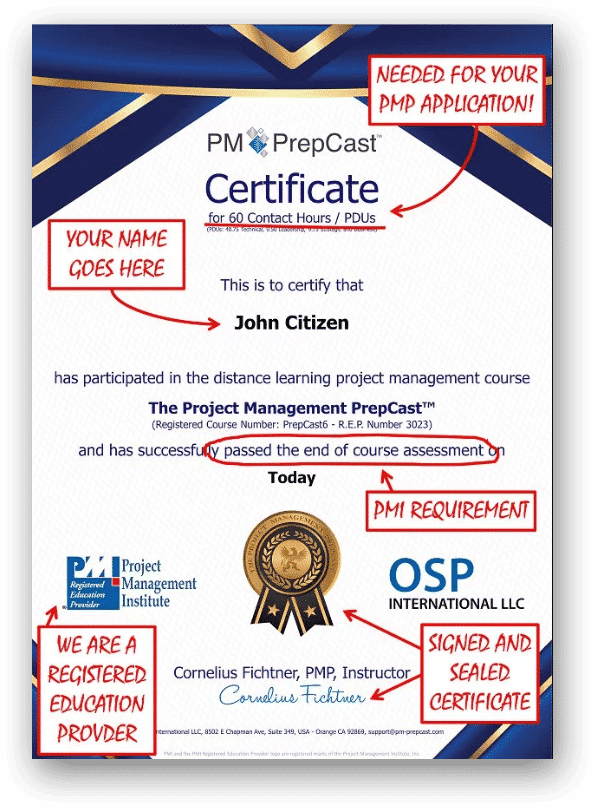 Informative PMP Prep Webinars
This PMP exam prep course comes with a series of on-demand webinars and video lessons. Each of these teaches a key component of the PMP exam in a clear and concise manner. Plus, the video format allows visual learners a chance to remember key course concepts without struggling through piles of written content.
Every lecture is delivered by an experienced Project Manager. That way they can connect their professional experience to the theory required to pass the PMP exam. Doing so ensures that you'll learn how to apply what you've learned in your work life beyond the exam.
PMP Exam Simulator
PM Prepcast's biggest claim to fame is their excellent PMP exam simulator. When using this simulator, you gain access to over 2,000 realistic exam sample questions. This simulator mimics the experience of taking the exam as closely as possible. That way you can grow comfortable with the testing experience before sitting down for the real thing.
In fact, some students have even claimed that the PMP exam itself was easier than PM Prepcast's simulator!
Questions can also be organized into separate quiz pools, which allows you to more easily focus on specific topics. That way you can work on areas that you're weaker in and make sure that you know everything being covered on the exam.
Progress Tracking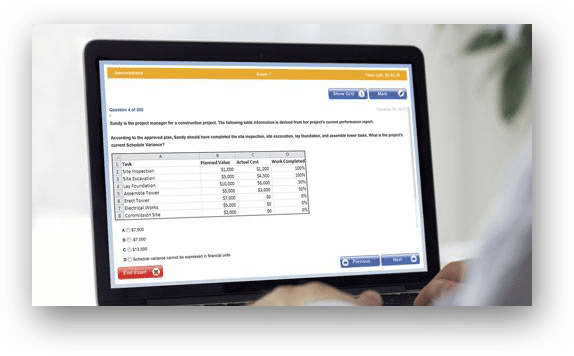 All of your lesson and test progress is tracked through the Learning Management System (LMS). This system shows you what areas you need extra help in and makes it easy to jump back into your lessons. Plus, it's a great tool for gauging whether you're ready to pass the PMP exam. Make sure to finish everything in the course and you should easily become a Project Manager.
---
PM Prepcast Pricing
You have 2 options when purchasing a PM Prepcast course. The first is the Basic training course for $229. That includes only the video lessons and Prepcast training without any exam questions.
Alternatively, you can choose the $299 elite option— this adds the PMP exam simulator and ensures that you have access to everything the site has to offer. I recommend the Elite option because It doesn't cost much more and comes with a wealth of extra content.
---
Pros & Cons
It can be tough to choose a course just based on a list of features. That's why I've gone ahead and listed some of the upsides and downsides of using this program.
Pro – Mobile Friendly:

Don't worry about spending several hours in front of a desk; PM Prepcast's content is accessible on all devices. Thanks to that, you can take your work on the go. I recommend studying for 10-15 minutes whenever you have a break at work. It does wonders for knowledge retention.

Pro – Excellent Support:

Every student enrolled in PM Prepcast gains access to an online forum. Using this will let you contact teachers and other students for help during your study process— and you can practice some of what you know by helping other people out.

Pro – Self Paced:

PM Prepcast's courses are entirely self-paced; feel free to take as much or as little time as you like when preparing for the exam. That way you don't have to feel rushed or worry about cramming for the exam. Instead, you can work at a comfortable schedule.

Con – No Live Content:

Unfortunately, this course is meant for independent study. You can speak with teachers if you need extra assistance, but there's no live course content or anything resembling a typical classroom setting. However, this can also be seen as a positive if you only want to work on your own.
---
Frequently Asked Questions
Still confused or unsure? Here are some of the most commonly asked questions about this course.
Q: Does PM Prepcast offer any free materials?
A: PM Prepcast offers a series of free instructional videos and concept lessons. These are a great way to get a feel for the course before deciding on a purchase.
Q: Is there any way for me to earn PDUs through PM Prepcast?
A: Not at this time. PM Prepcast is currently retooling their PDU program due to PMI no longer recognizing 60 PDU courses. They should have something ready for purchase very soon— maybe even by the time you complete your initial PMP certification!
Q: Does PM Prepcast offer a money back guarantee?
A: Yes! You can get your money back if you decide that this course isn't for you. Simply request a refund within 90 days of starting and you'll receive your money back with no questions asked.
---
Ideal Customer
If you're still unsure about this course, take a look at the types of students who might (and might not) like it:
If you enjoy having access to help from your peers,

this is the course for you.

If you'd like to focus on your test taking skills,

this is the course for you.

If you prefer to set your own study pace,

this is the course for you.

If you need a strict study schedule,

this isn't the course for you.
---
Final Recommendation
As you can see, PM Prepcast is an excellent self-study program for the PMP exam. Their video lessons and exam simulator will teach you what you need to know before reinforcing it into your memory. If you complete everything the course has to offer, you'll find passing the PMP exam to be an extremely easy affair.
Make sure to sign up today, or at the very least try out their free materials. I promise you won't regret it!