With around 20 schools offering accounting programs, Oregon does not present would-be accountants with much choice. However, some of the programs available are competitive, accredited and designed to satisfy CPA requirements:
Lundquist College of Business at the University of Oregon
State University of Portland
State University of Oregon
While Oregon accounting programs are not at the top of the rankings, the Lundquist College of Business currently holds the 96th place in the US News ranking of business schools.
Tips for Choosing the Right Accounting Program
The accounting program that you choose can have a tremendous impact on your ability to pass the examination required to become a Certified Public Accountant (CPA) and on your employability after graduation.
It is important that you do your research carefully before applying and that you opt for the most rigorous program that can successfully prepare you for future challenges.
Before you apply, make sure the program has the right accreditation, either from the AACBS or the state accountancy board.
Moreover, if you intend to sit for the CPA exam, you should find out whether the program will allow you to fulfil the exam requirements. It is also helpful to have a look at the school's most recent CPA exam pass rates.
You want to attend a program that will maximize your chances of finding a job after graduation, so take into account extracurricular opportunities available on campus, student organizations and firms that regularly recruit graduates of that particular program.
In a nutshell, you should try to choose the most prestigious and intensive program, with reputable instructors and a rigorous curriculum. T
he CPA exam is known for its low pass rates and work as an accountant requires advanced skills; it is best that you invest your time in an academic program that can give you confidence in the face of these challenges.
How to Become an Accountant or CPA
In order to embark on a career in accounting, you will need good financial, business and math skills, as well as a relevant four-year Bachelor's degree. This should comprise accounting, business and general education courses.
If your aim is to become a CPA, you will need to undertake additional study to reach the required 150 semester credits before you can sit for the CPA examination.
In order to maximize your chances of passing the notoriously difficult CPA exam, it is advisable that you choose a rigorous accounting degree program and that you take the exam as soon as you have fulfilled the requirements, as you will need a good recollection of university course material.
After the CPA exam, you will need to complete an ethics course and gain a minimum of 12 months of experience before you can apply for your CPA license.
Subsequently you might need to renew your license regularly and to complete a number of continuing professional education courses. You can also choose to join a CPA society in order to keep up to date with different aspects of the profession.
Oregon CPA Requirements
Candidates for the CPA exam are required by the Oregon accountancy board to complete 150 semester hours that include a Bachelor's degree from an accredited college or university.
Accounting courses should comprise a minimum of 24 hours, while 24 further credits must be earned in accounting or related courses such as business, finances or communication.
If you have 2 years of public accounting experience but do not fulfill the educational requirements for a CPA, you may sit for a Public Accountant examination.
In order to apply for a CPA license in Oregon, you need to pass all sections of the CPA exam and fulfill a 12-month experience requirement under the direct supervision of a CPA licensee. You will also need to complete an approved ethics course.
Oregon licensed CPAs are required to complete four hours of continuing professional education in ethics and professional conduct every renewal period.
| Oregon Accounting Salary (avg) | National Accounting Salary (avg) |
| --- | --- |
| $54,000 | $57,000 |
Accounting Salaries in Oregon
Oregon does not stand out as a particularly favorable location for accountants with regards to employment and pay levels, with an average salary in 2013 of about $64,000.
This is almost equal to the national average salary; however, the profession offers plenty of opportunity to increase one's wage with experience.
Although the field of accounting is shrinking in Oregon, salaries have been steadily increasing in the past years.
The diversity of career paths open to accountants also multiplies the possibilities for success, either within large or small business operations, at different government levels or in the non-profit sector.
| Oregon Accounting Jobs | Average Salary |
| --- | --- |
| Big4 Accountant | $71,000 |
| Senior Corporate Accountant | $65,000 |
| Property Accountant | $47,000 |
| Tax Accountant | $54,000 |
| Bookkeeper | $36,000 |
Accounting Program Sneak Peek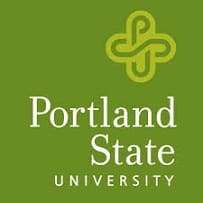 While absent from the national rankings, the accounting program at Portland State University boasts the highest CPA pass rate of any accounting program in Oregon, with scores well above the national average.
The university's School of Business Administration offers an undergraduate degree program in Accounting and a Master of Science in Financial Analysis.
Students wishing to sit for the CPA exam may either undertake a fifth study year as undergraduates or attend the one-year Master's degree program in order to earn the required number of credits.
The program offers a rigorous curriculum geared towards practical experience in preparing accounting reports and tax returns, using accounting software and tax research databases, as well as analyzing financial statements and industry risks.
Opportunities for career development are provided by means of the Beta Alpha Psi accounting society and through networking with the business community.
Such a blend of real-world accounting experience and theoretical knowledge necessary to pass the CPA exam is the hallmark of a good accounting program, and proof that rankings are not the only measure of academic success.

| Oregon Accounting Schools | Address |
| --- | --- |
| Corbon University | 5000 Deer Park Dr SE, Salem, OR 97317 |
| Linfield College | 900 SE Baker St, McMinnville, OR 97128 |
| Oregon State University | Corvallis, OR 97331 |
| Portland State University | 1825 SW Broadway, Portland, OR 97201 |
| Southern Oregon University | 1250 Siskiyou Blvd, Ashland, OR 97520 |
| University of Oregon | 1585 E 13th Ave, Eugene, OR 97403 |
| University of Portland | 5000 N Willamette Blvd, Portland, OR 97203 |
| Community Colleges | Address |
| --- | --- |
| Blue Mountain Community College | 2411 NW Carden Ave, Pendleton, OR 97801 |
| Central Oregon Community College | 2600 NW College Way, Bend, OR 97701-5998 |
| Chemeketa Community College | 4000 Lancaster Dr, NE, Salem, OR 97309-7070 |
| Clackamas Community College | 19600 Molalla Ave, Oregon City, OR 97045 |
| Clatsop Community College | 1651 Lexington Avenue, Astoria, OR 97103 |
| Columbia Gorge Community College | 400 E Scenic Dr, The Dalles, OR 97058-3434 |
| Klamath Community College | 7390 S 6th St, Kalmath Falls, OR 97603 |
| Lane Community College | 4000 E 30th Ave, Eugene, OR 97405 |
| Linn-Benton Community College | 6500 Pacific Blvd, SW, Albany, OR 973213 |
| Mt Hood Community College | 26000 SE Stark St, Gresham, OR 97030 |
| Portland Community College- Rock Creek | 17705 NW Springville Rd, Portland, OR 97229 |
| Portland Community College-Cascade | 705 N Killingsworth St, Portland, OR 97217 |
| Portland Community College-Sylvania | 12000 SW 49th Ave, Portland, OR 97280 |
| Southwestern Oregon Community College | 1988 Newmark Ave, Coos Bay, OR 97420 |
| Tillamook Bay Community College | 4301Third St, Tillamook, OR 97141 |
| Treasure Valley Community College | 650 College Blvd, Ontario, OR 97914 |
| Umpqua Community College | 1140 College Rd, Roseburg, OR 97470 |
Top Ranked Accounting Program in Oregon
The University of Oregon offers the most highly rated undergraduate and graduate accounting programs in Oregon. Offered by the US News Top 100 Lundquist College of Business, the undergraduate accounting program leads to a B.S. or B.A. in accounting and provides students with knowledge of general accounting, auditing, financial and cost accounting and taxation.
However, students who wish to sit for the CPA exam are required to complete additional coursework provided through a one year Master's program.
The Lundquist College of Business supports students in starting their career by connecting them with suitable companies. The wide range of student clubs on campus also offers plenty of opportunity for hands-on experience.
With a higher than average pass rate on the CPA exam and benefiting from AACBS accreditation, the University of Oregon offers a well-rounded program for motivated students who wish to prepare for a successful career in accounting.
https://www.accountingcoach.com/careers/colleges-universities-accounting-degrees
https://www.pdx.edu/sba/bachelors-degree-in-business-accounting
https://www.parisfranceinc.com/portfolio/sba.pdx.edu/2003/programs/graduate/msfa/why_psu.html
https://www.accountingcoach.com/careers/cpa-requirements
https://www.oregon.gov/boa/Pages/ExamReq.aspx
https://www.oregon.gov/boa/Pages/Licensing.aspx
https://www.bls.gov/oes/current/oes132011.htm#(2)
https://www.bls.gov/oes/2013/may/oes_or.htm
https://www.payscale.com/research/US/Job=Certified_Public_Accountant_(CPA)/Salary
https://grad-schools.usnews.rankingsandreviews.com/best-graduate-schools/top-business-schools/university-of-oregon-lundquist-01186
https://business.uoregon.edu/departments/accounting