More than 40 Louisiana schools offer accounting degree programs at all levels, from accounting certificates to PhD programs. Out of these, Louisiana State University was nominated as 22nd best by the 2013 Public Accounting Report survey of Master's level accounting programs in the medium-sized institution category.
The New-Orleans-based Tulane University was ranked as 52nd best national university by US News, with its A. B. Freeman School of Business securing the 63rd place among business schools.
Prospective accountants can choose from a range of effective degree programs and benefit from good employment opportunities upon graduation, as accounting is a growing field in Louisiana.
This goes against the national trend of an ever-decreasing number of accounting professionals.
Tips for Choosing the Right Accounting Program
Accounting is a high-level profession that requires specific skills and an excellent knowledge of the business environment.
The accounting program that you choose can have a tremendous impact on your career, starting with your chances to succeed on the difficult CPA examination and ending with the job you will take as a graduate.
This is why you should carefully research all aspects of an accounting school before enrolling.
The program should be:
AACSBS-accredited
Rigorous and challenging
Career-oriented
There are some statistics that you can ask to see in order to assess the quality of a program: the students' evaluations of the instructors, the CPA exam pass rate of program graduates and the graduate employment level.
Make sure you check the most recent figures and also take a look at the national standing of the school you are considering.
Employability should also be a strong focus of the ideal accounting program. Try to research extracurricular opportunities, internships and placements offered by the school, as well as the accounting firms present at the school's careers fair.
The program should prepare you not only for the academic difficulties of the CPA exam, but also for the real-world challenges of an accounting career – which starts right on campus, with your studies.
How to Become an Accountant or CPA
Accountants are known for being well-versed in business and finances, as well as analytic and meticulous. Their activity is essential for keeping the financial records of any company in good order.
As the role comes with great responsibility, excellent qualifications are a requirement for prospective accountants and Certified Public Accountants.
A four-year Bachelor's degree is a minimum requirement for working as an accountant, but additional credits amounting to 150 semester hours have to be earned to qualify for the CPA exam.
To apply for a CPA license, you must pass all sections of the CPA exam, acquire at least one year of accounting experience, as well as complete and pass an ethics course. As a licensed CPA, you might need to undertake continuing professional education courses regularly throughout your career.
While this may seem like a difficult career path, there are many advantages to holding a CPA license, such as a wider range of employment opportunities and a higher pay level.
Louisiana CPA Requirements
In Louisiana, candidates for the CPA examination are required to hold at least a baccalaureate degree and to have completed 150 semester hours of college education.
These must include:
24 credits in accounting courses
24 credits in business courses
Including 3 hours of business law covering the topics of commercial transactions and the Uniform Commercial Code.
After you have fulfilled the educational requirements, you will need to pass all four sections of the challenging CPA examination.
One year of full-time accounting experience (2,000 hours) is also required before you can be issued a CPA certificate.
| Louisiana Accounting Salary (avg) | National Accounting Salary (avg) |
| --- | --- |
| $49,000 | $57,000 |
Accounting Salaries in Louisiana
Louisiana accountants report medium pay levels compared to the national average. In 2013, the annual medium wage for accountants and auditors in Louisiana was $63,090, almost as high as the national average of approximately $65,000.
The average salary in Louisiana can rise to $67,000-$68,000 in metropolitan areas such as Alexandria or New Orleans.
Graduates in the field of accounting benefit from good starting salaries and a significant increase of pay levels with experience. The number of accounting professionals working in Louisiana has been increasing in the past years, contrary to the national trend, and salaries have also increased at a rate similar to that of other professions.
While not in the top of US states in terms of accounting employment and pay levels, Louisiana offers good opportunities for highly skilled accountants.
| Louisiana Accounting Jobs | Average Salary |
| --- | --- |
| Big4 Accountant | $64,000 |
| Senior Corporate Accountant | $59,000 |
| Property Accountant | $43,000 |
| Tax Accountant | $49,000 |
| Bookkeeper | $33,000 |
Accounting Program Sneak Peek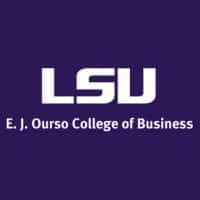 The E.J. Ourso College of Business at Louisiana State University is ranked as the 65th best in the country by US News and highly rated by the 2013 PAR survey.
The school offers accounting study options at all levels: a Bachelor of Science in Accounting, a Master of Science in Accounting that allows students to qualify for taking the CPA exam, as well as a PhD program in the field.
Students benefit from plenty of opportunities to gain work experience during their studies through the accounting internship program and the activity of student organizations on campus.
An efficient careers center connects students to employers and helps graduates shape their career. The school reported a 90% graduate employment rate in 2013, with the highest percentage of students employed in accounting and finance.
While the CPA exam rates at the Louisiana State University are below average, the program could help motivated accounting students launch their careers by providing them with experience and advanced skills.
| Louisiana Accounting Schools | Address |
| --- | --- |
| Centenary College of Louisiana | 2911 Centenary Blvd, Shreveport, LA 71104 |
| Dillard University | 2601 Gentilly Blvd, New Orleans, LA 70122 |
| Grambling State University | 403 Main St, Grambling, LA 71245 |
| Louisiana State University | Baton Rouge, LA 70803 |
| Louisiana State University – Shreveport | 1 University Pl, Shreveport, LA 71115 |
| Louisiana Tech University | 305 Wisteria St, Ruston, LA 71272 |
| Loyola University – New Orleans | 6363 St Charles Ave, New Orleans, LA 70118 |
| McNeese State University | 4205 Ryan Street, Lake Charles, LA 70605 |
| Nicholls State University | 906 E 1st St, Thibodaux, LA 70310 |
| Northwestern State University of Louisiana | 444 Caspari St, Natchitoches, LA 71457 |
| Southeastern Louisiana University | 500 Western Ave, Hammond, LA 70402 |
| Southern University at Baton Rouge | 801 Harding Blvd, Baton Rouge, LA 70807 |
| Tulane University | 6823 St Charles Ave, New Orleans, LA 70118 |
| University of Louisiana at Lafayette | 104 E University Ave, Lafayette, LA 70504 |
| University of Louisiana at Monroe | 700 University Ave, Monroe, LA 71209 |
| University of New Orleans | 2000 Lakeshore Dr, New Orleans, LA 70148 |
| Xavier University of Louisiana | 1 Drexel Dr, New Orleans, LA 70125 |
| Community Colleges | Address |
| --- | --- |
| Baton Rouge Community College | 201 Community College Dr, Baton Rouge, LA 70806-4156 |
| Bossier Parish Community College | 6220 E Texas St, Bossier City, LA 71111 |
| Delgado Community College | 615 City Park Ave, New Orleans, LA 70119 |
| Louisiana Delta Community College | 7500 Millhaven Rd, monroe, LA 71203 |
| Louisiana State University- Eunice | 2048 Johnson Hwy, Eunice, LA 70535 |
| South Louisiana Community College | 320 Devalcourt St, Lafayette, LA 70506 |
| Southern University at Shreveport | 3050 Martin Luther King Jr Dr, Shreveport, LA 71107 |
| Sowela Technical Community College | 3820 Senator J Bennett Johnston Ave, Lake Charles, LA 70615-6950 |
Top Ranked Accounting Program in Louisiana
The Freeman Business School at the University of Tulane was awarded 12th place in the Businessweek ranking of 2012 for its undergraduate accounting program.
Students at the Freeman School may choose to pursue a major in accounting designed to prepare them for public or corporate accounting, as well as for the CPA examination.
The school also offers a 30-credit Master of Accounting degree covering advanced topics. Master's graduates are qualified to sit for the CPA exam and become licensed CPAs.
Graduates of the Freeman Master of Accounting program report a 95% rate of employment three months after graduation, with a median starting salary of $55,000.
A broad range of recruiters target graduates of this program, including the "Big Four" firms.
Comprehensive and career-oriented, the University of Tulane accounting program opens to students a wealth of opportunities in the thriving New Orleans business world and beyond.
https://www.accountingcoach.com/careers/colleges-universities-accounting-degrees
https://www.baruch.cuny.edu/news/documents/PARSurvey2013-BaruchRankings.pdf
https://www.accountingcoach.com/careers/cpa-requirements
https://cpaboard.state.la.us/becoming-a-cpa/
https://www.bls.gov/oes/2013/may/oes_la.htm
https://www.bls.gov/oes/current/oes132011.htm#(1)
https://www.payscale.com/research/US/Job=Certified_Public_Accountant_(CPA)/Salary
https://www.accountingdegreetoday.com/schools/louisiana/
https://www.educationnews.org/career-index/accounting-schools-in-louisiana/
https://grad-schools.usnews.rankingsandreviews.com/best-graduate-schools/top-business-schools/tulane-university-freeman-01099
https://grad-schools.usnews.rankingsandreviews.com/best-graduate-schools/top-business-schools/louisiana-state-university-baton-rouge-ourso-01092
https://www.freeman.tulane.edu/programs/macct/