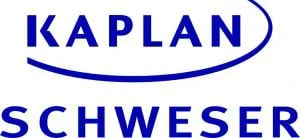 Kaplan Schweser CFA® offers a comprehensive suite of prep courses for the CFA® exam. Students can choose from various online or in-person options or combine an online review course with a 3-day or 5-day live classroom review session (where available).
Kaplan's longstanding success and reputation in test preparation will not disappoint those attempting to pass this challenging series of exams. A wide range of study guides, workbooks, online materials, CFA® practice questions, explanations, and study plans are available when enrolling in one of their courses.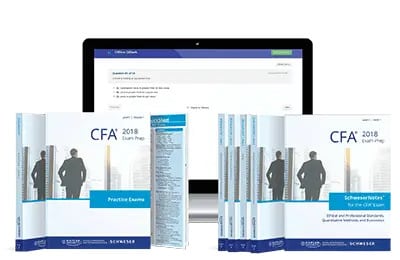 They also include a condensed version of the CFA® curriculum, actionable tips and pointers, and help from instructors, resulting in a time-saving albeit pricey course.
Pros & Cons
Final Review : Many of Kaplan Schweser's learning options come with a 3-day or 5-day exam review workshop immediately prior to the exam to give you focused practice and additional confidence. These include live workshops, an extra practice exam, and a cheat sheet/cram book referred to as Secret Sauce.
Practice Tests : In addition to a question bank with more than 4,000 practice questions, you can take up to six full practice exams with most packages available through Kaplan Schweser. These tests will help you gauge your progress and give you the confidence to succeed on all 3 Levels of the actual exam. For more frugal students, a more cost-effective SchweserNotes™ package offers 3 practice exams.
On-Demand Learning : In addition to any live course options, enjoy access to on-demand content, including classes and videos. The convenience of pre-recorded classes and video lessons allows you to study according to your own busy schedule from your home or office. Free trials on CFA® study materials, exam review workshops, and CFA® classes are available on the Kaplan Schweser website along with a free CFA® assessment exam.
Availability of Instructors : You can email or chat with your instructors at any time to get help with a course, ask questions, or seek advice. Because Kaplan Schweser instructors are located around the world, mentors are available during most times of day to help with any questions or issues that arise.
Focused and Concise : Kaplan's course is popular because it condenses the CFA® curriculum into a manageable body of information. The 5-volume study guide used for their programs, referred to as SchweserNotes™, is considerably shorter than the official CFA® curriculum guide but still includes all the information you need to pass the exam.
Updated Content : Kaplan Schweser is one of the few CFA® prep courses to release a new version of products every year as the CFA® test changes, so that you can be confident that everything you study is up-to-date. When you buy one of these review courses, you won't waste your time studying material from older exams or experience any surprises on exam day.
Pricing and Discounts : While many Kaplan Schweser test prep packages used to cost considerably more than many competing services, their prices have dropped recently to a more affordable level. Now, the average cost of a Premium package for one Level of the CFA® exam is around $1,099, with a PremiumPlus™ package starting at $1,499.
SchweserNotes™ : While the study materials included with Kaplan Schweser's prep courses provide a great deal of material in an easily digested package, there are some shortcomings to SchweserNotes. According to some individuals who have used these study materials, they greatly assist students in passing the CFA® exam but don't necessarily provide them with a solid grasp of the actual concepts behind the exam.
---
Ideal User
Kaplan Schweser's courses will appeal to both online learners who appreciate the convenience factor and traditional learners who prefer a classroom setting. The popular 3-day exam workshops help students to focus their study efforts while expert instructors teach what needs to be known in order to pass the CFA® exam.
Traditional learners will appreciate the clear and concise 5-volume SchweserNotes™ and detailed examples that highlight pertinent information. The printable QuickSheet study aid provides a quick reference to key formulas, definitions, and concepts of the CFA® curriculum in a 6-page, laminated brochure. Those who prefer pencil and paper can use the workbooks to go over examples and questions in conjunction with live courses.
Those who prefer to study online can build their own customized exam for specific topics and take advantage of the Online Resource Library, a collection of videos about the core concepts of the CFA® curriculum. The popular Secret Sauce guide is a compact book that offers a clear, concise review of the core elements in the CFA® curriculum and provides tips on how to apply a student's knowledge to the exam in the final weeks before the test.
---
My Suggestion
Kaplan offers numerous options for prospective students, including live and online classes, seminars, mock exams, and self-directed study programs. Individuals can mix and match online and live course options and review sessions, or choose an entirely online course.
Secret Sauce and SchweserNotes™ provide a laser-focus on the most important topics tested on the CFA® exam instead of overwhelming students with information in the CFA® curriculum. Choosing a Kaplan Schweser review course can adequately prepare someone for the exam in less time than it would take to study the traditional CFA® curriculum.
SEE THE BEST CFA® STUDY MATERIALS
---
Summary of Course Features
On-Demand Video Courses, Webinars, Recorded Lessons, and Digital Learning Materials
Live or Online Review Options
3-Day or 5-Day Exam Review Workshops Available
4,000+ Practice Questions
6 Practice Exams
5-Volume SchweserNotes™
"Secret Sauce" Compact Cram Guide/Cheat Sheet
Study Calendar
Analytics (Online Scoring and Performance Tracking)
Workbooks and eBooks
Online Resource Library
QuickSheet Laminated Study Aid
Instructors Available to Answer Questions via Phone, Email, and Chat
---
Pricing
These prices are consistent among packages for all 3 Levels of the CFA® Exam.
SchweserNotes™
Price: $349
Includes: 5-volume workbook, 3 practice exams, QuickSheet, access to expert CFA® instructors and Study Calendar.
Essential Self-Study Package
Price: $649
Includes: Question bank, SchweserNotes, 6 practice exams, QuickSheet, access to instructor office hours and Study Calendar.
Premium Instruction Package
Price: $1099 – $1,399
Includes: Online weekly class, additional video classes, Schweser's Secret Sauce, question bank, SchweserNotes, 6 practice exams, workbooks, QuickSheet, Study Calendar, Ask Your Instructor, Online Resource Library, PassProtection discount
Premium Plus Package
Price: $1,499 – $2,898
Includes: Final Review Option (online review included in price, in-person review costs up to $400 more), online weekly class, additional video classes, Schweser's Secret Sauce, question bank, SchweserNotes, 6 practice exams, workbooks, QuickSheet, Study Calendar, Ask Your Instructor, Online Resource Library, PassProtection.
(The Premium Plus Package is also available with live weekly classes and a live 3-day or 5-day Exam Review workshop, for a total price between $1799-$2099.)