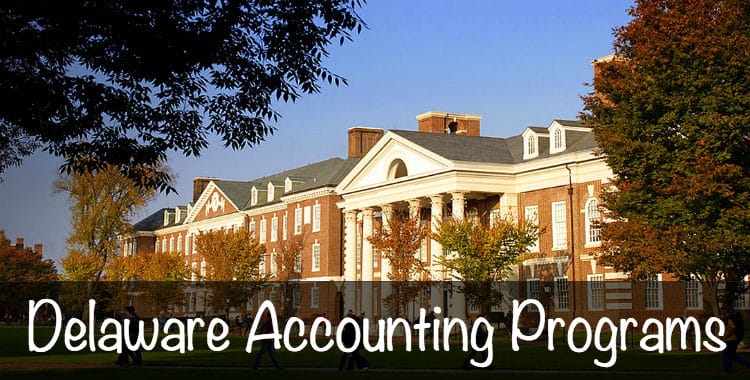 Around 10 Delaware schools offer accounting programs at both undergraduate and graduate levels. While this does not give prospective accountants a lot of choice, there is one top-quality program in the state that ranks among the best universities in the country.
Ranked 75th best university nationwide, the University of Delaware offers an excellent accounting program that made the 23rd place in the Public Accounting Report's 2013 survey of undergraduate programs in the large institution category.
Accounting graduates in this state have a bright future ahead, with Delaware ranking among the best U.S. states in terms of accounting salaries. The first step towards this future is a quality accounting education.
Where to Start Your College Search
If you are considering an accounting career, choosing the right accounting program is one of the most important career decisions you'll make. Your skills, experience and business connections will depend on the accounting school you choose.
This is why you have to go beyond the university website in order to take an informed decision. Make sure you choose a program with the right AACBS accreditation and with experienced instructors that have achieved great results in the past. Look at rankings, student evaluations, faculty awards and CPA exam pass rates and always ask to see the most recent statistics available.
Moreover, make sure the program you choose takes teaching beyond the classroom. There should be plenty of opportunities to gain experience through internships, field projects and extra-curricular activities such as volunteering programs and student organizations.
The school should also have excellent links with the top recruiters in your area – look at recent graduate employment statistics to get an idea.
Finally, remember that the best accounting program will provide you with both knowledge and experience – so don't wait until you graduate: start your career right now with a good decision!
How to Get Certified as a Delaware Accountant
Accountants are key to the smooth running of any business – and such great responsibility entails high requirements. To work as an accountant you need a four-year degree, but if you wish to work as a Certified Public Accountant (CPA) you will need to complete 150 college credits.
These have to include accounting and business courses and are usually earned over five years by completing a higher degree.
Before you are an official licensed CPA you will have to pass all sections (there are four) of the CPA examination. Also, depending on your state's rules, you will have to pass an ethics examination and gain a couple years of financial experience before you can apply for a Certified Public Accountant license. As a CPA licensee, you might also need to keep up on industry standards and guidelines for CPA renewal.
While becoming a CPA might seem difficult, you'll find that a CPA license can open many doors in your career in terms of employment possibilities and pay level.
Delaware State Accounting Standards
In order to sit for the CPA exam in Delaware, you must have completed at least a Bachelor's degree with 120 semester hours of education, including 24 semester hours in financial accounting, auditing and taxation. However, after passing the CPA exam, you will need to earn 150 semester hours of college education before applying for a CPA license.
If you have passed the CPA examination and the AICPA ethics examination, you may apply for a CPA certificate. In order to be granted a CPA permit to practice, you will also need one year of accounting experience under the supervision of a CPA.
| Delaware Accounting Salary (avg) | National Accounting Salary (avg) |
| --- | --- |
| $50,000 | $57,000 |
Average Delaware CPA Pay
With a mean annual salary for accountants and auditors of $73,750 in 2013, Delaware is one of the highest-paying states for accountants, almost $9,000 above the national average. What is more, the highest paid percentile in this profession earns as much as $109,890 on average.
The field of accounting is known for the huge variations in pay depending on location, experience and type of job. In Delaware, the average salary rises to $76,780 in the Wilmington Metropolitan Division, but drops significantly in nonmetropolitan areas.
With a variety of career paths to choose from, it is up to the accounting graduate to find the best opportunity – and even if Delaware employs fewer accountants than the neighboring states, possibilities for a thriving accounting career still abound.
| Delaware Accounting Jobs | Average Salary |
| --- | --- |
| Big4 Accountant | $65,000 |
| Senior Corporate Accountant | $60,000 |
| Property Accountant | $44,000 |
| Tax Accountant | $50,000 |
| Bookkeeper | $34,000 |
The Goldey-Beacon College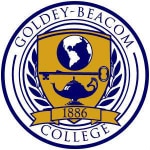 The private Goldey-Beacom College in Delaware offers a comprehensive program for prospective accounting students.
Undergraduates can study for a Bachelor of Science in Accounting which covers introductory and intermediate accounting, taxation, management, auditing and business law, as well as a much-needed background in mathematics, information systems, macroeconomics and research writing.
Graduate students can choose between a Master of Science in Taxation, a Master of Science in Finance and a Master of Business Administration with concentrations in Financial Management and Taxation.
The Goldey-Beacom College also presents students with the opportunity to pursue a five-year Bachelor/Master's degree, which allows for flexible and efficient learning in the shortest possible time.
While the school does not benefit from AACBS accreditation and is thus not the best option as an accounting program, it can provide a good opportunity for students to gain a broad business background and pursue accounting in a variety of settings.
The good faculty to student ratio, the opportunities for internship experience and the scholarships offered recommend this program to accounting students in Delaware.

Delaware Universities
---
Delaware Community Colleges
---
The Best Accounting Training in Delaware
Ranked 80th best business school in the country by U.S. News, the Alfred Lerner College of Business and Economics at the University of Delaware offers a complete, AACBS-accredited program.
Undergraduate students at the Lerner College can earn a Bachelor of Science in Accounting that will enable them to understand and analyze financial documents, as well as prepare for the CPA examination.
At the graduate level, students can pursue the prestigious Master of Science in Accounting, a 30-credit degree offering advanced expertise in management, finance, auditing, taxation and information systems. Moreover, a 4+1 program allows students to complete their BS and MS in Accounting efficiently within five years in order to meet the 150 hours required for CPA certification.
With an employment rate of 68% upon graduation and recruiters including the Big Four, the Lerner College values employability and provides students with opportunities to gain hands-on experience.
Internships, study abroad opportunities and student organizations such as the Accounting Student Organization offer activities to complement the classroom experience at the University of Delaware.
References
https://nasba.org/exams/cpaexam/delaware/
https://www.lerner.udel.edu/centers/advising-academic-services/lerner-student-organizations
https://www.lerner.udel.edu/departments/accounting-mis/undergraduate
https://www.lerner.udel.edu/departments/accounting-mis/accounting-major
https://www.gbc.edu/programs/graduate/
https://www.gbc.edu/degrees/ug/acctg2014.html
https://www.gbc.edu/programs/five-year/