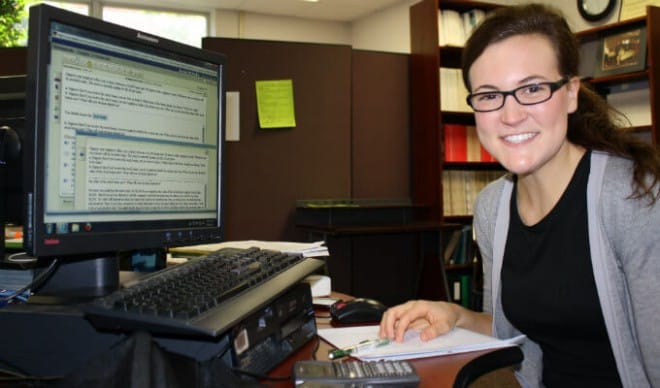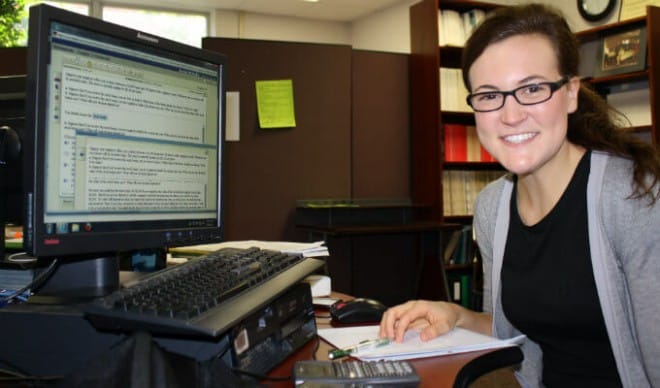 What is a two-year accounting degree?
There are many situations in which a four-year accounting degree is not the best option.
Let's say you're changing careers and need to master basic accounting for a new job. Alternatively, maybe you're a busy professional who can't commit to a four-year degree.
In such cases, a two-year degree can be just what you need.
Two-year degrees are usually known as Associate's degrees. They're offered by most community colleges and technical institutes. Additionally, they can be obtained both on-campus and through online programs.
During your two years of training in an accounting program, you'll study general education courses as well as:
accountancy
auditing
taxation
business (and business law)
economics
information systems
The focus of these accounting courses is often on taxation and financial principles, while most colleges also include experience with relevant accounting software.
Accounting Associate graduates are qualified to prepare tax returns and financial records and to work in a variety of entry-level jobs. Furthermore, this path can open up opportunities for full-time cost accounting careers.
While a two-year degree does not qualify you for senior accounting positions, many people choose to start as bookkeepers or junior accountants and work their way up. What's more, a two-year degree at a community college can count as transfer credits towards a Bachelor's degree should you choose to complete one eventually.
To enroll in a two-year accounting degree program you will usually be expected to hold a high school diploma, while some schools may also take into account your SAT scores or GPA.
Associate's or Bachelor's degree?
The advantage of an Associate degree is that it's more lenient in its admission criteria and the coursework over the two years is usually less difficult. Two-year degrees also tend to be more flexible, often scheduling classes during evenings and weekends.
However, career opportunities and starting salaries can be very different for Associate's and Bachelor's degree graduates. Consequently, a two-year degree isn't always the best option for entering the accounting field. Senior accounting positions often require advanced degrees; the ideal option will depend on your career goals and previous education.
Is a 2-year accounting degree worth it?
An Associate's degree is the fastest way to start a career in the field of accounting, so if time or money is an issue this may be the best way to go.
If you're working in a different field, like business administration, and would like to get some basic training in accounting principles so that you can work as a clerk or accounting assistant, an Associate's degree will make that happen in just two years.
Alternatively, if you are already qualified but need some accounting skills in your job or business, two years are enough to learn how to handle financial statements and taxes.
For example, people with a business education might wish to delve into accounting specifics by earning an Associate's degree.
Sometimes, a two-year degree can be a stepping stone towards higher education. If for any reason you cannot commit to a Bachelor's degree right now, you can choose a college that will allow you to transfer your credits towards a higher degree should you wish to continue your education later.
On the other hand, if you're looking to start a career in financial accounting, you should keep in mind that career opportunities can be limited for Associate's degree holders.
The highest positions in accounting are usually held by Certified Public Accountants (CPAs) and holders of advanced degrees. Should you ever wish to earn a Master's degree or a professional credential, you will need to undertake years of additional education if you only hold a two-year degree.
What can you do with a two-year degree?
Associate's degree graduates are qualified to work as bookkeepers, accounting assistants under the supervision of a CPA, business trainees or clerks. Small businesses, stores or non-profit organizations are often in need of entry-level accountants to handle tax returns.
As a bookkeeper or accounting clerk you can expect an average salary of $35,730 (according to the Bureau of Labor Statistics 2013); however, depending on your location and level of experience, the average can vary between $22,000 and $51,000. For comparison, accountants with a Bachelor's degree earn over $63,000 on average, while Master's degree accounting graduates in senior positions are paid over $75,000 on average.
Where can you get a two-year degree in accounting?
Associate's degrees are offered by many postsecondary schools across the US in a wide range of delivery formats. The traditional option is to study on-campus.
On Campus
On-campus degrees have certain advantages: they offer networking opportunities as well as the possibility to gain extracurricular experience and they are more appreciated by employers than online degrees.
An on-campus full-time degree is one of the fastest ways to complete your Associate's degree; however, if you find a full-time schedule hard to reconcile with your professional life or other commitments, part-time study could be right for you.
Part-time study is even more popular than full-time study at two-year colleges; and while it will take longer to complete your degree, you'll be able to maintain your working life.
Online
If location or rigid timetables are an issue, you can opt for one of the many online Associate's degrees.
Distance learning can be more flexible and sometimes more affordable than on-campus education. However, online degrees can have less credibility in employers' eyes and they lack the networking opportunities offered by on-campus programs.
Hybrid
Finally, hybrid programs try to compromise between distance and on-campus learning by offering some class meetings to complement the online learning. Some hybrid programs will even offer accelerated tracks that can have you graduate in just one year and a half.
With such a wide variety of options available, an Associate's degree can be ideal if you don't wish to relocate and if you're looking to complete your degree as fast as possible and with minimum costs. However, before you make your decision you should be aware of the limited opportunities afforded by two-year degrees.
Unless you already hold some relevant qualifications, a career in accounting is usually a long journey; whether you start off with an Associate's or with a Bachelor's degree, you will need to put in many years of hard work to make it as an accountant.
---
https://www.payscale.com/research/US/Degree=Associate's_Degree,_Accounting/Salary
https://www.indeed.com/q-Accounting-Associate-jobs.html
https://post.edu/academics/undergraduate-degrees-certificates/associate-degree-in-accounting/
https://en.wikipedia.org/wiki/Associate_degree#Time_requirements
https://www.forbes.com/2009/05/15/jobs-opportunities-accounting-leadership-careers-where.html
https://www.bls.gov/ooh/office-and-administrative-support/bookkeeping-accounting-and-auditing-clerks.htm
https://www.bls.gov/oes/current/oes433031.htm
https://everydaylife.globalpost.com/associate-degree-accounting-vs-bachelors-degree-business-administration-29531.html
https://educationcareerarticles.com/education-articles/higher-education-articles/associate-degree-vs-bachelor-degree-in-accounting/
https://www.usm.edu/news/sites/default/files/Blythe%20Dunaway.jpg