Picture this: You're a busy CPA juggling deadlines, client demands, and perhaps a life outside of spreadsheets. The clock ticks relentlessly, reminding you that it's time—yet again—to earn those Continuing Professional Education (CPE) credits that keep you in CPA status.
But what if the CPE roadblocks—that dreaded trifecta of travel hassle, prohibitive costs, and impossible scheduling—could simply vanish?
Enter Surgent's game-changing online CPE webinars. Imagine fulfilling your yearly CPE requirements with self-study courses completed from the comfort of your own home—or anywhere with Wi-Fi, for that matter—without breaking the bank or bending time.
Intrigued? Stick around for our comprehensive review to uncover the groundbreaking solutions this online CPA review platform has up its sleeve.
Overview of Surgent CPE Course
In the labyrinth of Continuing Professional Education (CPE), it's easy to get lost amid deadlines, credit requirements, and life's other demands. You know the drill: Another year rolls around, and the CPE hours hang over you like an approaching storm cloud.
But before you rush to your usual route that's choked with roadblocks like travel, cost, and inconvenient timing, stop and consider an alternative pathway—a smarter, faster, and more enriching journey to fulfilling those CPE requirements. Here's an in-depth overview of why this platform should be your go-to solution for conquering those professional hurdles.
Surgent Specifics
With three decades of experience under its belt, Surgent has grown into an educational powerhouse. Their mission is straightforward: Help you achieve your aspirations as a financial professional. But they don't go it alone. They've strategically partnered with almost every state CPA society and a multitude of accounting firms, ensuring their course material isn't just accurate but universally recognized and revered. Although there are some free courses out there, few can match what Surgent's online platform offers tax professionals.
What Sets Surgent CPE Apart: Unmatched Features
What awaits you inside this treasure trove of knowledge? Take a peek:
Live Webinars: Real-time, interactive learning experiences
Self-Study Downloads: Learn at your pace with resource-rich materials
On Demand Courses: On-demand webcasts for the busy professional, learn when it suits you
Premium Courses: High-caliber courses that dig deeper into specialized subjects
Easy Renew: Seamless renewal processes
12-Month Access Period: An entire year to complete your courses
---
What's Included With Surgent CPE
The Brainpower Behind the Content: Highly Qualified Staff
It's not just the courses but the craftsmen behind them. With a staggering 500 Continuing Professional Education awards among them, Surgent's cadre of experts sets the gold standard in the industry. The knowledge of these instructors garners a stellar 5-star rating from over 70% of CPAs. Each one brings their professional experiences into the curriculum, allowing you to gain practical knowledge that you can apply in your own career.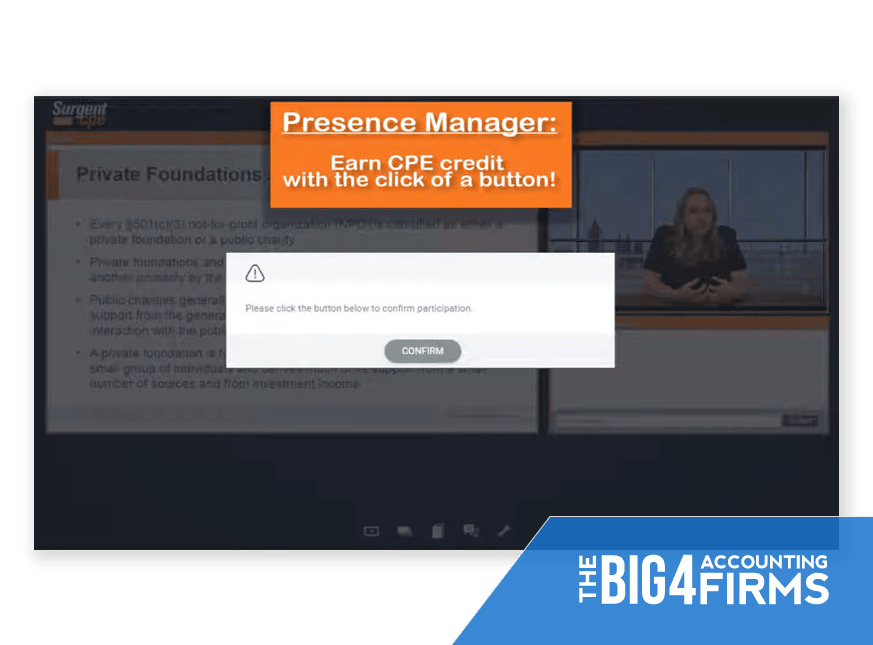 Engaging CPE Webinars
One of the best parts of Surgent is the design of each webinar. Lessons have been made to be as engaging and easy to understand as possible. If you have trouble paying attention to online lectures, this can be extremely helpful. With Surgent, you're far more likely to actually remember what you've learned from a lecture.
This is especially true when you consider Surgent's live webinars:
Aside from a great library of on-demand webinars, Surgent's live ones blow them out of the water. Teachers are able to easily communicate with viewers, enabling them to adjust the course on the fly based on how well students respond to it. Additionally, each live webinar gives you an opportunity to ask questions that may not have been covered in that lesson.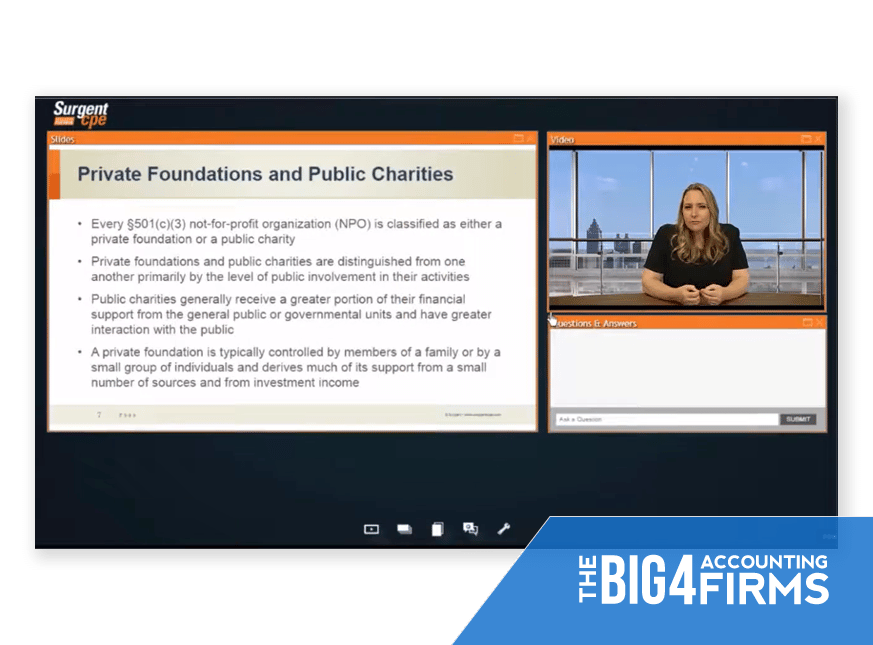 A Panorama of CPE Topics
The range of topics covered is nothing short of breathtaking. From financial planning to personal development, Surgent offers over 10,000 total CPE credits across a myriad of subjects, catering to every possible career niche.
---
Surgent Continuing Professional Education Course Pricing
Though you can purchase individual courses, it's recommended that you try out one of Surgent CPE's package deals. They currently offer 3 different options:
16 Credit Webinar: This package deal grants you access to 16 different webinars. It costs $399, and you can choose any of the 5,000 online CPE courses offered.
Unlimited Webinars: Much like the previous option, this grants you access to live webinars. However, the $599 price tag is justified by giving you access to all of them instead of just 16 credits.
Unlimited Plus Package: The $799 unlimited plus plan gives you access to all the webinars and a series of self-study materials. These come in the form of on-demand videos and study handouts. Plus, you gain access to an additional 2500 premium courses.
As you can see, Surgent appeals to every type of customer. I personally recommend the Unlimited Webinars option, as it gives you plenty of freedom to earn your CPE credits.
---
Surgent CPE Pros & Cons
Still not sure whether or not this course is right for you? To help decide, take a look at what Surgent has to offer:
Affordable: Surgent's CPE packages are very affordable and accessible. It's easy to earn the CPE credits you need without breaking the bank.
Easy Scheduling: Webinars are scheduled for every time zone, so you don't have to worry about waking up early or staying up late to earn your CPEs. Instead, you can easily earn what you need during normal hours.
Instant CPE Certificates: All CPE certificates are delivered by email as soon as you've completed your courses. That way you can submit your credits as soon as you've finished earning them.
Limited Self study: Surgent does have some self study CPE courses, but they're locked behind the highest payment tier. Plus, there's not nearly as many on demand webinars compared to live ones.
---
Surgent CPE Frequently Asked Questions
The following are some of the most commonly asked questions about Surgent.
Q: What is Surgent's refund policy?
A: You can receive a refund up to 30 days after your purchase date so long as you haven't used the course yet.
Q: Do I have to select the Surgent CPE courses I want immediately?
A: No. Surgent allows you to choose courses whenever you want.
Q: How long is the Surgent CPE course access period?
A: You can access courses for 1 year after your initial purchase.
---
Ideal Customer
Surgent is able to appeal to many types of students through their CPE program. If any of the following applies to you, then you'll enjoy the course.
If you need to earn CPE credits as a CPA or CMA, this is the course for you.
If you like to learn through video content, this is the course for you.
If you enjoy live course content, this is the course for you.
If you prefer highly experienced teachers, this is the course for you.
If you're interested in test based content, this isn't the course for you.
---
Final Recommendation
Surgent is well worth your time. Their program has been designed by highly trained professionals to cover a wide range of topics. That's because they want you to understand CPA concepts instead of just memorizing them. Because of that, Surgent is one of the best CPE providers in the business!