As a CPA, you're expected to complete a certain amount of Continuing Professional Education credits every year. How much you need can change depending on where you live, but everyone still has to put in the work.
Unfortunately, this is hard for a large number of professionals in many industries that require continuous education to maintain their professional status. According to one survey, the most common roadblocks to obtaining CPE are travel, cost, and other time commitments.
Fortunately, meeting your requirements while avoiding these roadblocks is easy with the aid of Surgent's online CPE webinars. Keep reading our full review to see exactly what this online CPA review company has to offer.
---
Overview of Surgent CPE Course
Surgent has been around for 30 years and provides thousands of CPE webinars and self study courses. They believe in helping people achieve their goals as financial professionals. To do so, Surgent partners with nearly every state CPA society and many accounting firms. This guarantees that their information is accurate and recognized across the industry.
Here are a few features you can expect from Surgent CPE:
Live Webinars
Self Study Downloads
On Demand Webcasts
Premium Courses
Easy Renew
12 Month Access Period
---
What's Included With Surgent CPE
Highly Qualified Staff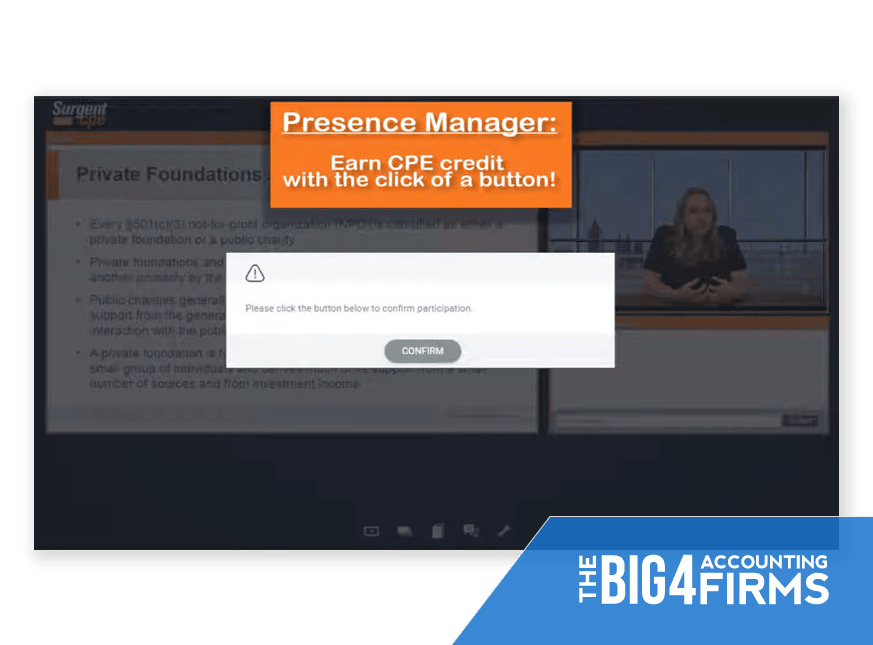 Surgent makes sure to only hire highly qualified professionals to create their course content. Their staff currently has 500 Continuing Professional Education awards— combined with their decades of experience, this leads to the best possible continuing education on the market. As a result, over 70% of CPAs rate the knowledge of these teachers as a perfect 5.
Of course, that's not all they have to offer.
Each instructor is able to use their personal experiences when designing CPE content, so you can benefit from their professional knowledge just by listening to their lectures or answering practice quizzes. Learning what these instructors know will help you avoid mistakes they may have made in the past.
Engaging CPE Webinars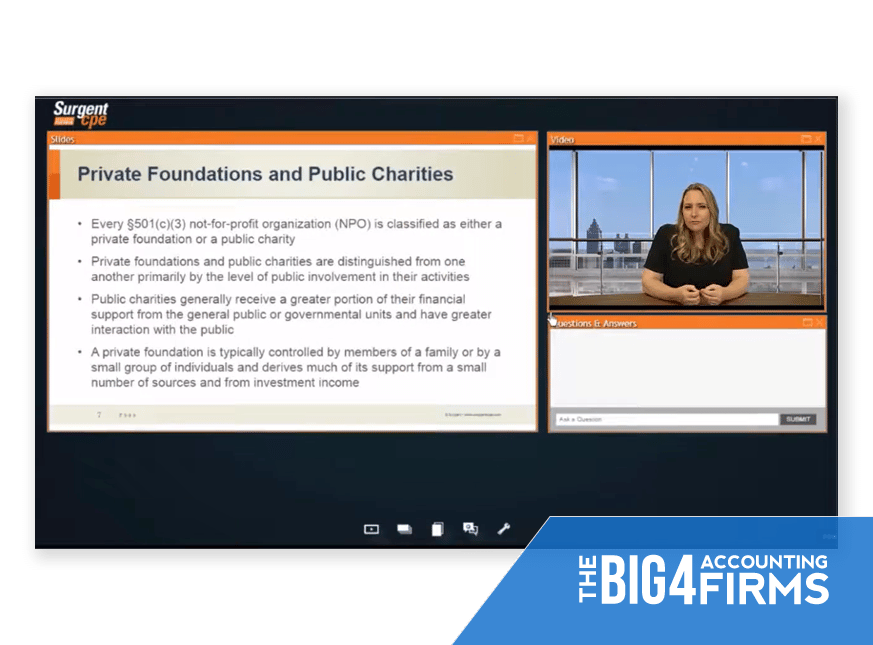 One of the best parts of Surgent is the design of each webinar. Lessons have been made to be as engaging and easy to understand as possible. If you have trouble paying attention to online lectures, this can be extremely helpful. With Surgent, you're far more likely to actually remember what you've learned from a lecture.
This is especially true when you consider Surgent's live webinars:
Aside from a great library of on demand webinars, Surgent's live ones blow them out of the water. Teachers are able to easily communicate with viewers, enabling them to adjust the course on the fly based on how well students respond to it. Additionally, each live webinar gives you an opportunity to ask questions that may not have been covered in that lesson.
Wide Range of CPE Topics
Surgent offers the most CPE course topics in the industry. They're able to teach everything from financial planning to personal development, which is why they have over 10,000 total CPE credits to offer. Thanks to that, it's easy to pick out courses that apply to your specific career or industry niche.
---
Surgent Continuing Professional Education Course Pricing
Though you can purchase individual courses, it's recommended that you try out one of Surgent CPE's package deals. They currently offer 3 different options:
16 Credit Webinar: This package deal grants you access to 16 different webinars. It costs $399 and you can choose any of the 5,000 online CPE courses offered.
Unlimited Webinars: Much like the previous option, this grants you access to live webinars. However, the $599 price tag is justified by giving you access to all of them instead of just 16 credits.
Unlimited Plus: The $799 unlimited plus plan gives you access to all the webinars and a series of self study materials. These come in the form of on demand videos and study handouts. Plus, you gain access to an additional 2500 premium courses.
As you can see, Surgent appeals to every type of customer. I personally recommend the Unlimited Webinars option, as it gives you plenty of freedom to earn your CPE credits.
---
Surgent CPE Pros & Cons
Still not sure whether or not this course is right for you? To help decide, take a look at what Surgent has to offer:
Affordable: Surgent's CPE packages are very affordable and accessible. It's easy to earn the CPE credits you need without breaking the bank.
Easy Scheduling: Webinars are scheduled for every time zone, so you don't have to worry about waking up early or staying up late to earn your CPEs. Instead, you can easily earn what you need during normal hours.
Instant CPE Certificates: All CPE certificates are delivered by email as soon as you've completed your courses. That way you can submit your credits as soon as you've finished earning them.
Limited Self study: Surgent does have some self study CPE courses, but they're locked behind the highest payment tier. Plus, there's not nearly as many on demand webinars compared to live ones.
---
Surgent CPE Frequently Asked Questions
The following are some of the most commonly asked questions about Surgent.
Q: What is Surgent's refund policy?
A: You can receive a refund up to 30 days after your purchase date so long as you haven't used the course yet.
Q: Do I have to select the Surgent CPE courses I want immediately?
A: No. Surgent allows you to choose courses whenever you want.
Q: How long is the Surgent CPE course access period?
A: You can access courses for 1 year after your initial purchase.
---
Ideal Customer
Surgent is able to appeal to many types of students through their CPE program. If any of the following applies to you, then you'll enjoy the course.
If you need to earn CPE credits as a CPA or CMA, this is the course for you.
If you like to learn through video content, this is the course for you.
If you enjoy live course content, this is the course for you.
If you prefer highly experienced teachers, this is the course for you.
If you're interested in test based content, this isn't the course for you.
---
Final Recommendation
Surgent is well worth your time. Their program has been designed by highly trained professionals to cover a wide range of topics. That's because they want you to understand CPA concepts instead of just memorizing them. Because of that, Surgent is one of the best CPE providers in the business!