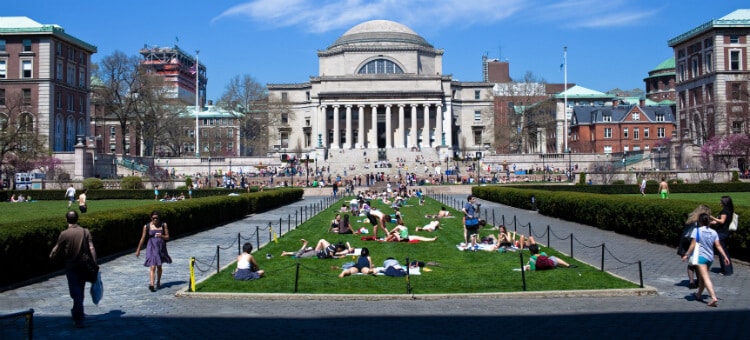 It's not uncommon to hear of high-quality accountants coming out of New York. Truthfully, the wide variety of accounting programs in New York offers a unique opportunity to those in the Empire State. Among some of the more well-known schools are NYU, City College of New York (Baruch), and Cornell.
That being said, don't forget about some of the smaller programs that deliver impressive accountants:
State University of New York (Albany, Buffalo, Fredonia, Oswego, and others)
City University of New York (Brooklyn College, Queens College, and others).
Ithaca College
Long Island University
Syracuse University
Utica College
Do Your Research on Schools
You wouldn't make any huge life decisions without doing a little research first, so treat this decision with great care. First off, you'll want to check online to see which programs are offered in your area, or wherever you're willing to relocate to.
Try not to settle for the school that's most convenient for you. After all, their program may not be very good, or they may not even offer the correct program to lead you to earn your CPA.
Contact the school to see if they have any additional information for you. Furthermore, you can research the staff and see how they are rated on different websites.
Additionally, try to get in touch with an alumnus of the program. They can tell you about their experience and whether or not they would recommend it to others.
Figure out how far you want to go in your accounting career. If you want to go as high as you can, try to find a program that will prepare you for the very difficult CPA exam.
What Do You Need to Get Your Certificate?
Every state has its own requirements in order to qualify for your CPA license. You should know that it is a very long, difficult road to getting your license but very rewarding in the end.
First of all, you will require education, usually a bachelor's degree at minimum. For the most part, at least 150 credit programs are required.
A certain amount of credits must be in accounting and another amount in business courses. There are other ways to meet the educational needs, however, as some programs offer accelerated degree programs.
Once you have completed your education, you will need to qualify for the CPA exam, which is very difficult and boasts a very low pass rate. If you pass, you will then have to write an ethics exam.
Once you have passed that, you will also need to have a certain number of hours of work experience in finance, taxes, accounting or other related jobs.
If you have completed the educational requirements, passed the exam and completed the specified number of hours of work experience, you can then qualify for your CPA license.
Minimum Qualifications for License in New York
In the state of New York, in order to qualify for your CPA, you must have a minimum bachelor's degree with 150 semester credits. Of those, 33 semester hours must be in accounting and 36 semester hours in business. Alternatively, you could have a Master's degree OR fifteen years experience under the direct supervision of a CPA or a New York State public accountant.
Additionally, you must take the CPA exam with a passing score of 75. All in all, you'll need two years of full-time work experience or the part-time equivalent.
Be sure to research all of the requirements as certain subjects must be taken and there are certain steps in applying.
| New York Accounting Salary (avg) | National Accounting Salary (avg) |
| --- | --- |
| $69,000 | $57,000 |
Higher Salary, Higher Cost of Living
Understandably, most people would want to know what they could potentially be earning in a year before they decide what career path they want to take.
Keep in mind that you may not be making the standard amount as soon as you enter the accounting workforce as a CPA. In New York City, the average annual salary for an accountant is $65,291 in 2023.
Ultimately, it all depends on who you work for. If you're employed with a larger company based in NYC, you'll probably be paid well. Alternatively, a smaller company in a city like Rochester is likely to give a modest salary. Finally, expect not to make too much if you're self-employed or starting your own small business. It all depends on what level you're working at and where you are employed.
| New York Accounting Jobs | Average Salary |
| --- | --- |
| Big4 Accountant | $90,000 |
| Senior Corporate Accountant | $83,000 |
| Property Accountant | $60,000 |
| Tax Accountant | $69,000 |
| Bookkeeper | $46,000 |
City University of New York – Baruch College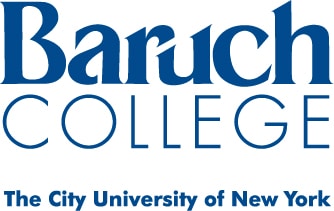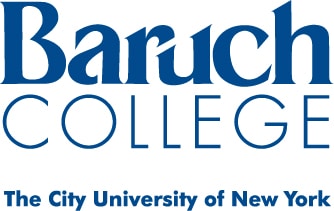 City University of New York – Baruch College offers a very good accounting program through Stan Ross Department of Accountancy, providing students with the technical tools and knowledge needed to succeed in becoming an accountant.
This school prepares students for managerial and high-level positions in finance. In order to qualify for the CPA exam, you must have a certain number of credit courses, of which this program abides by.
They offer a Bachelor of Business Administration in accounting or a Masters of Science in accounting or taxation, as well as other programs to achieve the desired number of credits.
Take a look at their website to see what they are all about, what they offer, and what you need to do to apply there: https://www.baruch.cuny.edu/ugradprograms/acc.htm
If you decide to go with this school, be sure to go to their campus and see what they're all about first. Perhaps you will find that this is the perfect place for your career as an accountant to begin.

| New York Accounting Schools | Address |
| --- | --- |
| Adelphi University | 1 South Avenue, Garden City, NY 11530 |
| Alfred University | 1 Saxon Dr, Alfred, NY 14802 |
| Canisius College | 2001 Main St, Buffalo, NY 14208 |
| Columbia University | 116th St and Broadway, New York, NY 10027 |
| CUNY – Baruch College | 55 Lexington Ave, New York, NY 10010 |
| CUNY – Brooklyn College | 2900 Bedford Ave, New York, NY 11210 |
| CUNY – Hunter College | 695 Park Ave, New York, NY 10065 |
| CUNY – Lehman College | 250 Bedford Park Blvd W, New York, NY 10468 |
| CUNY – Medgar Evers College | 1650 Bedford Ave, New York, NY 11225 |
| CUNY – Queens College | 65-30 Kissena Blvd, Flushing, NY 11367 |
| Daemen College | 4380 Main St, Amherst, NY 14226 |
| Dowling College | 150 Idle Hour Blvd, Oakdale, NY 11769 |
| Fordham University | Bronx, NY 10458 |
| Hartwick College | 1 Hartwick Dr, Oneonta, NY 13820 |
| Hofstra University | 1000 Fulton Ave, Hempstead, NY 11550 |
| Houghton College | 1 Willard Ave, Houghton, NY 14744 |
| Iona College | 715 North Ave, New Rochelle, NY 10801 |
| Ithaca College | 953 Danby Rd, Ithaca, NY 14850 |
| Le Moyne College | 1419 Salt Springs Rd, Syracuse, NY 13214 |
| Long Island University – Brooklyn Campus | 1 University Plaza, New York, NY 11201 |
| Long Island University – C.W. Post Campus | 720 Northern Blvd, Brookville, NY 11548 |
| Manhattan College | 4513 Manhattan College Pkwy, Riverdale, NY 10463 |
| Marist College | 3399 N Rd, Poughkeepsie, NY 12601 |
| Mercy College | 555 N Broadway, Dobbs Ferry, NY 10522 |
| Mount Saint Mary College | 330 Powell Ave, Newburgh, NY 12550 |
| Nazareth College of Rochester | 4245 East Ave, Rochester, NY 14618 |
| New York Institute of Technology | 1855 N Broadway, New York, NY 10023 |
| New York University | 70 Washington Square S, New York, NY 10012 |
| Niagara University | 5795 Lewiston Rd, Niagara Univ, NY 14109 |
| Pace University | 1 Pace Plaza, New York, NY 10038 |
| Rochester Institute of Technology | 1 Lomb Memorial Dr, Rochester, NY 14623 |
| Russell Sage College | 65 1st St, Troy, NY 12180 |
| Siena College | 515 Loudon Rd, Loudonville, NY 12211 |
| St. Bonaventure University | 3261 W State Rd, St Bonaventure, NY 14778 |
| St. Francis College | 180 Remsen St, New York, NY 11201 |
| St. John Fisher College | 3690 East Ave, Rochester, NY 14618 |
| St. John's University | 8000 Utopia Pkwy, Queens, NY 11439 |
| St. Thomas Aquinas College | 125 New York 340, Sparkill, NY 10976 |
| SUNY at Albany | 1400 Washington Ave, Albany, NY 12222 |
| SUNY at Binghamton | 4400 Vestal Pkwy E, Binghamton, NY 13902 |
| SUNY at Buffalo | 12 Capen Hall, Buffalo, NY 14260 |
| SUNY at New Paltz | 1 Hawk Dr, New Paltz, NY 12561 |
| SUNY College at Brockport | 350 New Campus Dr, Brockport, NY 14420 |
| SUNY College at Fredonia | 280 Central Ave, Fredonia, NY 14063 |
| SUNY College at Geneseo | 1 College Cir, Geneseo, NY 14454 |
| SUNY College at Old Westbury | 223 Store Hill Rd, Old Westbury, NY 11568 |
| SUNY College at Oswego | 7060 New York 104, Oswego, NY 13126 |
| SUNY College at Plattsburgh | 101 Broad St, Plattsburgh, NY 12901 |
| SUNY Institute of Technology at Utica/Rome | 100 Seymour Rd Utica, NY 13502 |
| Syracuse University | 900 S Crouse Ave, Syracuse, NY 13210 |
| Utica College | 1600 Burrstone Rd, Utica, NY 13502 |
| Wagner College | 1 Campus Rd, Staten Island, NY 10301 |
| Yeshiva University | 500 W 185th St, New York, NY 10033 |
| Community Colleges | Address |
| --- | --- |
| Adirondack Community College | 640 Bay Rd, Queensbury, NY 12804 |
| Borough of Manhattan Community College | 199 Chambers St, New York, NY 10007 |
| Broome Community College | 907 Upper Front St, Binghamton, NY 13902 |
| Cayuga County Community College | 197 Franklin St, Auburn, NY 13021-3099 |
| Clinton Community College (NY) | 136 Clinton Point Dr, Plattsburgh, NY 12901 |
| Corning Community College | One Academic Dr, Corning, NY 14830 |
| Dutchess Community College | 53 Pendell Rd, Poughkeepsie, NY, 12601 |
| Fulton-Montgomery Community College | 2805 State Hwy 67, Johnstown, NY 12095 |
| Genesee Community College | One College Rd, Batavia, NY 14020-9704 |
| Herkimer County Community College | 100 Reservoir Rd, Herkimer, NY 13350 |
| Hudson Valley Community College | 80 Vandenburgh Ave, Troy, NY 12180 |
| Jamestown Community College | 525 Falconer St, Jamestown, NY 14701 |
| Jefferson Community College | 1220 Coffeen St, Watertown, NY 13601 |
| Kingsborough Community College | 2001 Oriental Blvd, Brooklyn, NY 11235 |
| LaGuardia Community College | 31-10 Thomson Ave, Long Island City, NY 11101 |
| Mohawk Valley Community College | 1101 Sherman Dr, Utica, NY 13501 |
| Monroe Community College | 1000 E Henrietta Rd, Rochester, NY 14623-5780 |
| Onondaga Community College | 4585 W Seneca Tpke, Syracuse, NY 13215 |
| Orange County Community College | 115 South St, middletown, NY 10940 |
| Queensborough Community College | 222-05 56th Ave, Bayside, NY 11364 |
| Rockland Community College | 145 College Rd, Suffern, NY 10901 |
| Stella and Charles Guttman Community College | 50 West 40th Street, New York, NY 10018 |
| Tompkins-Cortland Community College | 170 North St, Dryden, NY 13053-0139 |
| Ulster County Community College | Stone Ridge, NY 12484-0557 |
| Westchester Community College | 75 Grasslands Rd, Valhalla, NY 10595 |
Best Accounting Programs in New York
Baruch College Wins in New York
According to the 32nd Annual Professor's Survey of 2013, City University of New York – Baruch College ranked at number fifteen, (up from number 24 in 2012) for the top 25 undergraduate programs in the country.
New York University made it on the runner up list. CUNY's Baruch College also ranked at number eighteen (up from 26 in 2012) for its Master's program but did not place for the doctoral program.
It also placed number eleven in the top 25 schools with 22+ full-time accounting staff for the undergraduate program, and number twelve for the Master's program. Overall, Baruch College has the best-ranked accounting program in New York.
New York University
---
New York University ranks 32nd among national universities according to U.S. News, while the accounting department of its Stern School of Business is listed as 9th best nationwide.
Students at the Stern School of Business can pursue a business degree with a major in accounting, covering areas such as financial accounting, managerial accounting, financial statement analysis, and financial reporting.
Prospective Certified Public Accountants can opt for the BS-MS program which allows them to earn the required credits through a Master's degree with advanced coursework in accounting, auditing, and taxation. The prestigious MBA offered by Stern school will provide expertise in accounting topics as well as broad business knowledge. Alternatively, students may consider the undergraduate CPA track.
New York University also offers a Ph.D. in Accounting ranked 7th best nationwide by U.S. News which does not require applicants to hold an MBA. A bachelor's degree and strong research-related skills are the main criteria for admission.
Cornell University
---
The prestigious Ivy League Cornell University ranks 15th among national universities. Furthermore, its Samuel Curtis Johnson School of Management is listed as 17th in the country by U.S. News.
Undergraduate students at Cornell's Charles H. Dyson School can earn a BS in Applied Economics and Management with a concentration in Accounting. This AACSB-accredited program covers a wide range of accounting topics, including:
Financial analysis
Cost accounting
Managerial accounting
Business law
Taxation
Auditing
Assurance
Ultimately, students interested in a CPA career may find Cornell University an attractive option. It consistently ranks among the top 5 schools in the country in terms of CPA exam pass rates.
Alternatively, accountants looking to start their career in academia can pursue Johnson School's prestigious doctoral program in accounting. They're ranked 21st in the country by Public Accounting Report just a few years ago.
References:
https://www.stern.nyu.edu/experience-stern/about/departments-centers-initiatives/academic-departments/accounting/academic-programs/mba/course-descriptions
https://www.stern.nyu.edu/experience-stern/about/departments-centers-initiatives/academic-departments/accounting/academic-programs/phd-overview
https://www.stern.nyu.edu/experience-stern/about/departments-centers-initiatives/academic-departments/accounting/academic-programs/master-course-schedule/2014-2015/graduate-spring-2015-0
https://www.stern.nyu.edu/programs-admissions/undergraduate/academics/business-program/areas-of-study
https://www.stern.nyu.edu/experience-stern/about/departments-centers-initiatives/academic-departments/accounting/academic-programs/undergraduate
https://grad-schools.usnews.rankingsandreviews.com/best-graduate-schools/top-business-schools/new-york-university-stern-01152
https://grad-schools.usnews.rankingsandreviews.com/best-graduate-schools/top-business-schools/cornell-university-johnson-01149
https://colleges.usnews.rankingsandreviews.com/best-colleges/cornell-university-2711
https://www.gradschool.cornell.edu/academics/fields-of-study/field/management
https://dyson.cornell.edu/undergrad/concentration.php#accounting
https://www.johnson.cornell.edu/PHD-Program/Areas-of-Study/Accounting