With around 10 institutions offering accounting degree programs, New Hampshire presents prospective staff accountants with a limited range of choices. Consequently, it can seem like an uphill battle when searching for good New Hampshire accounting jobs.
However, the programs are suited to different accounting job objectives and include certificates, associate degrees, Bachelor's and Master's degrees.
Opportunities for accounting graduates abound, with New Hampshire reporting full-time salaries well above average in this field.
The University of New Hampshire stands out among New Hampshire accounting schools.
Rated as 97th best in the country by U.S. News, the school was also ranked 2nd in the world in accounting information systems and 12th in the world in experimental accounting research by Brigham Young University in 2011.
Guide to New Hampshire Colleges
Have you decided to become an accountant, bookkeeper, or accounting manager? If so, prepare to invest in years of demanding education.
The accounting program you choose will become the foundation of your career – where you will acquire skills, forge connections and become the expert with the job title you want.
This is one of the most important professional decisions you will ever face – so take the time to inform yourself thoroughly.
You should choose an accounting course that's AACBS-accredited and well-regarded. Additionally, it should have a comprehensive curriculum and rigorous assessment.
Don't forget that intensive coursework is the hallmark of a quality program able to prepare you for future challenges. Through student evaluations, awards, rankings and CPA exam pass rates you can assess a program beyond what the university website tells you.
Don't forget to take a look at the opportunities for practical experience. As a graduate, you will be expected to have experience with different on-the-job situations – especially if you want to stand out from the crowd.
The ideal accounting program should offer you chances to practice accounting skills through projects, internships, student organizations, volunteering programs, and a career-oriented curriculum.
When choosing an accounting program, remember that as a graduate you will need to be ready for professional success – and once the CPA exam has passed, you'll have to rely on skills learned in university every day of your career.
What You Need to Know to Get Started
Working as an accountant involves dedication and responsibility, analytic skills and leadership, accuracy and a flair for business. It takes time and effort to master these skills and to meet the requirements of the profession. This is true regardless of your career goals, whether they involve becoming an accounts receivable or accounts payable specialist or simply an accounting clerk. However, this is especially true if your goal is to become a senior accountant or Certified Public Accountant (CPA).
While it is sufficient to hold a four-year degree in accounting to work as an accountant, you will need to earn 150 credits to become a CPA, usually translated into five years of study that can include a higher degree.
As part of your quest for decent New Hampshire accounting jobs, you'll have to pass all four sections of the notoriously difficult CPA examination. Furthermore, you'll need to acquire one or two years of accounting experience. Moreover, you might need to complete an ethics course before applying for a license, depending on your state's legislation.
Becoming a CPA involves additional effort, but comes with benefits impossible to ignore – from employment opportunities to higher pay levels.
There is an ever-growing demand for young and qualified CPAs with innovative thinking who can juggle the demands of a challenging business environment – this could be your moment to shine.
Licensing Requirements in New Hampshire
New Hampshire does not require candidates to meet the 150-credit requirement before taking the CPA exam.
A 120-credit Bachelor's degree is sufficient, provided that it includes 30 credits in accounting and 24 credits in business courses.
Accounting courses must cover:
financial accounting
taxation
auditing
management accounting
While business courses may include:
economics
finance
ethics
business law
business information systems and others
As of July 1st, 2014, however, 150 credits of a college education are required in order to apply for a CPA license. Candidates for licensure also need to pass all four sections of the CPA examination and to acquire one year of experience in public accounting under the supervision of a licensed CPA. This experience can be gained working as an accounting assistant or as part of an accounting team.
| New Hampshire Accounting Salary (avg) | National Accounting Salary (avg) |
| --- | --- |
| $56,000 | $57,000 |
Above Average Annual Salary in New Hampshire
New Hampshire accounting jobs have a mean annual wage of $54,639.
Here are some fast facts about cities in the NH area with higher than average entry-level accountant salaries:
Londonderry is on the high end with $58,384 a year on average.
Keene is a similar story with an average annual salary of $56,534.
Next up is Concord with $55,554.
Lebanon is a near-tie with a $55,178 average salary.
Finally, Portsmouth offers an appealing $55,124 a year on average.
Source: Salary.com
Additionally, the top salaries can be often found in urban areas such as Manchester and Nashua. In these locations, it's not uncommon to earn around $71,000 per year. Ultimately, with over 4,000 accountants employed in New Hampshire, the state offers plenty of possibilities for accounting graduates.
Depending on experience, skills, job type, and employment sector, pay levels can differ markedly in accounting. In New Hampshire, the lowest average wage is $42,000, while the highest-paid 10% of accountants earn as much as $103,000.
Basically, there's a broad range of job postings open to accountants, from employment in the public, private, or governmental sector, all the way to independent entrepreneurship. Hence, it's up to you to build your own version of a successful career.
| New Hampshire Accounting Jobs | Average Salary |
| --- | --- |
| Big4 Accountant | $73,000 |
| Senior Corporate Accountant | $67,000 |
| Property Accountant | $49,000 |
| Tax Accountant | $56,000 |
| Bookkeeper | $38,000 |
Southern New Hampshire University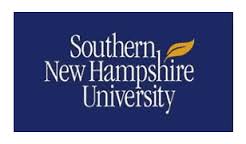 Southern New Hampshire University offers a wide range of accounting programs both online and on-campus.
Choices include a Bachelor of Science in Accounting, Accounting/Finance, and Accounting/Information Systems, as well as a Master of Science in Accounting with concentrations in auditing, forensic accounting, and taxation. Moreover, students have the option to pursue an accelerated online accounting degree program with the BS to MS Fast Track program.
The Master of Science in Accounting at Southern New Hampshire University allows students to meet the 150-credit requirement for CPA licensure and provides in-depth knowledge of advanced accounting topics. This will all come in handy when looking into New Hampshire accounting jobs further down the line!
The school is also the only one in New Hampshire to offer the possibility of gaining experience through the Volunteer Tax Income Assistance program.
Affordable, thorough and designed for students who wish to start their career as soon as possible, the Southern New Hampshire University can prepare you for the CPA exam and for success as an accountant, without however matching up to top-ranked accounting programs in the country.
| Community Colleges | Address |
| --- | --- |
| Lakes Region Community College | 379 Belmont Rd, Laconia, NH 03246-1364 |
| Manchester Community College (NH) | 1066 Front St, manchester, NH 03102 |
| New Hampshire Technical Institute-Concord's Com Col | 31 College Dr, Concord, NH 03301-7412 |
| River Valley Community College | One College Dr, Claremont, NH 03743 |
| White Mountains Community College | 2020 Riverside Dr, Berlin, NH 03570 |
Peter T. Paul College of Business and Economics at the University of New Hampshire
The prestigious, AACBS-accredited Peter T. Paul College of Business and Economics at the University of New Hampshire offers a Bachelor of Science in Business Administration. Additionally, they offered majors in Accounting and Finance, as well as a Master of Science in Accounting.
The BSBA with an Accounting option equips students with solid technical competence in auditing, taxation and consulting. Students wishing to sit for the CPA exam may progress to the Master of Science in Accounting and gain advanced expertise in accounting and business.
Moreover, the Master of Science in Accounting program boasts excellent graduate placement rates, with recruiters including the "Big Four".
Students also benefit from plenty of opportunities to acquire experience during their studies. Consider looking into student organizations such as the Accounting Students Association and the student-managed Atkins Investment Group.
With a CPA exam first-time pass rate with an advanced degree of over 70% in 2013, the accounting program at the University of Hampshire can help you get your career off to a flying start.
https://paulcollege.unh.edu/node/440
https://paulcollege.unh.edu/node/554/
https://www.becker.com/cpa-review/resources/about-exam/requirements/new-hampshire-cpa-exam-requirements/2014-new-hampshire-cpa-licensure-changes
https://www.unh.edu/news/cj_nr/2011/feb/lw22whit.cfm
https://www.snhu.edu/2230.asp
https://www.snhu.edu/2228.asp
https://www.snhu.edu/6327.asp
https://www.snhu.edu/online-degrees/graduate-degrees/accounting-MS-online.asp
https://www.snhu.edu/online-degrees/undergraduate-degrees/accounting-BS-online/accelerated.asp