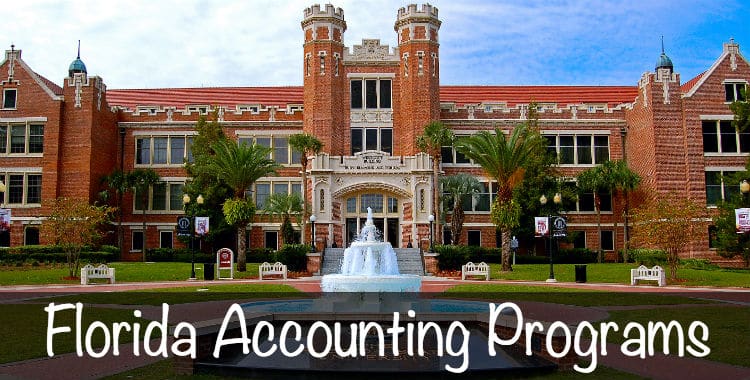 Accounting is a sought after field for many people and Florida is certainly no exception. In the state of Florida, there are over twenty programs to choose from. All areas of the state are covered if you want to study accounting there.
The University of Tampa
University of North Florida
University of South Florida
University of Miami
Florida State University
St. Leo University
Jacksonville University
Florida Memorial University
What to Look for in Schooling
As with any important life decision, you would not take your choice of school lightly. It's so important to research schools before choosing one. The university nearest your house may be the most convenient, but it may not necessarily be the right fit for you.
Firstly, you should check out the school's website and find out what kind of programs they offer. They will likely list the number of credits their courses are and whether or not they offer prep for the CPA exam.
Find out who their faculty is comprised of and if they are any good. There are websites that give ratings of professors and the programs. Also, you may want to actually visit the school and talk to someone on staff.
If you're lucky, you may be put in touch with an alumnus who went through the program. They can tell you exactly what the experience at that school is like. It's not enough to look over a brochure and decide right then and there that you are going to apply there. Look over as many options as you can until you find exactly what you're looking for.
CPA Roadmap
If you are hoping to one day become a certified public accountant, you have a very long but rewarding road ahead of you.
Most states have very strict rules and standards for licensing accountants, so your first step is getting the educational requirements. Most states now require that you have at least a 150 credit undergraduate degree. That degree must have a certain number of accounting courses as well as business courses.
Once you have completed your bachelor's degree, you will have to qualify for the CPA exam. This exam is extremely difficult, so make sure that you have covered every complex financial concept in your studies. It has a low pass rate, so only the very best students get through to the next requirement: an ethics exam.
After these exams are successfully completed, you will require a certain number of hours of experience under your belt. Every state has its own requirements.
What Do You Need to be a CPA in Florida
In order to qualify for your CPA license in Florida, you must have completed 150 semester hours or 200 quarter hours.
You must have:
36 semester or 54 quarter hours of upper division accounting
39 semester hours or 58 quarter hours of upper division general business courses
You must study:
taxation
auditing
financial
accounting information systems
Be sure to research exactly what courses are required and find out if your desired program covers those requirements. The state of Florida requires that in addition to completing the CPA exam, you must also have at least one year of work experience, verified by a licensed CPA.
| Florida Accounting Salary (avg) | National Accounting Salary (avg) |
| --- | --- |
| $53,000 | $57,000 |
High Earning Florida Accountants
Most people are eager to learn their earning potential before choosing their career path. In Florida, on average a licensed certified public accountant makes around $75,000 per year.
Also, take into account the number of years of experience, the schooling, and the rigorous testing needed to even get licensure. You likely will not make that much to begin with, however if you join a strong team or start your own business, you can certainly earn that much or more.
| Florida Accounting Jobs | Average Salary |
| --- | --- |
| Big4 Accountant | $69,000 |
| Senior Corporate Accountant | $64,000 |
| Property Accountant | $46,000 |
| Tax Accountant | $53,000 |
| Bookkeeper | $36,000 |
Accounting Program Sneak Peek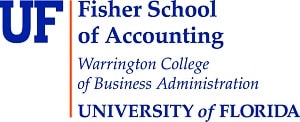 University of Florida scores highest of all the accounting programs offered in Florida. Its program is within the Fisher School of Accounting, which is a part of the Warrington College of Business Administration.
This program is quite well known and consistently scores rather high overall in accounting programs across the country. With bachelors, masters, Ph.D. level programs, this school offers all levels to a student seeking their eventual CPA licence.
Students are advised that if they are seeking their CPA, they will need to enter the 3/2 program which is an integrated, five year 150-hour program in which you will earn your BSAc as well as your MAcc. This program ensures that you will fulfill the requirements for taking the CPA exam.
University of Florida seems to be the best choice for accounting schools in Florida, in terms of the program they offer, as well as the impressive faculty.
Be sure to speak with someone on staff about what exactly you will need in order to apply for a spot. Best of luck on your journey and may you pass that CPA exam with flying colors!

Florida Universities
---
| | |
| --- | --- |
| Barry University | 11300 NE 2nd Ave, Miami Shores, FL 33161 |
| Bethune-Cookman University | 640 Dr Mary McLeod Bethune Blvd, Daytona Beach, FL 32114 |
| City College | 9300 S Dadeland Blvd #200, Miami, FL 33156 |
| Flagler College | 74 King St, St Augustine, FL 32084 |
| Florida A&M University | Tallahassee, FL 32307 |
| Florida Atlantic University | 777 Glades Rd, Boca Raton, FL 33431 |
| Florida Gulf Coast University | 10501 FGCU Blvd S, Fort Myers, FL 33965 |
| Florida International University | 11200 SW 8th St, Miami, FL 33174 |
| Florida Memorial University | 15800 NW 42nd Ave, Miami Gardens, FL 33054 |
| Florida Southern College | 111 Lake Hollingsworth Dr, Lakeland, FL 33801 |
| Florida State University | 600 W College Ave, Tallahassee, FL 32306 |
| Jacksonville University | 2800 University Blvd N, Jacksonville, FL 32211 |
| Nova Southeastern University | 3301 College Ave, Fort Lauderdale, FL 33314 |
| St. Leo University | 33701 Florida 52, St Leo, FL 33525 |
| St. Thomas University – FL | 16401 NW 37 Ave, Miami Gardens, FL 33054 |
| Stetson University | 421 N Woodland Blvd, DeLand, FL 32723 |
| University of Central Florida | 4000 Central Florida Blvd, Orlando, FL 32816 |
| University of Florida | Gainesville, FL 32611 |
| University of Miami | 1320 S. Dixie Hwy, Coral Gables, FL 33124 |
| University of North Florida | 1 University of North Fl Dr, Jacksonville, FL 32224 |
| University of South Florida | 4202 E Fowler Ave, Tampa, FL 33620 |
| University of Tampa | 401 W Kennedy Blvd, Tampa, FL 33606 |
| University of West Florida | 11000 University Pkwy, Pensacola, FL 32514 |
Florida Community Colleges
---
| | |
| --- | --- |
| Broward College | 111 E Las Olas Blvd, Fort Lauderdale, FL 33301 |
| Chipola College | 3094 Indian Cir, Marianna, FL 32446 |
| College of Central Florida | 3001 SW College Rd, Ocala, FL 34474-4415 |
| Daytona State College | 1200 International Speedway Blvd, Daytona Beach, FL 32120-2811 |
| Eastern Florida State College | 1519 Clearlake Rd, Cocoa, FL 32922-6597 |
| Florida Gateway College | 149 SE College Pl, Lake City, FL 32025-2007 |
| Florida SouthWestern State College | 8099 College Pkwy, Fort Myers, FL 33906 |
| Florida State College at Jacksonville | 501 W State St, Jacksonville, FL 32202 |
| Florida State College at Jacksonville-Downtown | 101 West State St, Jacksonville, FL 32202 |
| Florida State College at Jacksonville-Open Campus | 601 W State St, Room 414 URC, Jacksonville, FL 32202 |
| Gulf Coast Community College | 5230 W Hwy 98, Panama City, FL 32401 |
| Hillsborough Community College | Tampa, FL 33606 |
| Indian River State College | 3209 Virginia Ave, Fort Pierce, FL 34981-5596 |
| Miami Dade College | 300 NE 2nd Ave, Miami, FL 33132 |
| North Florida Community College | 325 NW Turner Davis Dr, Madison, FL 32340 |
| Palm Beach State College | 4200 Congress Ave, Lake Worth, FL 33461-4796 |
| Pasco-Hernando State College | 10230 Ridge Rd, New Port Richey, FL 34654 |
| Pensacola State College | 1000 College Blvd, Pensacola, FL 32504 |
| Polk State College | 999 Avenue H, NE, Winter Haven, FL 33881-4299 |
| Santa Fe College | 3000 NW 83rd St, Gainsville, FL 32606 |
| South Florida State College | 600 W College Dr, Avon Park, FL 33825 |
| St Petersburg College | Saint Petersburg, FL 33733-3489 |
| Tallahassee Community College | 444 Appleyard Dr, Tallahassee, FL 32304 |
| Valencia College | Orlando, FL 32802 |
Top Ranked Accounting Programs in Florida
Florida State University
In the 32nd Annual Professors Survey of 2013, University of Florida ranked number nine (down from number eight in 2012) in the top twenty five undergraduate program. It also ranked number thirteen (down from number ten in 2012) in the top twenty five masters program. It ranked number nineteen (down from number 18 in 2012) in the top twenty five doctoral programs in the US.
Florida State University placed on the runners up list for the undergraduate program, and the masters program. Out of the twenty five undergraduate schools with 22+ full time accounting faculty, University of Florida ranked seven. Of the twenty five undergraduate programs with fifteen or fewer full time accounting faculty, it was a tie between University of South Florida and University of North Florida for 22nd place.
Overall, it appears that University of Florida has the highest scoring in Florida, however the survey shows a slight dip in the rating. The Warrington College of Business Administration within University of Florida is ranked number twenty in Accounting Degree Review's 30 Best Accounting Schools for Undergraduates list.
University of Miami
At the University of Miami's School of Business Administration you can choose between four accounting degree programs. Ranked 48th among national universities and 96th among graduate business schools by U.S. News, this AACSB-accredited school can equip you with all the tools you need to make it as an accountant.
Undergraduate students at the University of Miami may choose between a Bachelor of Business Administration with a major in Accounting (BBA) and a Bachelor of Science in Business Administration with a major in Accounting (BSBA).
If you wish to fulfill CPA requirements, you can complete the required additional 30 credits through a Master's degree in Accounting (with a focus on assurance or corporate accounting) or a Master of Science in Taxation. You can also complete one of these graduate degrees via an accelerated track that will allow you to sit for the CPA exam within 4.5 years.
Finally, if your goal is to join the academia, you can apply for a PhD in Business Administration with a concentration in Accounting.
Barry University
Barry University ranks 252nd in the U.S. News High School Counselor Rankings. While it does not shine out in national rankings, the AACSB-accredited Andreas School of Business offers a good array of choices to prospective accountants, including an undergraduate degree in Business Administration, a Master in Accounting and a Master of Business Administration.
Undergraduate students can pursue the Bachelor of Business Administration with a major in Accounting, while prospective CPAs can meet the CPA educational requirements by completing the Master of Science in Accounting. Merit scholarships are available for outstanding students applying for the Master of Science degree.
The Andreas School of Business program prides itself on a focus on employability, with a wide range of societies to provide you with extracurricular experience. The Business Experience events organized by the school will allow you to network with major business leaders. This makes Barry University a good alternative to consider if you wish to study accounting in Miami.
References:
https://www.bus.miami.edu/faculty-and-research/academic-departments/accounting/index.html
https://www.bus.miami.edu/graduate-programs/specialized-masters/accounting-accelerated/index.html
https://bus.miami.edu/phd-programs/curriculum/accounting/index.html
https://education-portal.com/articles/Top_School_for_an_Accounting_Degree_-_Miami_FL.html
https://grad-schools.usnews.rankingsandreviews.com/best-graduate-schools/top-business-schools/university-of-miami-01051
https://www.bus.miami.edu/explore-the-school/about-the-school%20/index.html
https://www.barry.edu/business/about-the-school/aacsb-accreditation.html
https://colleges.usnews.rankingsandreviews.com/best-colleges/barry-university-132471/overall-rankings
https://www.barry.edu/business-undergraduate/https://www.barry.edu/accounting/