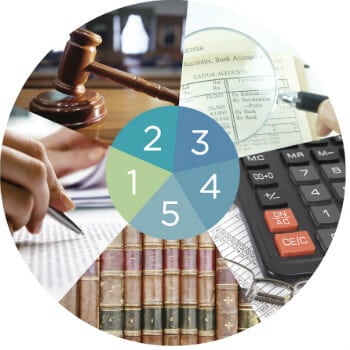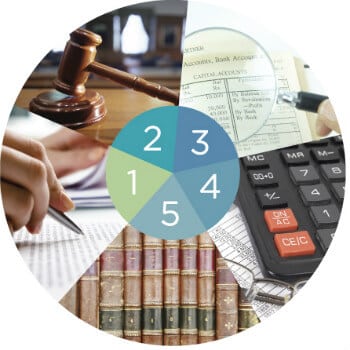 Forensic accounting combines the auditing skill-set of an accountant, with the investigative abilities of a detective.
Forensic accountants are typically employed by large public accounting firms and maintain their own internal division.
Their specialty lies in litigation support and fraud examination. Government agencies, commercial corporations, and financial institutions are just some of the various clients who request the services of the forensic accountant.
Related: Learn how to become a forensic accountant
These "financial detectives" generally start out as traditional public accountants, this period usually lasts from 1-3 years.
Then they move on to more specialized departments where they will work for the bulk of their career.
What Do Forensic Accountants Do?
---
Accounting Firms with Prominent Accounting Departments
---
• PwC
• Ernst & Young
• Deloitte
• KPMG
• Grant Thornton
• McGladrey
• BDO
• Plante Moran
• BKD
• Baker Tilly
• Rothstein Kass
• CohnReznick
• Dixon Hughes Goodman
• UHY Advisors
• Mazars
The Full Breakdown: 
---
Accounting as a career has several specializations which include forensic accounting, public accounting, cost accounting and tax accounting. The specializations will usually require a further qualification or certification.
One of the fastest growing specializations is forensic accounting. This is probably as a direct result of the increase in fraud and a complementary increase in compliance requirements. Forensic accounting is basically a mix of accounting practice, investigation and auditing.
Forensic accountants use these three skills to carry out an examination into the financial records of a company. This examination is supposed to be complete and thorough enough to stand in court as evidence in legal proceedings. The forensic accountant, also called an investigative or forensic auditor, may be called to testify in court as an expert witness. The forensic account will investigate fraud and other related matters.
Companies seek the services of forensic accounting firms for litigation support, dispute resolution and investigative accounting. The forensic accounting firms may also be hired during the process of mergers and acquisitions to carry out an in depth look into the financial health of the companies in the merger or acquisition.
The large accountancy forms will have a forensic accounting department. For example, the Big 4 accounting firms, Deloitte, PwC, Ernst & Young and KPMG all have forensic accounting departments. Another large accounting firm that has forensic accountants on staff is BDO International.
An Industry on the Rise
---
Forensic accounting is just not for the large accounting firms though. Even small firms have recognized the growth potential of the forensic accounting field.
Mattson Driscoll and Damico (MDD) is an example of a forensic accounting firm.
It is an American company with offices in the:
United Kingdom
Australia
Singapore
Canada
United States
RGL Forensics is an international forensic accounting firm whose focus is solely on financial forensics. Kessler International is also a forensic accounting firm with headquarters in the United States. It was founded by Michael Kessler who is quite famously known as the first forensic auditor.
Forensic accountants are retained by a variety of organizations such as the police, banks, insurance companies, government bodies and lawyers.
The notorious gangster Al Capone was prosecuted and jailed with the help of a forensic accountant. So think of forensic accounting as an up and coming profession. A profession where you get to play detective, searching for financial crimes commited against other people, the government or specific companies.