Choosing a CPA review course to help you prepare for the CPA exam is a very important decision.
Choosing the correct CPA Exam Review Course can make or break your attempts to pass a notoriously difficult test.
There are many who end up purchasing the wrong course the first time, fail the test and end up having to pay for two courses to find the right now.
It's worth it to spend some time finding the perfect prep course for you.
Good news – we're here to help you figure it out!
Step #1: Identify your favorite learning style for your CPA review course:
Visual Learning
Interactive Learning
Independent Study
Different review courses specialize in different teaching techniques. We've noted these for you in each product review.
Step #2: Establish your budget.
Are you paying for your study materials yourself?
How much can you spend?
Will your employer be covering you?




If you haven't asked your employer, make sure to do so.
Don't forget that this is an investment and successfully passing The CPA Exam will likely improve future pay, so don't go directly for the cheapest option.
Step #3: Now review the top 10 CPA Review Courses listed below, noting their teaching styles – make sure they match your preferred learning technique.
To help you start your search, here's an overview of ten of the best-known CPA exam review courses – read on and take your pick!
Wiley CPA Review
For an independent learner, the Wiley review course may be ideal.
The books are comprehensive and well-written and they are accompanied by the Test Bank CD – an impressive set of simulations and practice questions.
For some people, that's all they need to pass, while for other people the lack of interaction and guidance will be a disadvantage.

The Pros:
---
One of the main advantages of the Wiley course is that it's much more affordable than others (for example Becker).
If you are able to put in the effort, the Wiley materials will see you through the exam at a fraction of the price you might pay with other providers.
Another pro is that the course has no expiration date – you can prepare for the exam anytime, for as long as you want.




The course is self-paced and will suit organized learners who are motivated and disciplined and who may find that guided courses do not fit their learning pace.
You'll have to make your own study plan if you use Wiley, which can lead to more personalized and efficient studying.
What is more, the Test Bank offered by the course is very helpful; the questions address relevant topics and help you adequately prepare for the exam.
The Cons:
---
The book format that the Wiley review course uses means that information may sometimes be outdated.
Regulations can change very fast in the accounting world and you'll need to do some cross-checking to make sure that you have the latest information.
Another potential issue is the lack of guidance.
Even if you like studying independently, there may come a time when you would like a problem explained in depth or you need to ask a question – and that's not something offered by this course.
If live interaction is important to you, you can either pick a different course or complement your learning with a study group or some extra classes.
Roger CPA Review
The Roger CPA exam review course is known for being exciting and entertaining.
If you're a visual learner and like breaking problems down on the whiteboard, this may be the course for you.

A mixture of:
attention-grabbing lectures
mnemonics
textbooks
24/7 online support
make this review course one of the best on the market.
The Pros:
---
Roger Philipp, CPA teaches the course in a style known as the Roger Method – a style that will keep you from dozing off during the lectures.
Roger's personality and visual teaching will help you get through many hours of difficult concepts, as well as understand topics in depth.
If you are a visual learner and find it difficult to maintain attention and motivation, this is a big advantage.
The course also presents you with useful memory aids to make recalling essential information easier. The important concepts are covered without overwhelming you.
The textbooks themselves are laid out in an intuitive fashion and explore the content in more depth.
If you tend to do most of your studying online, you will appreciate the Roger online platform, which allows note-taking during video lectures and video bookmarking to review difficult sections at a later time.
What is more, the course is not extremely expensive and if you switch from a different review course you are eligible for a Fresh Start discount.
You can also benefit from an audio course taught with the enthusiasm specific to Roger for an extra fee.
The Cons:
---
The lectures may be a little fast-paced for some students, so if your English is not very good or if you prefer slower lectures this may be a problem.
What is more, the lectures can sometimes explore areas that are not relevant to the exam.
With 4,000 multiple choice questions and 200 simulations available, the course does not offer as many practice questions as other courses such as Wiley or Gleim.
Another issue with the Roger course is that it has an expiration date – access is valid only for 18 months.
Gleim CPA Review
Gleim is another affordable alternative that stands out through its extensive material.
With an impressive number of multiple choice questions, detailed textbooks and an included audio review, Gleim is the way to go if you are ready to put in the effort and need the right study materials to support you.

The Pros:
---
Priced at around $1,000, Gleim CPA Review is three times more affordable than Becker and includes an audio review for each section of the CPA exam for free.
This downloadable audio material can make an excellent companion on your daily commute or jog.
With over 9,200 multiple choice questions and 1,000 simulations, Gleim supports the old adage that "practice makes perfect".
The various types of simulations available will help you feel confident and prepared before the exam. The modular approach to studying, thoughtful design and helpful videos create a great overall experience.
By being part of the Gleim CPA Review System, you will also benefit from the help of a Personal Counselor in finding difficult answers and creating your own study plan.
The Cons:
---
The textbooks are very comprehensive and detailed and feature a lot of technical jargon. While this may suit some users, others may find themselves overwhelmed.
As the course is available in Premium and Traditional formats, some important features are only available to Premium users at a higher cost.
These include access to expert help and instructor videos as well as unlimited access until you pass the exam.
If you're looking for an affordable, personalized review course that doesn't spoon-feed you, Fast Forward Academy has a review course for you.
Nobody will hold your hand through the course, but you'll get feedback on the areas in which you need to improve and you'll be able to manage your time better.

The Pros:
---
As you take practice exams, the Fast Forward Academy Course will point you towards the information that you need to review in order to improve.
A new personalized simulation will then test your knowledge in those specific areas.
The feedback will help you concentrate your efforts towards the areas that matter most.
Another main advantage of Fast Forward Academy is the over 5,800 multiple choice questions drawn from previous CPA exams.
This extensive database will ensure that you've had plenty of practice before the big day comes.
Other features that make Fast Forward Academy an attractive choice are the:
unlimited access
free updates
friendly interface allowing for color-coded notes and highlighted text
In addition, you can access free trials of other features such as the study planner or more multiple choice questions (in case the thousands already available aren't enough).
Finally, the course is affordable (around $850 for the online version) and can be paid in four installments.
The Cons:
---
While the Video Explanations will help you with the most difficult questions in each section, the Fast Forward Academy course does not contain video lectures. If you are looking for structure and guidance, this may not be the course for you.
But if you study well independently and learn through practice, the course has everything you need. You can also use it to complement other study materials with its large question database.
Fast Forward Academy is relatively newer and less established than other review courses, so it may be more difficult to assess its quality before enrolling.
On the flip side, students may find that the lower cost compensates for that.
Becker CPA Review
The best-known CPA review course is undoubtedly Becker.
It is highly recommended for its large bank of relevant practice questions, the well-written textbooks, and the structured materials; but the cost and the format of its live classes and video lectures are often quoted as drawbacks.
Whatever you decide, don't choose Becker because of the prestige.
If you need structure and are an auditory learner, Becker could be a good choice; if you're more of a visual learner or have to pay for the course from your own pocket, there are other courses that may suit you better.

The Pros:
---
This well-established course features comprehensive and well-organized material to guide you through the information.
The regular updates mean that you'll have access to the latest material – although you'll often find yourself paying extra for it.
The notes and textbooks are well-written and easy to follow, while the 6,000 multiple choice questions offer plenty of opportunity to practice and tend to be very similar to the questions you'll encounter on the exam.
If you need some structure to get motivated, the online and live classes offered by Becker can provide you with a tight schedule that will soon turn into an efficient studying routine.
The Cons:
---
Becker is the most expensive CPA review course available and will set you back around $3,400.
Unless it is paid by your company, this is a big investment – especially considering that some of the updates are also paid. Becker also has an expiration date.
The lecture format sometimes involves a highlighted and annotated version of the textbook, which may not be very helpful to visual learners or to those wishing to understand concepts in depth.
Live lectures can also vary in quality – some of these classes are simply lecture videos projected to a classroom.
The customer service and difficulty in getting explanations is also cited as one of the reasons of student dissatisfaction.
In conclusion, the fact that Becker is the most prestigious and expensive review course doesn't mean that it's the best-suited to your study habits – so do your research before making up your mind.
Yaeger CPA Review
Yaeger CPA Review is known for its in-depth material and traditional style lectures.
Based on the Wiley books and accompanied by explanatory instructor videos, Yaeger is an affordable alternative for those wishing to explore the study material extensively.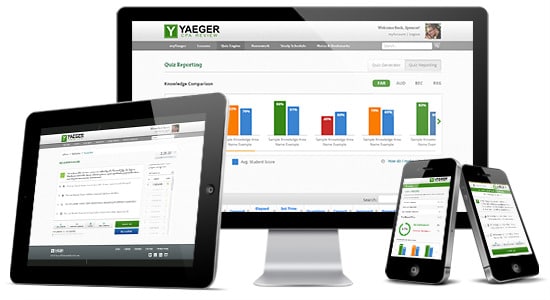 The Pros:
---
The video lectures explain concepts step by step, ensuring a deep understanding of exam topics. You will navigate difficult problems and multiple choice questions with the help of qualified instructors.
The Yaeger course is probably the closest to a classroom experience, so it can be a perfect fit if that's your ideal studying setting. Over 4,000 multiple choice questions will help you practice what you learn.
The Yaeger course is also well-known for great customer support, with a live instructor hotline to provide personal assistance with any challenging questions that you might encounter.
The instructors on this course do their best to be available to students at all times.
The Cons:
---
The traditional lecture format may not be everybody's cup of tea – after all, you've already taken plenty of accounting classes.
If you feel like you learn faster independently, this course may not be for you.
Other drawbacks are the extra fee charged for an audio course (over $400) and the expiration date (access is provided for 18 months).
Wiley CPAexcel CPA Review
Wiley's CPAexcel Review course divides the study material into manageable chunks and is thus the ideal choice for busy independent learners.

With a whopping 12,000 multiple choice questions from previous CPA exams and a mixture of materials such as:
study texts
flashcards
simulations and video lectures
The CPAexcel course has garnered an excellent reputation.
The Pros:
---
The well-organized lectures with running times between 2 and 20 minutes are very convenient, especially if your schedule is too busy to spend large blocks of time studying.
The bite-size lessons can make your study schedule less daunting and easier to tackle step by step.
At the same time, the study material is very comprehensive and covers the exam topics in detail.
Moreover, the videos complement the study material well and the practice questions ensure that you walk into the exam well-prepared.
To make sure that there are no surprises on the test day, the simulations adhere to the CPA exam computerized format to the letter.
The wide range of challenging multiple choice questions allows you to practice until you feel fully confident.
Another advantage of the CPAexcel course is the user-friendly platform that fully explores the potential of the online medium.
You'll benefit from a:
personalized study plan
diagnostic charts
personalized analysis to guide you on your way.
The CPAexcel course is also accessible on many different platforms and features unlimited access with no expiration date and free updates.
The Cons:
---
Depending on the type of learner you are, you might find the video lectures helpful or boring – some of the lectures fail to engage the students.
The lack of live classes and interaction with instructors means that the CPAexcel course is better suited to those who prefer self-study.
Another drawback is the fact that this heavily online-based course can seem daunting at first.
There are many choices to make in order to have a personalized study experience.
While this can be somewhat time-consuming and confusing, it will make your studying more efficient in the long run.
As the course is computer-based, you will need to be comfortable with doing all your studying online.
While not particularly affordable, the CPAexcel review course can make a great difference to students who have to juggle other commitments with studying for the CPA exam.
The course has been endorsed by one of the Big Four and has been recently acquired by Wiley.
Well-established, but less expensive than Becker, CPAexcel has a great reputation for helping busy professionals pass the CPA exam.
Lambers CPA Review
The less-known Lambers course has been on the market for a long time and offers a combination of:
study materials
video lectures
simulations
as well as an effective audio course.
The Pros:
---
The Lambers Review course is affordable, yet established, having been around for over 45 years. It also offers a money-back guarantee should you use the course and fail the same exam twice.
A strong point of the Lambers course is the audio review, which makes it easy to study on the go.
Listening to professors work through difficult problems can be very helpful, especially if you learn well from explanations.
The iPod course also helps you utilize the time spent on your commute or in waiting rooms.
Most of the video lectures are well-structured and very clear. Qualified instructors explain concepts and work through problems to ensure an in-depth understanding of the topics.
There are over 130 hours of lectures that can be used without restrictions for as long as you need to. And as a bonus, the software is also easy to navigate and includes one year of free upgrades.
Finally, the course also includes around 4,300 multiple choice questions to help you prepare for the exam.
The Cons:
---
On the downside, the Lambers video lectures are not very entertaining and can vary widely in terms of quality.
Mistakes may also creep up in the simulations or the textbook itself, so make sure to double-check concepts that you don't understand well.
Some topics may benefit from further explanation, so this may not be the best course for somebody who has been out of university for a while and does not remember many of the basic concepts.
Another issue with Lambers is that it does not have a widespread customer base and thus it is much more difficult to gauge whether it is the right choice for you.
Bisk CPA Review

Bisk CPA Review is a well-established review course that allows you to choose between two formats – guided review and self-study.
This should satisfy all the types of learners trying to get through the CPA exam.
However, the mixed reviews make this course one of the less popular alternatives.
The Pros:
---
Having been on the market for over 40 years, Bisk is endorsed by the Big Four and has been used by many CPA candidates.
It is also more affordable than Becker, although not less expensive than other similar courses.
One strong feature of the Bisk review course is its ability to help you plan your studying.
If you want to go through one section in a limited amount of time, Bisk will help you schedule your studying, which can work very well for those of us who are busy or less organized.
But perhaps the most famous characteristic of Bisk is the fact that it features lectures by CPA expert Bob Monette.
Monette is a very popular lecturer thanks to his teaching style and ability to make complicated concepts understandable.
Finally, you'll find some very useful features on the CD – for example, the ability to create a personalized exam and view statistics of your performance, including your strengths and weaknesses.
The Cons:
---
The downside of the Bisk CPA Review course is that the textbooks have received mixed reviews, so you may need to supplement them with additional material in order to feel prepared for the exam.
The video lectures also vary in quality, with some students finding that instructors rush through explanations.
The software also has some limitations – for example, the custom exam feature on the CD fails to randomize questions, which is a problem when practicing questions repeatedly.
Keep in mind that the textbook and CD contain identical material, so don't buy both – choose the one you prefer.
Bisk also offers a money-back guarantee if you don't pass the exam, but the conditions are restrictive.
Although well-established and endorsed by the industry, Bisk is not as comprehensive as other review courses.
If you're looking for one course that can fully prepare you for the exam, other options may be more suitable.
ExamMatrix CPA Review
For students who prefer to study independently and see practice as the key to success, ExamMatrix offers over 5,400 multiple choice questions and 250 simulations.
On the other hand, for those looking for detailed explanations and visual aids, this course may not be the best choice.
The Pros:
---
ExamMatrix is an affordable cpa review course including plenty of multiple choice questions and realistic exam simulations.
The questions are linked to relevant content in the book, which will make it easy for you to improve your performance.
To help you organize your learning, "adaptive learning technology" will help you create a personalized study plan and monitor your progress.
Reading assignments are generated based on your performance, so you know exactly what you need to study next.
The course also offers a money-back guarantee, although the restrictive conditions mean that not everyone will be able to qualify.
The Cons:
---
The ExamMatrix course is actually little more than a test bank accompanied by digital study material.
There are no video or audio lectures.
You are likely to need additional sources to accompany the practice questions offered by this course.
The digital integrated textbooks are not comprehensive and only work as reference material.
This format may encourage you to memorize information rather than learn it in depth.
You can buy hard copy textbooks separately at an extra cost.
ExamMatrix only offers access to the course for a limited time window (12/24 months), while sections can be undertaken separately for 6 months each.
In conclusion, if you learn best through simulations and you like the idea of a personalized and adaptive study plan that works around your schedule, ExamMatrix may be the right choice for you.
However, other review courses offer extensive test banks as well as detailed study materials and video lectures.
It all boils down to your learning style – but remember that when studying for the CPA exam less is usually not more.
CPA Exam Prep – Summary
---
Whether you thrive on video lectures, mnemonics, self-study, relentless practice or audio explanations, there is a CPA review course for you – and indeed many that feature all of these elements.
Shop around before making a decision, as your studying will be structured around the CPA review course that you choose.
If you know your study habits and your needs, the right course will guide you through these difficult months, motivate you and keep your studying efficient.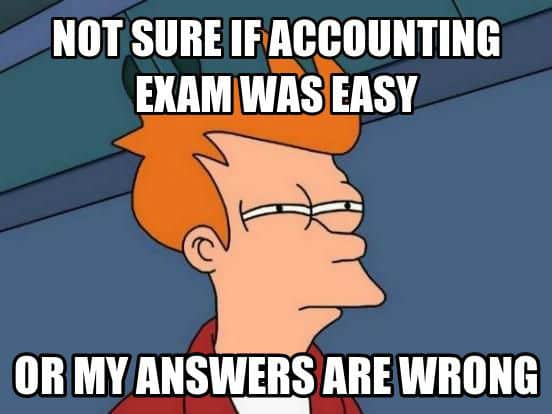 Most students find that independent reading and freely available simulations are not enough to help them pass – and with a 49% CPA exam pass rate in 2014, you don't want to be taking any chances.
Find the right balance between price, study material, practice questions and software – even if that means combining several different sources.
In the end, it's your own hard work and effort that will help you pass the CPA exam; make sure you choose the CPA exam review course that can focus your efforts in the right direction and that makes sitting down in front of your computer every day a little bit easier.
---
References:
http://beatthecpa.com/cpa-exam-review-courses/
http://goingconcern.com/post/going-concern-cpa-review-survey-results-are-here
http://www.reddit.com/r/Accounting/comments/2euev2/official_cpa_review_material_thread/
https://www.thiswaytocpa.com/exam-licensure/prep-course-reviews/products/cpa-review-course/
http://www.cpaexam.com/online-cpa-exam-review-vs-ground-based-courses/
http://goingconcern.com/post/do-you-really-need-buy-3000-cpa-review-course
https://www.thiswaytocpa.com/exam-licensure/prep-course-reviews/products/wiley-cpa-examination-review/
https://fastforwardacademy.com/store/cpa/purchase
http://goingconcern.com/post/future-cpa-seeking-best-cpa-review-course-someone-elses-money-can-buy
http://crushthecpaexam.com/cpa-review-courses/bisk-cpa-review/
http://www.exammatrix.com/cpa-exam-review/faqs/
https://www.rogercpareview.com/