The Project Management Professional (PMP) exam is an important stepping stone on the path of any project manager. This exam solidifies you as a working professional and can open many doors throughout your career. But as an important test, it can be very difficult.
Luckily, there's a great way for you to prepare for it. Check out our review of Master of Project's PMP certification course below:
Overview of Master of Project Academy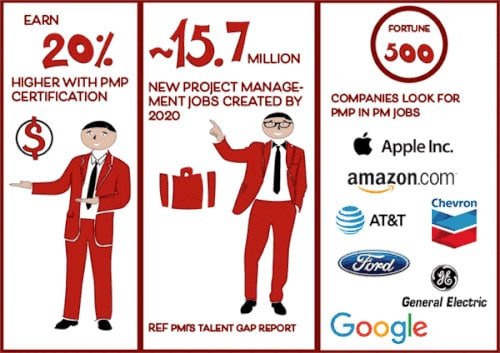 Master of Project Academy aims to publish well-written and affordable courses for working professionals. In addition to creating powerful online PMP and CAPM training, they accomplish this by interacting with a community of instructors and learners. Furthermore, they also offer multiple tiers of PMP courses in order to prepare you for the PMP exam.
But just how effective are their methods? Read on to find out more.
Here are some key features offered by Master of Project Academy:
Up to 35 Contact Hours of Training
300+ Lectures
Self-Paced and Live Options
PMP Hours Certificate
24/7 Customer Service
750+ Practice Questions
Moderated PMP Peer Forum
What's Included With Master of Project Academy?
Multiple Course Options
Master of Project Academy goes out of their way to cater to a wide range of student types. In order to do so, they offer multiple options for their online courses. These primarily come in the form of instructor-led and self-study courses. Ultimately, each option has several differences that make them appealing to different types of students.
So how does it all work?
Instructor led courses are much more structured and operate under a schedule. This schedule isn't especially strict, but it can help organize your studying in a way that self study doesn't. Students have a choice between weekend or weekday lectures. These virtual training sessions are designed to teach management topics in an easy to approach manner.
Master of Project Academy also offers self-study courses in addition to their live content. These can be approached at your own pace and are better for people with less free time in their lives. This option can provide up to 35 hours of PDUs and typically consist of practice questions, real world examples linked to theoretical concepts, and much more.

PMP Peer Forum
A PMP Peer forum is also included with Master of Project's course content. This is a place where students can meet online and discuss specific exam concepts when they need help or clarification. Consequently, Master of Project Academy's courses tend to provide students with a greater sense of community than other online training courses.
You can always rely on receiving the help you need because knowledgeable people are just a few clicks away. Plus, you can practice some concepts yourself by helping out others who haven't grasped it as well as you have. After all, the best way to remember something is to teach it to others!
Practice Questions and Exams
Practice exams are a major facet of PMP certification training— They provide valuable experience and tend to reinforce everything you've learned. As a result, Masters of Project Academy makes sure to include plenty of testing material with each course. These come in the form of over 750 practice questions based on the various management concepts being taught, as well as a final PMP practice exam to assess your readiness. You'll find yourself extremely well prepared after completing all of the above content.
Master of Project Academy Pricing
Masterofproject.com offers multiple pricing plans for both self-study and live class courses. Self study is much cheaper, but the live class has some appealing bonuses.
Self study courses come with the option of a monthly or annual subscription plan. The monthly plan costs $67 a month and is designed for fast workers; hence, students who know they can complete their course quickly can save a lot of cash this way. However, if you know that you're going to take a while, it may be better to choose the annual subscription for $370.
Master of Project Academy also offers live class courses. These are quite a bit pricier but also come with some really nice benefits. The standard plan comes with 4 days of PMP virtual training for $1070. This comes out to 35 hours, which is exactly what you need for your certification. On top of that, they also offer a Pro course for $1370 that also gives you lifetime access to the self study course. This is an absolutely steal for people interested in both courses.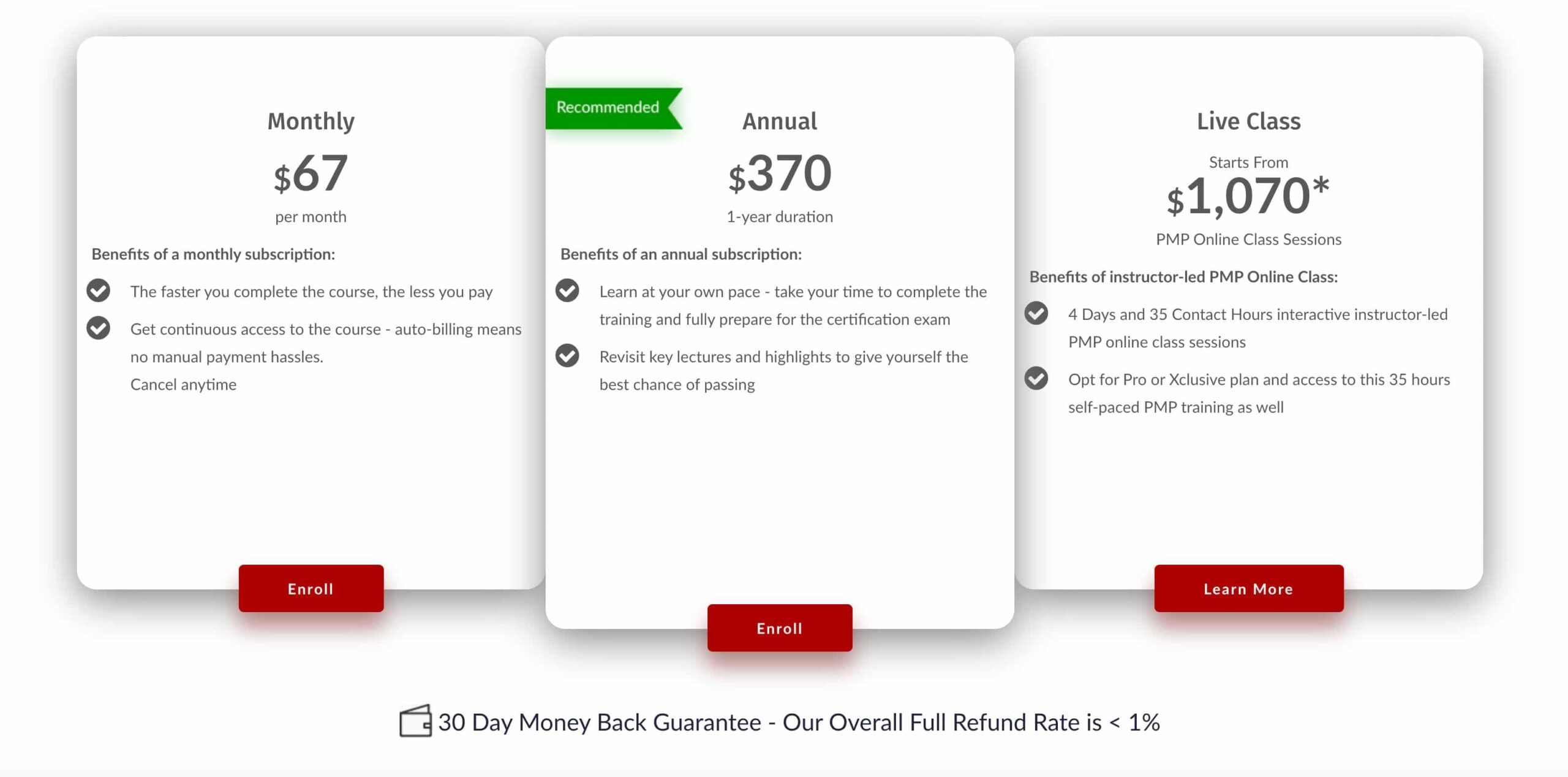 Finally, Master of Project includes one-on-one coaching sessions. These are tremendously beneficial to any student, since personally working with an experienced professional can provide an unparalleled learning experience. These sessions can be booked for 30 minutes, 1 hour, or 3 hours at a time.
Pros & Cons
For those still unsure about this course, check out the biggest benefits and drawbacks of this service below:
PROS
In addition to their great content, Master of Project Academy also offers a 30 day money-back guarantee on their products. This gives you a bit of a safety net if their service just isn't for you.
These management courses are available in over 180 countries. Thanks to that, you can get certified no matter where you are!
All courses include a 24/7 support team— no need to worry about your timezone or even what time you like to study. Someone will always be available to help you out.
CONS
Higher tier courses can be a bit pricey. However that can be mitigated by choosing lower tiers or just purchasing less course hours. There's no need to empty your wallet if you don't want to.
Frequently Asked Questions About Master of Project Academy
Still curious about how Master of Project works? Take a look at some answers to the most common questions asked about it below:
Q: How reliable is Master of Project Academy?
A: Master of Project Academy boasts a 99.6 percent pass rate from their 125,000 past students on their course page. This goes to show just how effective these courses are when preparing you for the PMP exam.
Q: Does Master of Project Academy provide extra study materials separate from their main course catalog?
A: Yes! Each course includes flashcards, cheat cheats, and other study tools at higher level payment plans. These tools can be helpful and are also great for students with a tight budget.
Q: Can I reschedule any virtual training sessions I've signed up for?
A: Yes. You can reschedule any project management training sessions so long as you do so 72 hours before its start time. Unfortunately, that means you can't reschedule during the 3-day period before the virtual training session.
Ideal Customer
Master of Project Academy appeals to certain types of students. You should be interested if any of the following applies to you.
If you're an experienced professional looking to advance your career, this is the course for you.
If you like being able to set your own hours, this is the course for you.
If you work well when you can ask others for advice, this is the course for you.
If you want to work one on one with a tutor, this isn't the course for you.
Final Recommendation
Master of Project Academy's PMP courses are well worth your time and money. They're extremely effective and offer a range of options based on what kind of student you are. Plus they include several different ways of getting support, either from fellow students or experienced staff. So what are you waiting for? Sign up now!
Take Me To Master of Project Academy