Continuing Professional Education (CPE) is an essential part of many people's careers, including professional auditors. CPE credits are an important requirement to maintaining your credential, so it's important that you stay on the ball for earning these. There are a few great ways to earn credits, but the most effective and convenient by far are online courses.
But how can you possibly choose between every course on offer? Luckily for you, I've found one of the best providers of CPE for CISSP or CISA. Read on to find out more:
Overview of Master of Project Academy
Master of Project Academy's mission statement is to provide effective courses for industry professionals. In order to do so they offer an effective group of CPE courses combined with instructor and student communication. This sets them above their peers who simply drill knowledge into their students without concern for how effective their methods are.
Although the vast majority of this company's catalog is focused around project management (PMP, Agile, Scrum, PRINCE2, etc.) they also offer continuing education study materials for professional auditors in the IT field. Whether you're certified through ISC2 or ISACA, their 60 CPE Online Course Bundle is the perfect tool to maintain your credentials.
Here are just a few of the great features included in this CPE course:
60 CPEs for Certification
Multiple Course Bundles
60+ Hours of Training
Course Completion Certificates
Step-by-Step Guide on Submitting CPEs
Additional Handouts and Materials
Excellent Instructor Support
Active Discussions with Other Students
What's Included With Master of Project Academy?
Multiple Self-Paced Courses
Master of Project Academy's bundle option contains three separate CPE courses. These collectively add up to 60 CPE hours and cover a wide range of subjects. Learning from a range of subjects is better for your professional development, which is the main point of continuing education. Essentially, Master of Project Academy has taken that to heart when designing their curriculum.
These courses also come included with a peer forum for students to share their knowledge with each other. This is great for connecting and building knowledge with your peers, and it also means you get help with difficult questions or concepts from your instructors and from other students.
Hundred of Informative Lectures
Master of Project's CPE courses mainly consist of lectures combined with their peer forums. These lectures cover content in a couple of ways, such as connecting real life examples to theoretical concepts and reinforcing this knowledge through moderated practice exams. It's designed to engage you in a way that allows your information security knowledge base to grow much faster.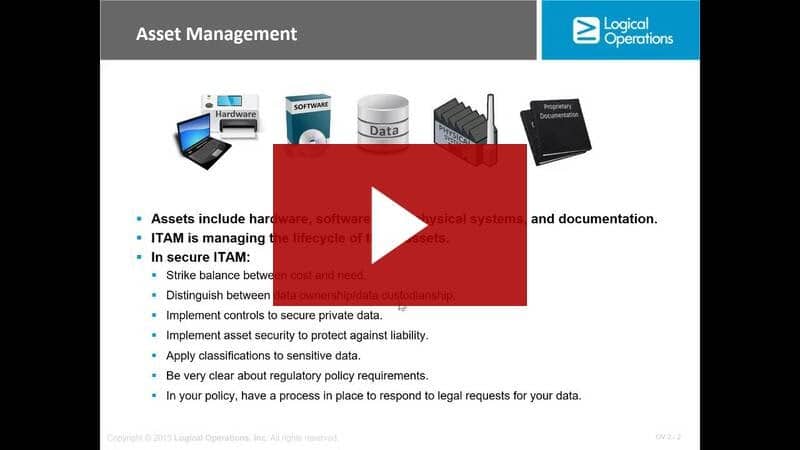 60 CPE Online Courses – Sample Video Lecture | Master of Project
Master of Project Academy's lectures come out to 60 hours in total across all three courses. This is so they can give out sixty CPE credits to their customers. One course (the CISSP cybersecurity one) clocks in at 30 hours total, with the other two being roughly 15 hours each. Don't worry— each of them has enough time to develop their concepts without feeling rushed!
Highly Qualified Instructors
Each course offered by Master of Project Academy is taught by highly skilled and experienced instructors. They have over 20 years of experience on average and have published several books on their subjects.
If you're interested in your teacher's specific credentials, a more detailed summary of their experience can be found at the bottom of each course page. That ensures that you always know what you're getting into ahead of time.
Master of Project Academy Pricing
Master of Project Academy has three different pricing plans for their CPE course content: monthly, annual, and lifetime access passes. Each option can be set to either manual or auto billing renewal (except the lifetime one, for obvious reasons).
Each course option appeals to a different type of person.
The $167 monthly subscription is great for people who want short term access to their courses. This is because it can be way cheaper than the others if you only plan to access it for a few months. Otherwise, you may want to check out the other options on offer.
Next up is the $187 annual subscription. I recommend this option to people who want to access their CPE courses for a longer term, maybe because you need more time to meet your CPE requirements. This is much cheaper than paying monthly and allows you to revisit courses whenever you want to.
However, if you want access for two or more years, then you'll want this last package:
Master of Project Academy's lifetime access only costs $287. This pass ensures that you'll never be locked out of any content, and you'll only need to pay once. Plus, it's cheaper than paying annually for two or more years. If you're interested in some really long term access, this choice is a no brainer!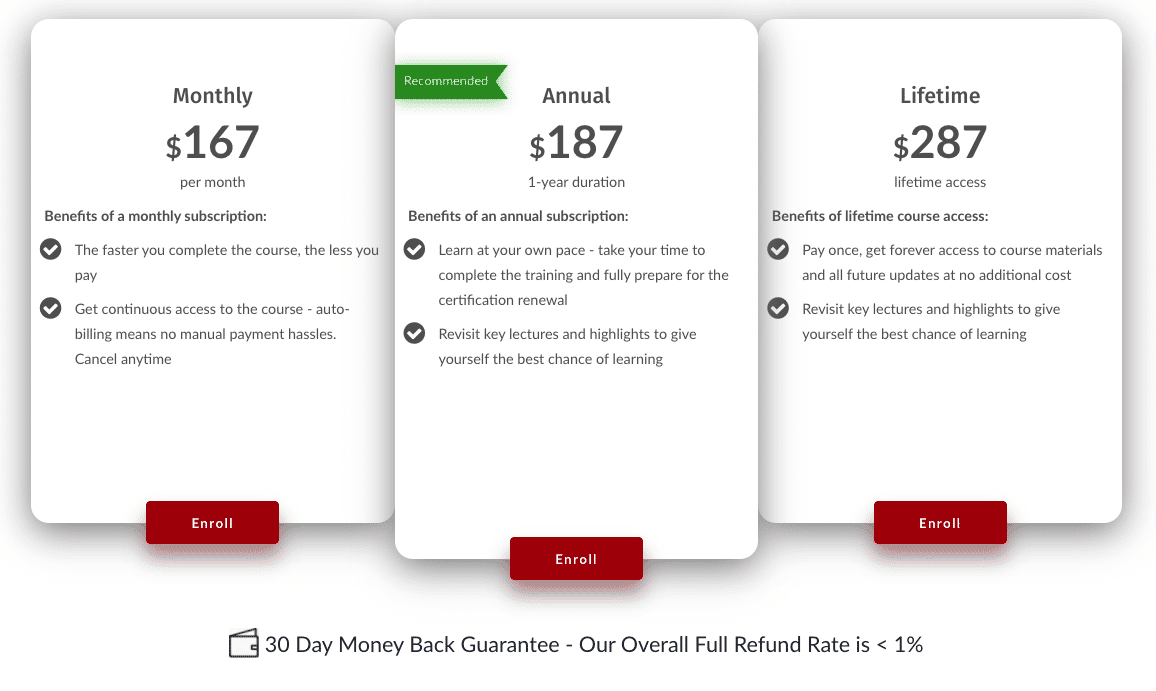 Pros & Cons
If you'd like to know more about Master of Project Academy, read on to see their biggest pros and cons.
PROS
Master of Project Academy offers several different free courses to ease you into their service. Check these out in order to decide if you like what's being offered before having to pay for it!
Each course also comes with a set of practice questions. This allows you to quiz yourself in order to see just how much you've learned. Doing so makes for a great way to gauge your course progress through self-study.
None of these courses are designed under a strict schedule. Instead, you set your own hours as you work at it. For some, that may mean blitzing through the course. For others, this will allow you to take your time. There's no wrong way to learn here, so choose whichever strategy works best for you.
CONS
Anyone interested in an in-person lecture or even a 1-on-1 tutoring environment will find themselves disappointed here. This is an online only course— bear in mind, however, that there is still an aspect of social interaction via the peer forums.
Frequently Asked Questions
Still on the fence about this service? Answers to these FAQs should help you make a decision:
Q: Does Master of Project Academy have a good refund policy?
A: Yes! This company offers a 30-day refund policy on all of their courses. This allows you to really get a feel for the course before deciding if you want to stick with it.
Q: Does Master of Project Academy offer non CPE courses?
A: Yes! Master of Project Academy offers an extremely wide range of courses, including several related to Project Management Professionals that you would take after successfully passing the CAPM or PMP exam. Check out their course catalog to see if any of them interest you.
Q: Do I have to buy Master of Project Academy's 60 hour bundle just to get CPE credits?
A: Nope! If you're only interested in one of the courses then you don't have to pay for all three. Simply pick the one you're interested in and sign up exclusively for that one. However, I'd still recommend the bundle option due to how cheap it is.
Ideal Customer
If any of the following applies to you, then you should know whether or not you're the perfect customer for this course:
If you like learning in an online social setting, this is the course for you.
If you want long term access to your materials, this is the course for you.
If you want to learn a wide range of topics, this is the course for you.
If you don't enjoy lecture content, this isn't the course for you.
Final Recommendation
The CPE courses offered by Master of Project Academy are definitely worth checking out. Their webinars on information systems are effective and engaging while conveying everything you need to know as a security professional. Thanks to that, there's no better way to get started and earn some CPE credits!
Take Me To Master of Project CPE Review
Save 20% Off Master of Project Academy Courses
37 uses today
Last Used: 12 hours ago