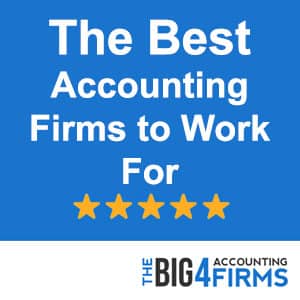 Accounting can be one of the toughest career categories to break into, with fierce competition in every corner.
In addition, finding a firm that suites your work/life balance and offers the learning opportunities you seek can seem impossible. Below are some of the best companies to work for in 2015 and the reasons why they got there.
These companies were ranked on a number of factors, including work/life balance, learning opportunities, diversity, and others.
The Top 6 Public Firms of 2015
---
1. Ernst & Young LLP has some of the best opportunities to help their employees grow, not only professionally, but personally as well. They offer a plethora of programs, including those for veterans, students, new parents, athletes, and young professionals alike.
They strive to help you achieve your goals, whatever they may be. (website)
2. Grant Thornton LLP is one of the most diverse companies to work for as they have branches all over the world. You will have the opportunity to work with a wide variety of clients from many different industries with a large scope of responsibilities.
Whether you are just starting your career or are a veteran in the accounting industry, they are sure to have a position for you. (website)
3. For the past 16 years, Deloitte LLP has ranked on Forbes "100 Best Companies to Work for." They offer a plethora of activities and programs to help you grow personally and professionally. The have a program named Deloitte University, which serves as an education portal for rising accountants.
Whether you are looking to impact your personal life, the lives of your clients, or the world around you, Deloitte is definitely one firm that can help you reach your goals. (website)
4. Pricewaterhouse Coopers has consecutively reached the top 100 for more than 4 years. One of the biggest reasons why is that they support learning and growth among their employees. Most of their employees spend more than 2 weeks a year participating in programs geared toward learning more about their careers.
In addition, all employees start their careers at PWC with 15 paid vacation days, which jumps to 22 after 2 years. (website)
5. KPMG looks to foster growth through various programs for its employees. By encouraging employees to share their success stories, they have become more aware of their work environment and how employees view their experiences with the firm.
In addition, they offer several different programs that empower employees to achieve the work/life balance they are seeking. (website)
6. Plante Moran has made it onto more than one list over the years, which is quite an achievement in the accounting industry. This firm has made the top 100 list for 16 years consecutively. Upon hire, each new employee is assigned an experienced partner to help them learn the ropes and to encourage them to develop long term relationships with their colleagues. (website)
In addition, they offer many programs, and opportunities to help employees find happiness, both personally and professionally.
There are many factors that go into rating and ranking accounting firms, some of these categories include diversity, learning opportunities, vacation time, and pay rate. The firms on this list ranked the highest among their peers.