Trying to select the right PMP Exam Prep courses can be a very difficult thing to do. Basically, with the sheer volume of often conflicting information to digest across the web, it's almost impossible for the aspiring project manager to find the right study guide for them.
Furthermore, this is made even more difficult due to the many different Project Management Professional (PMP) exam preparation courses to choose from.
Fortunately, we've done the hard work for you; just keep reading to learn more about the best
project management training materials to help you pass the PMP certification exam!
Honestly, the most important decision you can make at this stage is finding the best PMP study materials that matches your particular learning style. Otherwise, failing to do this can lower your score and maybe even cause you to fail the test!
We've gone over all the online PMP exam prep courses below. The comparison chart breaks down the most popular PMP online training course rankings.
These are the Top 4 PMP Exam Prep Course Reviews and Study Materials in 2020 [October]
Simplilearn PMP Prep Course
Here are the best PMP exam study materials and online training review courses. Seriously, these are some heavy hitters that are sure to help you pass the exam on your first try and become a Project Management Professional!

1. Brain Sensei PMP Review Course
Engaging story and a personal PMP instructor

OVERALL RATING: ★★★★★★
Brain Sensei PMP Review Pros & Cons [2020]
What Everyone Needs To Know About Brain Sensei PMP Review
PROS
Storytelling:
Unlike really any other PMP study materials, Brain Sensei will draw you into a story of a Samurai who overcomes project planning challenges in Feudal Japan. Stories are known to be one of the most effective forms of teaching and have been used to share knowledge and teach lessons since the dawn of humankind. Studies have also found that when you receive information in the form of a story, it's quicker to absorb and easier to recall information.
Brain Sensei made their course understanding that self-studying with slide shows is not very fun. That's why they give you your own personal animated coach or in their case Sensei! He acts as your partner and coach throughout the course, offering any additional help or questions you may run into.
Brain Sensei is a Registered Education Provider (REP) with the Project Management Institute (PMI), so you will receive the 35 hour requirements for the PMP exam included at no extra cost. This course is the prefect way to maximize your study time without having to pay extra for a course that will let you gain contact hours.
While other courses have new flashy tech and an innovative website layouts, this course is pretty basic and lacking in terms of design. The no-thrills dashboard nonetheless may be preferred since it is a direct and to-the-point way of learning. There won't be any distractions that take your focus away from studying and for some people, that's exactly what you need.
Bottom Line: Brain Sensei offers a truly unique take on the PMP study course by tying it to an engaging narrative based on feudal Japan. 35 course hours and a personal instructor help to seal the deal.
Take Me To BrainSensei PM Review
---
2. PM PrepCast Prep Course
Personalized coaching and a PM test simulator
OVERALL RATING: ★★★★★★
PM PrepCast Review Pros & Cons [2020]
What Everyone Needs To Know About PM PrepCast Review
PROS
With PM PrepCast you'll get personalized coaching if you purchase the Executive course.  This 1-on-1 coaching from a PMP expert is essential to guide you through the most challenging parts of the program and give you an opportunity to get your questions answered.
The PMP exam simulator allows you to prepare for the exam with under test-like conditions. PM PrepCast's Executive package includes 8 exams with over 1,600 questions. You get 90 days of access to the PMP  simulator too!
PM PrepCast is available anywhere you need it. Their site works for your phone, tablet, or computer, so you can study on the device that is most convenient for you. The videos have been specifically optimized for use with iTunes, regardless of your device (you don't have to use an iPad, iPhone or iPod). In as little as 45 minutes you will have access to the entire workshop from your handheld device or tablet!
When you complete the PM PrepCast course and pass the class's final exam, you will print the 35 Contact Hours Certificate, which is a prerequisite for the PMP exam. Take advantage of this secret bargain that's embedded in the course – getting the additional 35 Contact Hours in a separate course could cost you $150 or more.
Bottom Line: Students enrolled in PM Prepcast's PMP course will receive access to a huge collection of study material. In addition to several contact hours and exam simulations, expect 1-on-1 counseling.
Take Me To PM PrepCast PM Review
---
3. ExamsPM PMP Review Course
Great Video & Course Content (plus a pass gurantee!)

OVERALL RATING: ★★★★★★
ExamsPM PMP Review Pros & Cons [2020]
How Does ExamsPM PMP Review Compare?
PROS
 Video Lectures:
Like many PMP exam courses, ExamsPM offers video content. However, those videos have some distinct features that competitors lack. Any and all video content can be viewed as much as you want. Struggling in a certain knowledge area? There's no limit to how long you can spend working on it. On top of all that, lectures can be downloaded and watched later offline. That means you can access the study materials whenever you want regardless of your internet connection.
Free Content:
ExamsPM offers a host of free content so you can familiarize yourself with their service. On their site you can find a free formula guide, study guide, and practice questions. You can even take their free PMP training class to learn how the certification process works. Consequently, doing so will give you an edge when it comes to advancing your career.
Pass Guarantee:
As a show of how confident they are in their teaching abilities, ExamPM offers a 100% pass guarantee. If you can't pass your PMP within six weeks after registering for the online training course, you will be given a full refund. To receive this refund, simply send your test scores to the service to prove you took the test and failed. Ultimately, this means that all of the monetary risk is on ExamsPM, not you.
CONS
Pay For Support:
While ExamsPM does have a great pro-level support team, it's unfortunately locked behind the highest payment tier. That means the only way to receive the highest level of support for this online course is to buy the $579 exam simulator and course bundle. Fortunately, this bundle is a great deal; however, this is sure to be a disappointment for cash-strapped project management students.
Bottom Line: For anyone looking to pass their PMP, this course is a safe bet. Their pass guarantee shows that they have confidence in both their service and their students. Furthermore, their video content is top notch and you can even try some features out for free. Definitely a good pick for PMP exam prep students!
---
4. PM Master Prep Review Course
A Serious Contender In The PMP Review Course Field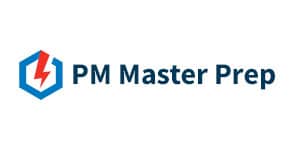 OVERALL RATING: ★★★★★★
PM Master Prep Pros & Cons [2020]
What Everyone Needs To Know About PM Master Prep Review
PROS
Volume for Price:
You're going to have a tough time finding any PMP prep course that offers a better deal for what you get. Not only does PM Master Prep's Success Masterclass give you lots of video lessons and practice quizzes; they're selling the complete package for under $1,000!
Personal Experience:
Students who learn best through one-on-one interactions with their instructors will appreciate the Private Chat feature provided by PM Master Prep in their Success Masterclass. With this, you can reach out to your instructor with any questions that you'd rather not be made public. However, they also have Group Chat and Forum sections of their course if you'd rather ask your questions to your fellow classmates.
No Risk, All Reward:
It can be difficult to pull the trigger on a specific prep course and spend your money on the promise of passing the PMP exam. Fortunately, PM Master Prep makes this situation easier with their refund policy. Whether physical or digital, unsatisfied customers can receive a full or partial refund within 30 days of purchasing.
CONS
Poor First Impression:
If you looked at PM Master Prep's pages for their Super Simulator or their Online Live course, you might be reminded of sketchy online offers for supplements or motivational seminars. Although the multiple spelling errors and bizarre design choices might make you worry about getting a computer virus, these are simply aggressive marketing campaigns that don't reflect the legitimate quality of this company. Look past this poor first impression and you'll find a lot to like here!
Bottom Line:
Although there's room for improvement — especially when it comes to their web design — PM Master Prep is a serious contender in the field of PMP review courses that will help you pass your exams. For a reasonable price, the combination of community resources and quality instruction will give you a solid foundation to build your future
career in project management
.
Take Me To PM Master Prep Review
---
5. Grey Campus PMP Review Course
Affordable and Easy to Use with Money Back Guarantee

OVERALL RATING: ★★★★★★
Grey Campus PMP Review Pros & Cons [2020]
What Everyone Needs To Know About Grey Campus PMP Review
PROS
One-on-One Time with an Instructor:
Instructors have 10+ years' experience in Project Management, and are active PMP certificate holders, so you know you will be getting great instruction when you get your individual coaching time. You also get 24/7 customer support and access to a 30-day instructor helpline if you are in between live PMP class sessions.
1 Full Year of Access:
GreyCampus gives you access to their PMP Certification program materials for 12 months, which is several months more than most competitors. You'll have more than enough time to learn and practice the material before the exam. Note that you only get 30 days to take advantage of the instructor helpline, so be sure to schedule your PMP certification exam prep to maximize the use of that feature.
100% Money Back Guarantee:
GreyCampus offers a 100% money back guarantee if you do not pass the Project Management Professional exam the first time you take it. You must take the PMP certification exam within 14 days of completing the course completion, finish the entire course, pay all enrollment fees, and pass 2 of the Mock Tests in the GreyCampus portal with a score of at least 75% to qualify.
Mobile App:
GreyCampus has a mobile app for Android users with some free content as well as access to 13 knowledge area exams and more than 200 flashcards. This is a nice extra because you will want to study in between your live PMP classes whenever you have time in order to get the most out of the course. Unfortunately, there is no app for iOS devices.
Bottom Line: All of the instructors associate with GreyCampus are highly experienced and their Android mobile app is convenient for students on the go. They also offer a full year of access to their material.
Take Me To GreyCampus PM Review
---
6. SimpliLearn PMP Review Course
Lots of extras and course flexibility (plus a return policy!)

OVERALL RATING: ★★★★★★
SimpliLearn PMP Review Pros & Cons [2020]
What Everyone Needs To Know About SimpliLearn PMP Review
PROS
Flexible Courses:
With both live and on-demand learning options available, you can choose whether you want to do a self-paced or instructor-guided course. Take the Online Self-Learning course for 30-180 days from anywhere in the world, or sign up for a live-online or in-person instructor-led course in your area.
Simplilearn offers multiple extras with each live course offering. Although these vary, special offers often include a free course (such as PMI's Agile Certified Practitioner course and Microsoft Project 2013), a free 200-question PMP Simulation test, and a User Forum with free advice and support.
You get 86 PDUs with the Simplilearn PMP preparatory course; this is in addition to the 35 contact hour requirement for taking the PMP exam. That is considerably more PDUs than most competitors offer. After you have completed the requisite number of hours on Simplilearn's website, you will be issued the 35 contact hours certificate at no additional cost.
Simplilearn offers a 100% Money Back Guarantee, so if you don't pass using their course you get a full refund! This shows just how confident they are that their course will help you get your PMP certification. For their 4-day PMP Bootcamp, the re-examination fee is paid by Simplilearn and the remaining amount is refunded if you do not pass the exam.
Bottom Line: If students enrolled in SimpliLearn are unsatisfied with the impressive PDU's and contact hours offered with their PMP study materials, they offer a reasonable return policy to assuage any concerns.
---
Get Discounts on PMP Courses
When it comes to being a Project Management Professional, passing the requisite exam to gain this certification can be tough. You have to put in some serious hours with a study group, some flashcards, and/or practice tests to be adequately prepared. Ultimately, you want to get everything right the first time so you don't waste your valuable time and money. Therefore, the best method of cost management for PMP aspirants attempting to gather these resources is to enroll in one of these prep courses!
Still not convinced? We've got some fantastic and exclusive DISCOUNTS you can check out below: